Industry City Maker Spotlight: ATH Studios
SUNSET PARK – Nailing down exactly what ATH Studios does can be hard – even for founder Andrew Hunt.
"We're a weird mix of stuff. The senior members [of my staff] are all sculptors, builders, mold makers, people like me. We do metal work, we do woodwork, we do pattern-making casting…our clients are people from the art world from the early 90s on," he says.
Those art world clients include Ashley Bickerton, Rudolf Stingel, Helmut Lang, and Arman, with whom Hunt worked as an assistant for many years before launching his own business in 2005. As a sculptor himself who trained at the Rhode Island School of Design, he worked as an art fabricator, eventually setting up shop in Industry City in 2006 after 20 years working in Tribeca and 2 years in DUMBO. That move made a lot of sense for Hunt as he's lived in Sunset Park since purchasing a house there in 2004.
"This neighborhood's very stable. This is not Bushwick. It's not Bed Stuy. Nobody is gonna leave. It's blue-collar families. They have community and culture. All the young people go to Bushwick and Bed Stuy. That's what I like about it."
But after the economy crashed in 2008 and the fabrication work dried up, he turned to more commercial work.
"I had always built furniture and I was starting to do some of that for stores, restaurants, and it was mostly just me and maybe a helper," he remembers. He also did some lighting and sculpture, working closely with architects and designers.
Strangely enough (given the sometimes strained relationship between landlords and tenants), it was when Industry City's leasing office reached out that his commercial business began to expand. A guy from their leasing department asked Hunt if he'd like to build them "a bike rack."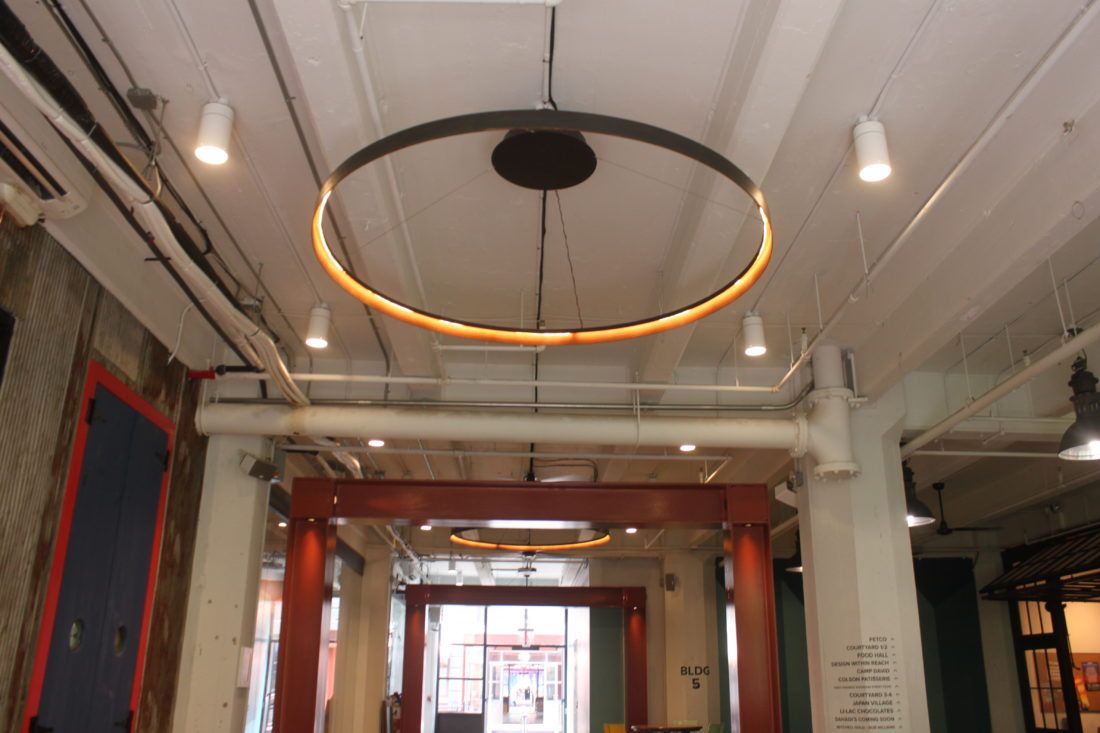 When he arrived to meet with them, that bike rack turned out to be a 30,000 square-foot build-out of their main offices. A big part of the ownership's reconception of Industry City was utilizing the talents of their tenant-artisans to create unique spaces and features throughout the campus's various buildings.
What ATH built is what is now part of the restaurant The Landing in Building 2.
With its rolling doors, "it ended up kind of being an icon for what Industry City continued to do around the campus," says Hunt. After proving themselves with that build-out, they created what has become another icon of Industry City's visual aesthetic – a duplication of an antique bi-fold door in Building 1 that utilizes counterweights to open and close.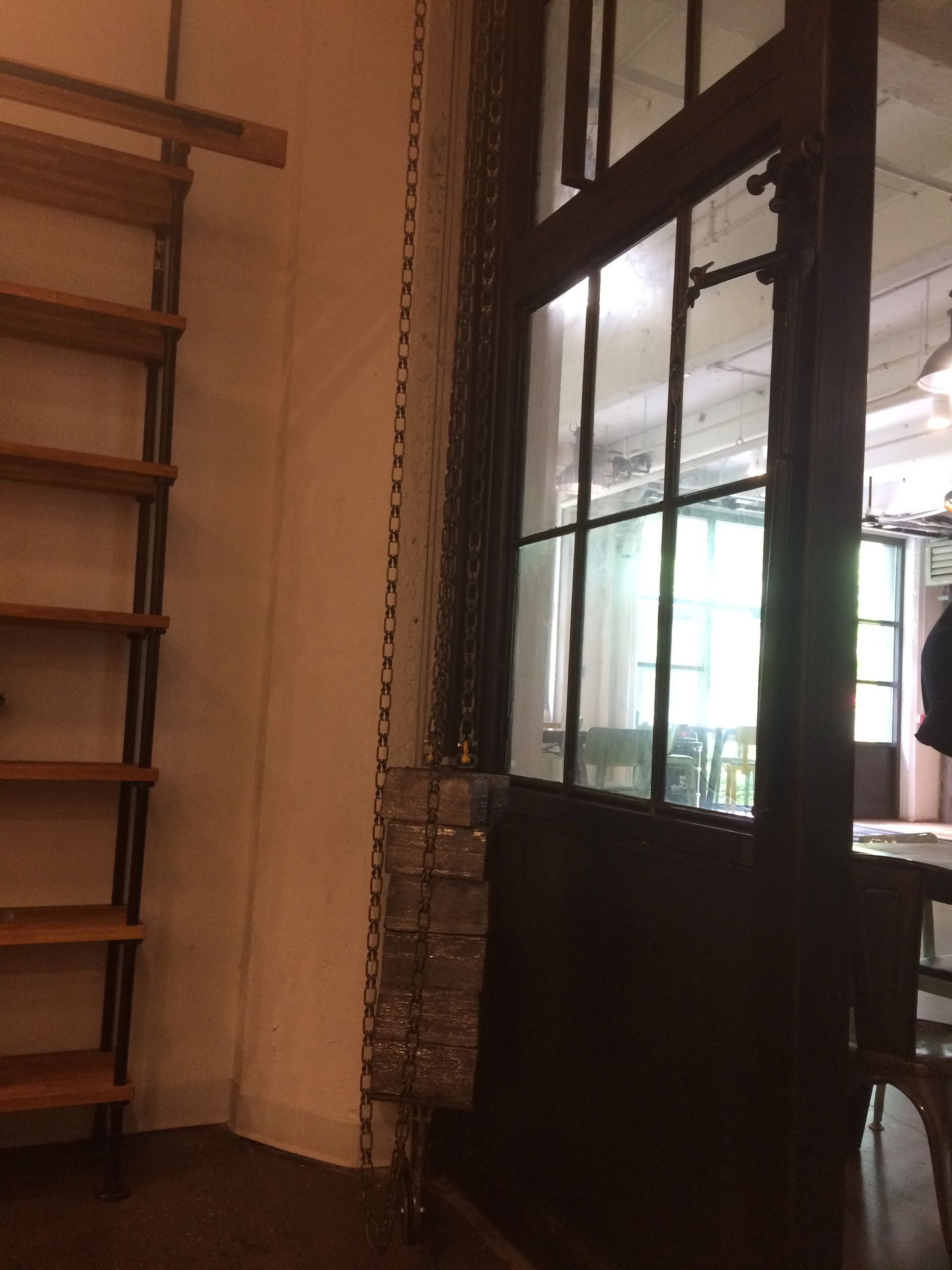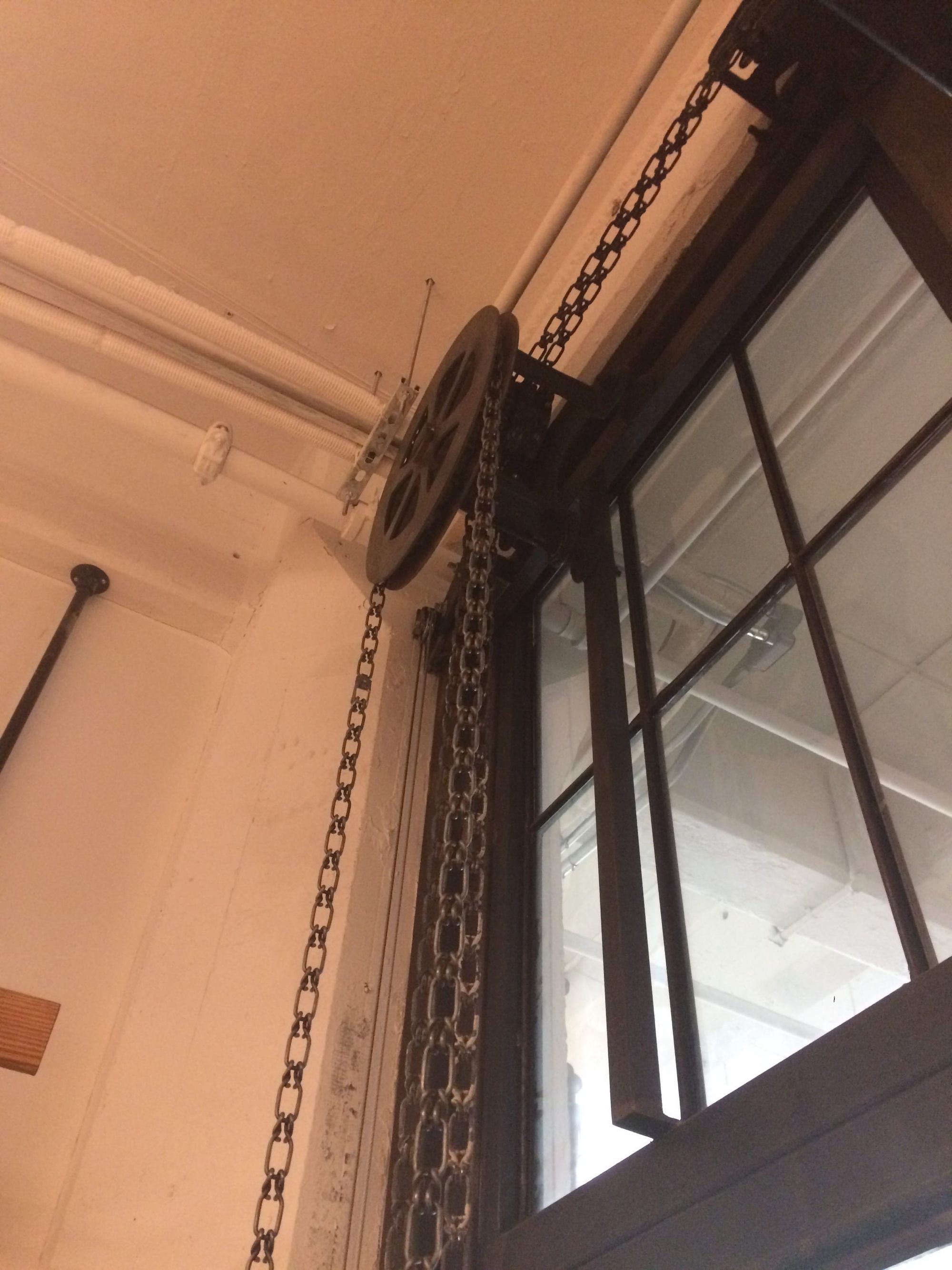 As Hunt describes it, they installed the doors "everywhere," including  The Frying Pan coffee shop entrance: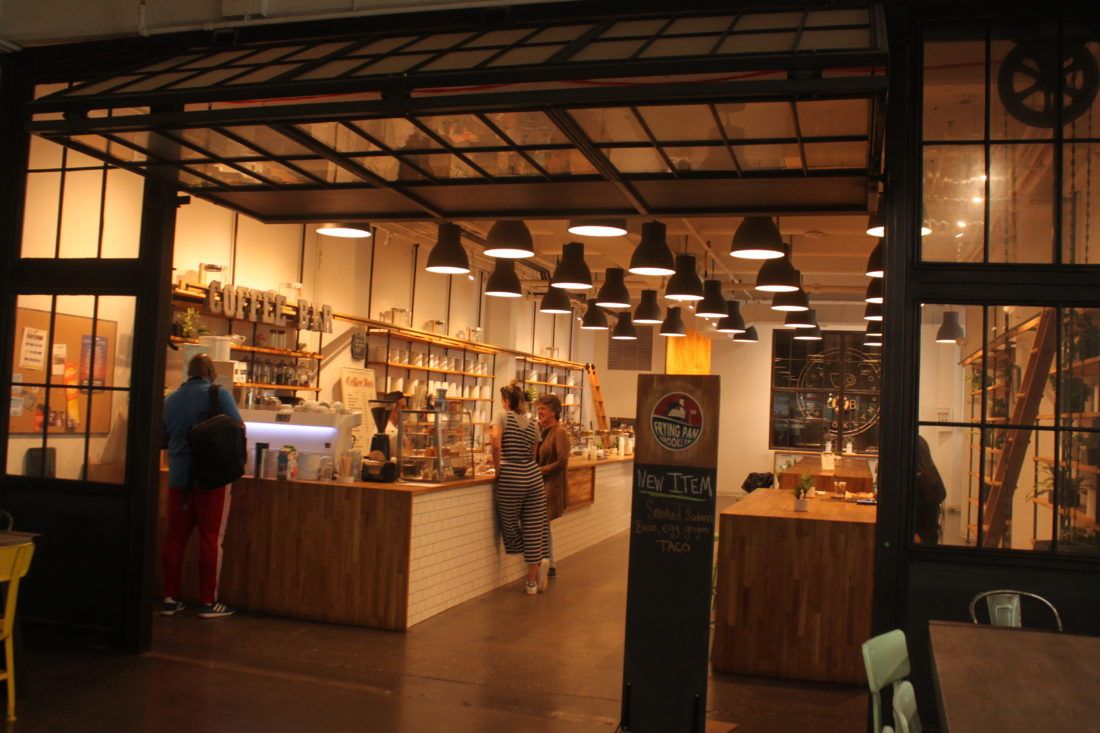 Their commercial work allowed them to expand their operations.
Currently, they have several shops within Industry City, including a metal shop, a wood shop, and a larger space for building out large-scale projects, like storefronts. All in all, Hunt estimates they have about 5,000 square feet. He's got 6-10 people on staff (depending on the project), many of whom have been with him for years.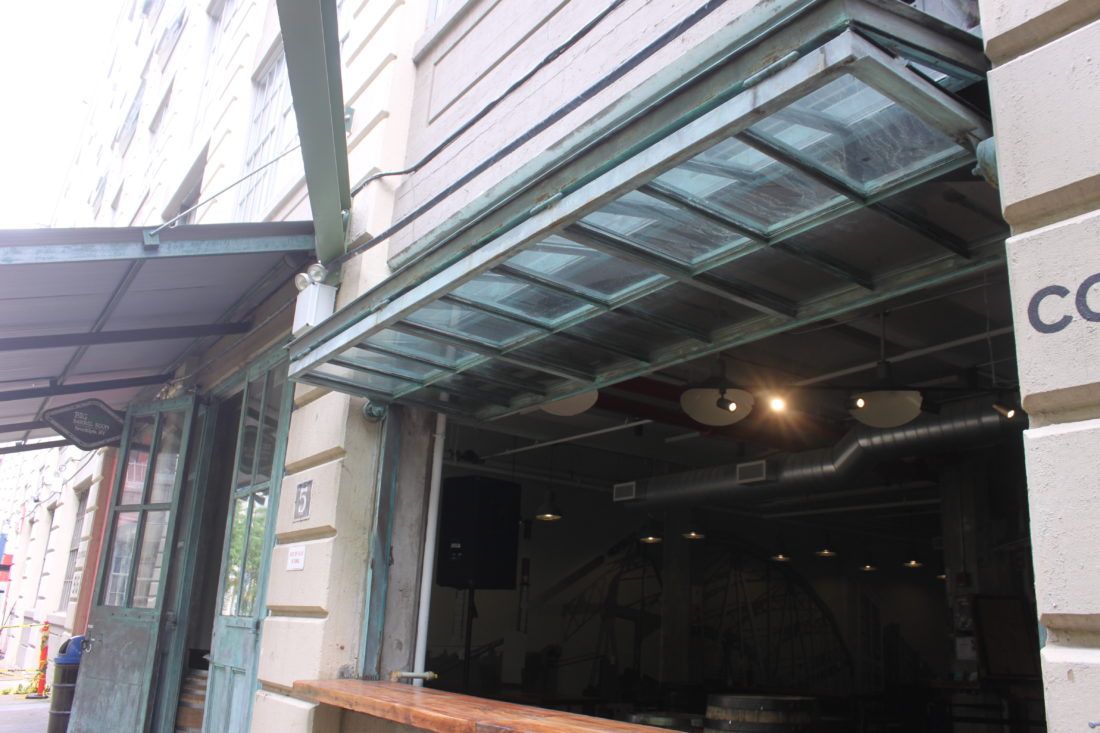 In addition to their growing commercial business, ATH's art fabrication side rebounded along with the economy, and they continue to collaborate with artists like Bickerton. Hunt also creates his own work, which he feels Industry City gives a lot of support to as well.
Recently, he was asked to include a piece in a small show of theirs curated by Architectural Digest senior design writer Hannah Martin. The piece he created got put on New York Magazine's Top 10 List for Design Week. That, in turn, generated other work as people found him online.
The volume and specificity of ATH's work are clear as one walks through their studios, which are filled with a mix of commercial and art-fabrication projects in various states of completion: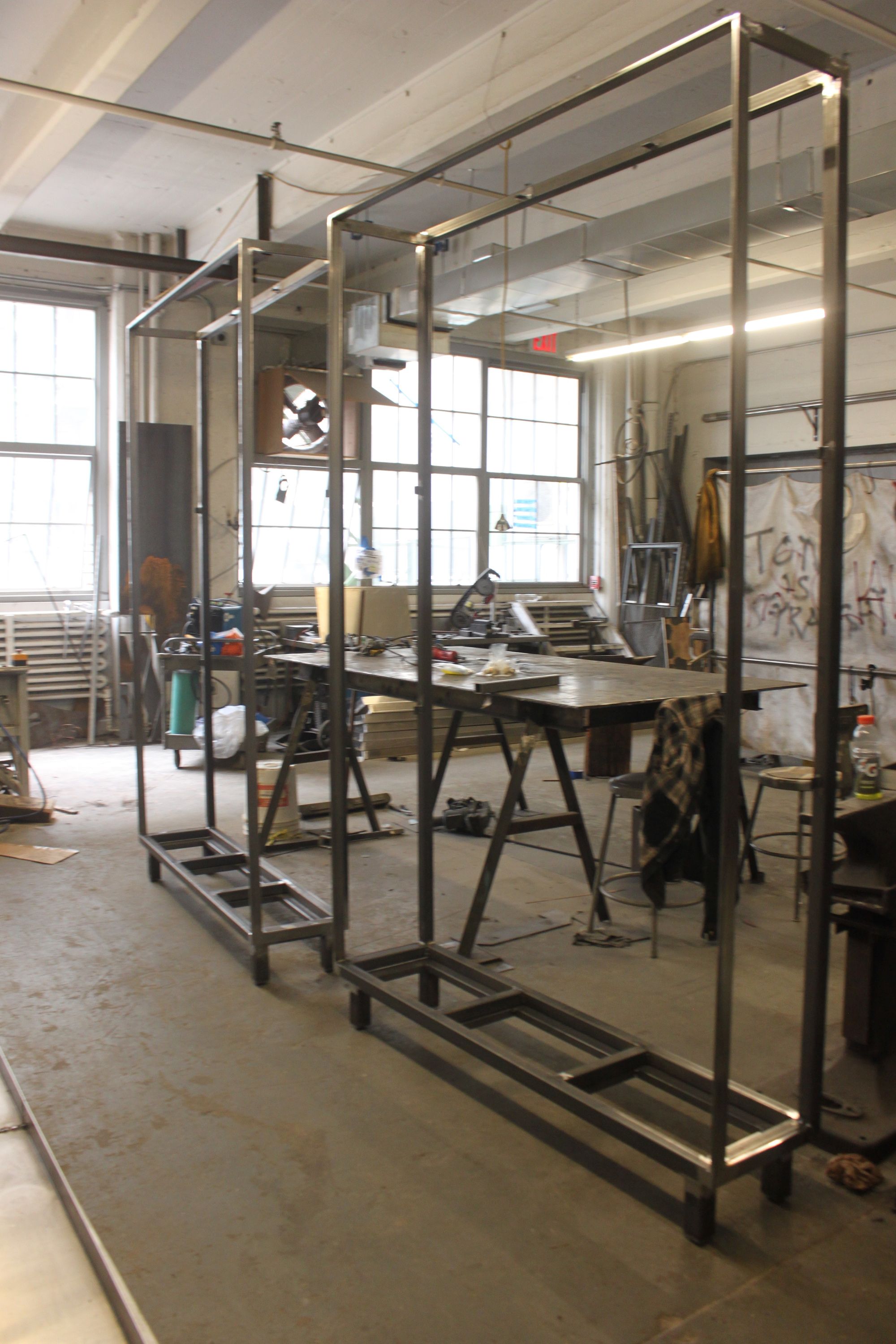 For now, Hunt is fairly happy keeping the company at the relatively small size it is as the nature of the work ATH does is so specialized.
"Every single job we do is custom from the beginning, which means you're doing the R&D, you're doing the prototype, and then you're doing the actual thing. That's a huge amount of energy spent to get that thing."
"I'd love to just make a candle," he jokes.
Industry City Maker Spotlight series is possible through support from Industry City. If you would like to reach our readers, please contact us.