Indelible And Stunning Focus: A Must-Experience Camera Obscura Exhibit At Gowanus Loft
The world is turned upside down. Really.
Take a moment to look away from your computer or phone — just for a moment.
Everything in front of you is upside down. As the image is viewed by your retina, the optic part of your brain adjusts the visual, making it right-side-up.
You don't need to be an expert on the brain or visual optics when you step inside a 3000 square-foot "camera" that houses a fascinating exhibit which functions on both a visual and sensorial level. "The best experiences are the personal ones," says co-creator George Del Barrio.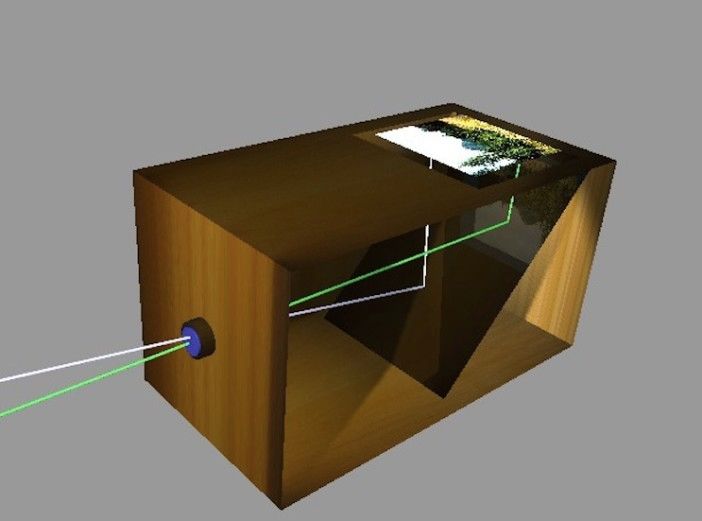 But you have to move fast, because The Vanderbilt Republic's 'Camera Obscura/Gowanus' completes its run this weekend at the Gowanus Loft, 61 9th Street (between 2nd Avenue and Smith Streets, #C8).
Co-creators George Del Barrio and Ashton Worthington have been focusing, re-focusing, adding lenses, glass, and other materials to beams of light which pass through tiny holes in the windows, projecting stunning images onto the surfaces, platforms, fabric, and materials throughout the loft.
"Camera obscura" — as the process is called — is a Latin term meaning "dark room." And that's why you should provide yourself with a good amount of time — 45 minutes is recommended — to allow your eyes to adjust after you enter a room that seems at first to be pitch black.
In a thrilling moment, Del Barrio whisks me into another part of the loft a minute or so after I enter the space. The artists are pulling you into another dimension of sorts. "We're in the camera, but we're also inside your head," says Worthington. And this makes complete sense once you're inside.
Obscura/Gowanus: Blue Moons from The Vanderbilt Republic on Vimeo.
Your eyes will adjust and re-adjust throughout your time spent in the "camera" — revealing elements from the urban landscape outside the loft that are projected inside the space. The traffic on the BQE, the elevated F train passing through the Smith-9th Street station, a mélange of urban grit, the passers-by, and the sky — oh, that sky! — will surround you in ways that are difficult to describe.
The Vanderbilt Republic — as Del Barrio's company is called — is known for extremely engaging projects that provide an opportunity to re-perceive areas around Gowanus. This was the group that lit the Kentile Floors sign in 2014, and projected a "light sculpture" on the Smith-9th Street bridge after dark.
Worthington and Del Barrio have been working on this experiment of sorts since February 1. "You build on an alphabet to create a language," says Del Barrio. But the language kept forming as the creators found different angles and revelations throughout the exhibition. Worthington tells us "once things started to click it, it gave us a standard of brightness and clarity."
While the exhibit is an extremely sophisticated experiment, the principles are rather simple. As you wend your way through the 15 camera obscuras within the space, details of the exterior can inspire awe. "We adjust for our monsters," explains Del Barrio, referring to the shock your eyes get when first entering.
If you look closely, you can see both the grand sweep of the outdoor urban landscape as well as the minute details — a reflection inside a car, the windows of a passing subway, the bodies moving on the ground passing by the geometry of the elevated subway.
We asked Del Barrio and Worthington if they'd be interested in creating a camera obscura outside of this urban environment — perhaps in a natural or rural area. "We're very interested in that," says Worthington. "We've thought about using the name 'The Traveling Obscurists' for something like that."
Worthington and Del Barrio are inspiring artists. Their talent and abilities are fueled by what seems to be a relentless curiosity.
Worthington pauses to make a slight adjustment on a surface with a projection shooting onto it.
"Everyday we look out the window, we realize we are so lucky."
The Event Rundown:The Vanderbilt Republic's 'Camera Obscura/Gowanus'
Where: Gowanus Loft, 61 9th Street (between 2nd Avenue and Smith Streets, #C8)
When: Saturday, February 27 and Sunday, February 28, 9am-4pm. The event closes this weekend.
Admission: $15 – Please note tickets must be purchased online. Tickets are going fast, so please make your reservations as soon as possible.
Because the project takes place in a darkened space, it is recommended that you plan on at least 45 minutes for the exhibit so your eyes may acclimate.
Special thanks to George Del Barrio and Ashton Worthington for providing us with the film above, entitled "Blue Moons" — which we've debuted in this article.