In An Effort To Clear Up Confusing Parking Signage, DOT Releases Parking Map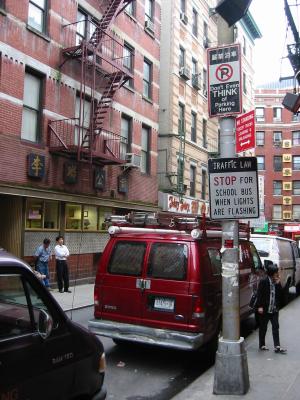 "Don't Even Think of Parking Here" sign. Source: Djmutex via Wikimedia Commons
We recently got a request from a reader to "investigate the bogus parking signs posted in Bensonhurst." While this may a bit too ambiguous to follow through with, it seems the Department of Transportation has been getting similar sounding requests from all over the city. Thus, they released an online map that shows drivers where and when it's legal to park.
City Councilman Dan Garodnick says the idea for the map came from his mother, and he hopes it will save drivers some headaches, according to the New York Daily News.
Drivers can search by street address or intersection and see parking schedules for the area. This includes alternate-side of the street rules and other city parking rules.
The map also shows street assessment ratings and a listing of the streets that were last resurfaced.
Rey, a new driver from Fort Hamilton said this will help him "find where to park" in unfamiliar neighborhoods.
While it's a good effort on behalf of DOT, does this mean more people will be looking at the map on their cell phones while driving?