I AM PEACE: Crown Heights Organization Hosts 5th Annual Youth Basketball Tournament
CROWN HEIGHTS – Local mentorship program, the I AM PEACE Foundation, is hosting its fifth annual 3-on-3 youth basketball tournament this Saturday, August 11, at Jackie Robinson Playground.
The event was organized by Crown Heights husband-and-wife team, Christian and Anika Waterman, in the summer of 2014 following multiple shootings in and around the Jackie Robinson Playground. In July of that year, Christian was playing in a 3-on-3 basketball game at the park when two shots were fired near Franklin Avenue, sending children at the park running for safety.
Three weeks following the incident, he and Anika launched the I AM PEACE 3-on-3 Youth Basketball Tournament, bringing young males between the ages of 14 to 19 "together in the name of PEACE," in an effort to put an end to gun violence, a release for the Foundation explains. At the inaugural tournament, the Watermans gave the players the same jersey number, 225 (an abbreviation of the Crown Heights zip code 11225), to symbolize "a united community."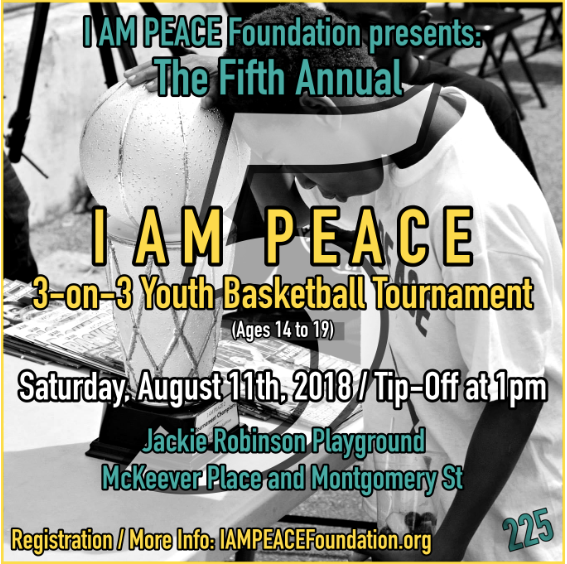 The event has since become an annual event, taking place on the second Saturday of August. "It was just a day of love and peace and basketball," Anika told Brooklyn Daily at last year's tournament. "It was just about the community and we turned the whole entire neighborhood into a mecca of peace. That's what our goal was and always has been, even until this day."
The basketball tournaments inspired the Watermans to launch the I AM PEACE Foundation in 2016, a mentorship program for local young men that offers educational support, job placement assistance, and counseling. The program "creates peace in the Crown Heights (11225) community by providing young men with new opportunities to learn, grow, and prosper," according to the I AM PEACE website.
5th Annual I AM PEACE 3-On-3 Youth Basketball Tournament
Saturday, August 11, 12pm to 6pm
Jackie Robinson Playground (Montgomery Street & McKeever Place), Crown Heights