Hundreds Gather At Holocaust Memorial To Rally Against Anti-Semitic Hate Crimes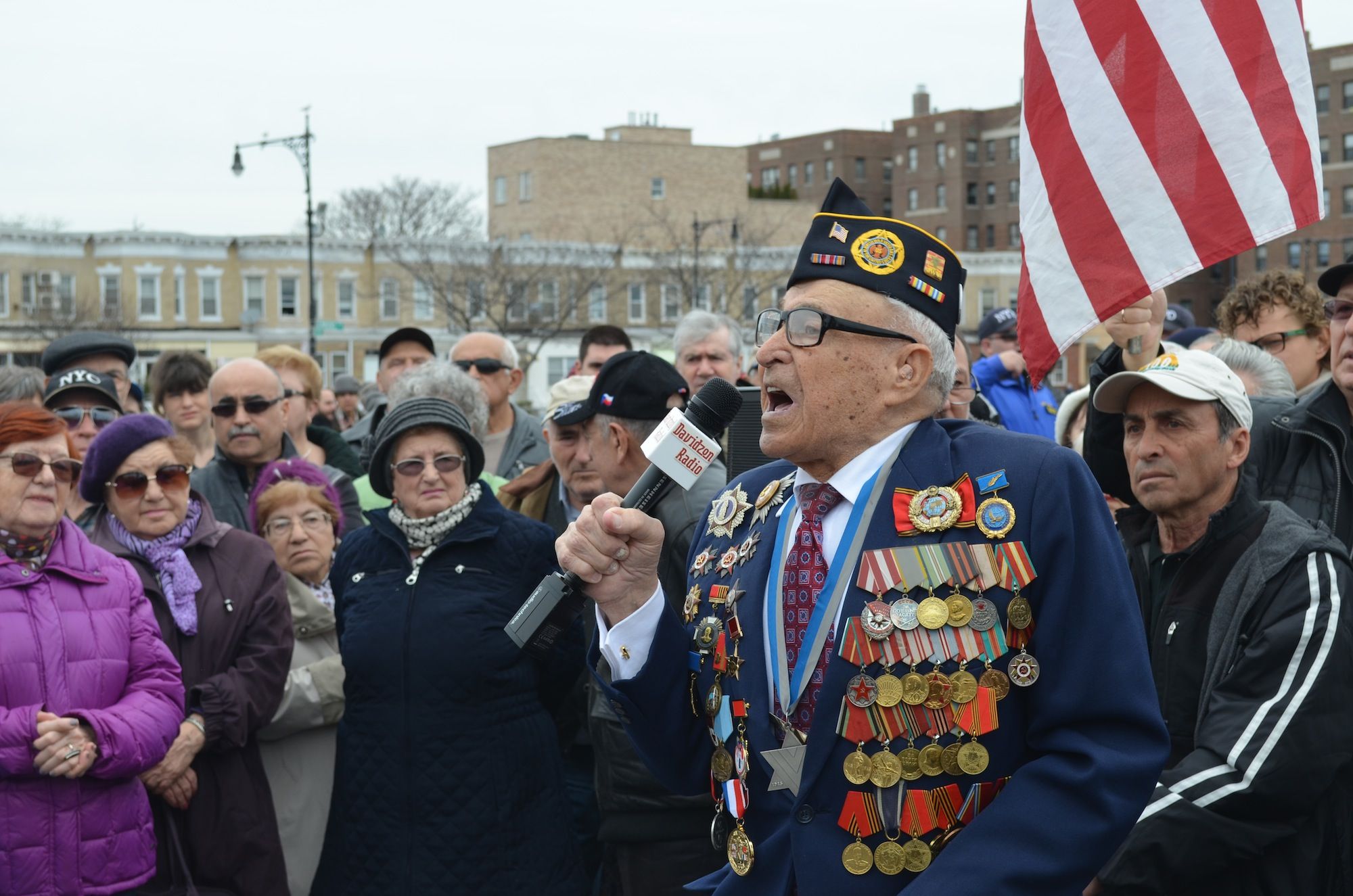 Responding to reports of a string of anti-Semitic incidents in New York City, hundreds gathered for a rally at Holocaust Memorial Park Sunday to call on law enforcement and legislators to take action against those accused of hate crimes.
"We cannot be silent when we hear that every week, there is another anti-Semitic incident," said Democratic District Leader Ari Kagan, one of the event's organizers. "We just cannot discuss it in our kitchens. It's not enough to discuss it over the phone. We have to show public outrage that we will never agree to it."
Kagan, along with District Leader Margarita Kagan and the Russian-language radio station Davidzon Radio, called for the rally in response to anxiety over a growing climate of fear caused by hateful acts targeting Jewish people. Several cited media reports about inflammatory comments at college campuses, particularly accounts that students at CUNY's Brooklyn College made "hateful anti-Zionist and anti-Jewish comments" during a Faculty Council meeting last month.
The rally drew more than 200 supporters and several New York politicians, including Public Advocate Letitia James, assemblymembers Dov Hikind and Helene Weinstein, and councilmen Chaim Deutsch and Mark Treyger.
"Having two children who go to CUNY colleges, I understand that everyday, I shouldn't have to be worried of what happens there," said Deutsch.
Deutsch said he was working with Hikind to introduce legislation that would require CUNY to report any anti-Semitic incidents to law enforcement and prosecutors.
Those gathered at the rally also condemned other acts of hate and harassment, including two swastikas — one in an elevator at a building on Avenue W and another found on a parked car on East 19th Street — as well as a stabbing attack in Crown Heights last month, in which police believe the victim may have been targeted because he wore Hasidic "garb," according to DNAinfo.
City Councilman Mark Treyger said he was informed by the NYPD that the hate crimes against Jewish people happen more frequently than attacks on any other group.
"Anti-Semitic hate crimes are the number one hate crimes committed in New York City, by far," he said.
Speakers at the rally called on city officials to be more aggressive in combatting anti-Semitism — by thoroughly investigating and prosecuting those accused of hate crimes.
"Every single hate crime should be punished. Every one of them," said Leonid Rozenberg, who as an artillery officer in the Soviet Army was among the forces that conquered Berlin during WWII. "We liberated Europe. We did everything possible to defeat the Nazis, and we thought that anti-semitism will go away. This unfortunately did not happen."