New Vegetarian Restaurant Hummus Garden Opens On Fort Hamilton Parkway
Not even a month after the sign for a vegetarian Mediterranean restaurant popped up in front of 3021 Fort Hamilton Parkway, Hummus Garden is open for business. We popped in to see what was on the menu, talk to chef Haim Bensimon (above), and try some grub for ourselves.
The first thing you notice when you walk in is, nearly half of Hummus Garden's seating is inside a tent, filled with low tables, footstools, and plush benches with pillows. Between the lattice detailing and mirrors, contrasting fabrics and shapes of pillows, and tassels and lanterns, owners Avi and Julie Atiae seem to have neglected no detail concerning the ambiance inside the tent curtains.
If you'd prefer a little more sunshine, there's room in the front window. Word of advice: if you're not the tallest person in the world and you don't want to be groping wildly for the table/spilling food down your shirt, go for the chairs and not the actual window seat.
We tried the sabich, which was filled with hummus, hard boiled egg, tahini sauce,  fried eggplant, and Israeli salad. The rich, flavorful hummus lining the inside of the pita and smooth texture of the and eggplant and egg alongside refreshing tomato and crisp cucumber made for a delicious, filling meal–and all for $6.
We were perfectly happy with the pita we chose for the sandwich, but Haim shook his head when we chose whole wheat.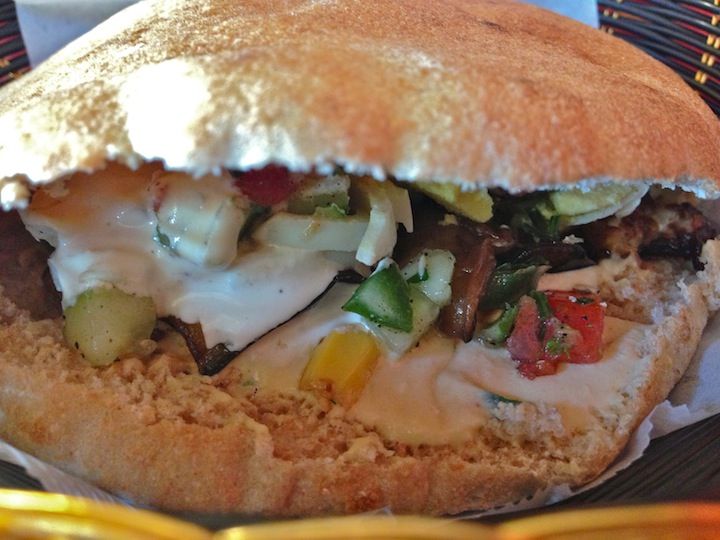 "90% of people so far have ordered whole wheat," he says. "I might just stop ordering white."
(Haim, who  thinks wheat tastes dry, talked the next customer into a white pita.)
Overall, though, Haim's glad Kensington and Windsor Terrace residents seem so health-conscious. He says there has been a great response already from folks who've been waiting for more fresh food in the area–and this isn't the first time. Until its closure in mid-2008, Haim owned Falafel Fusion (on Church Avenue and E 3rd), whose Yelp reviews include lines like, "should make all other falafel places rethink their lives" and, "OH! SOOOOOOOO GOOD!"
For now, the menu is completely kosher and vegetarian as advertised, including a make your own salad bar, falafel and shakshuka, desserts, and (of course) several kinds of hummus–but Haim expects to serve some fish dinner specials later down the line. The same goes for delivery and credit cards. "This week, it's just a soft opening," he says, "introducing ourselves to the neighborhood and seeing how it goes."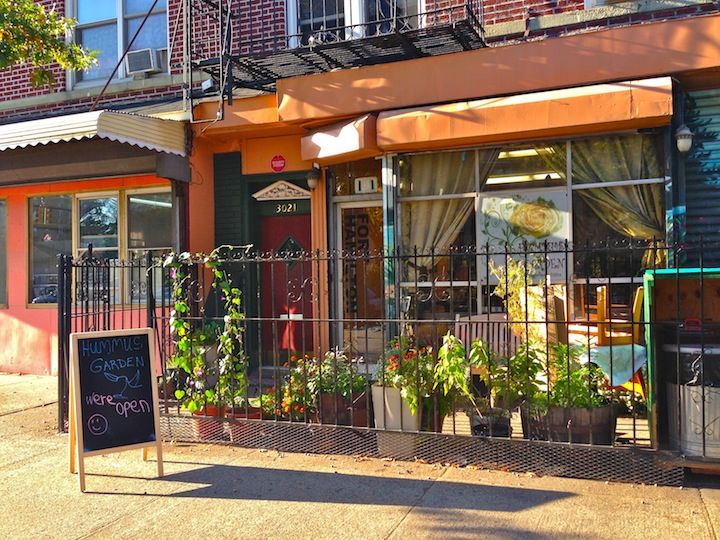 Click to see larger versions of the menus below, then stop by Hummus Garden at 3021 Fort Hamilton Parkway from 11am-11pm Sunday-Thursday, and 11am to sundown on Fridays.
Correction: An earlier version of this post named Haim as the owner of Hummus Garden. Haim is in fact Hummus Garden's chef, and Avi and Julie Atiae its owners.