How Freddy's Bar Is Turning The Neighborhood Into 'Art Slope'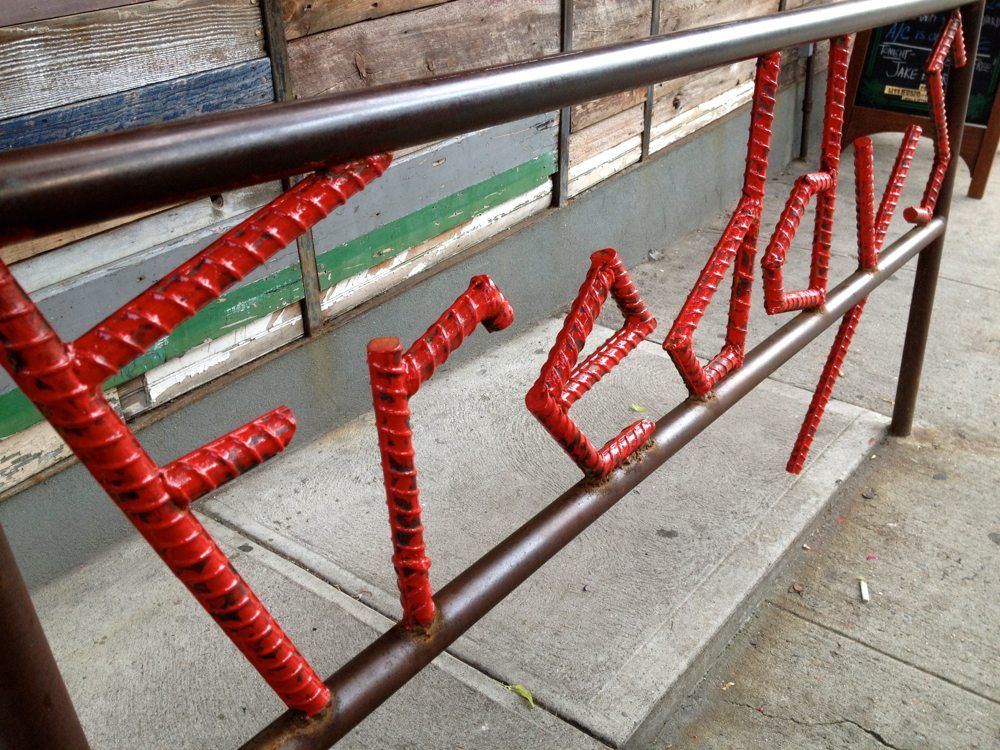 It was four years ago that the famous Freddy's Bar was forced out of its old digs on 6th Avenue at Dean Street by the imminent arrival of the Barclays Center. Three years ago in February, the new Freddy's landed at 627 5th Avenue in South Slope and the neighborhood hasn't been the same since. For many, Freddy's has become the South Slope destination, a great bar with a distinctly fun, offbeat vibe — and a backroom that's one of the most active performance spaces in the city.
"We've got something amazing happening here pretty much every night of the week," says Donald O'Finn, a co-owner of Freddy's and the man who books all the acts. "We run a wide range, everything from art shows to ukulele jams to comedy to films."
Donald was a bartender at the old Freddy's. "The old Freddy's had a great crowd of regulars, hip and very smart," he says. "It was a scene cultivated by the community and the staff, a truly creative adult playground. It was a home that none of us wanted to lose."

So Donald, along with fellow Freddy's bartenders Matt Kuhn and Matt Kimmett, decided to keep Freddy's alive. Step one was to find a new home.
"We were looking at different neighborhoods, but ultimately South Slope seemed perfect, like what Park Slope was 20 years ago, a great mix of writers and artists and original Brooklynites," Donald says.
The new Freddy's became a chance to create a unique space from scratch, and Donald, who has an MFA from the San Francisco Art Institute, was the designated visionary.
"As I was imagining the space, people would ask me if Freddy's was going to have a theme, and I would tell them, 'Imagine it's another time, on some other planet. And that planet has an ocean. And at the bottom of that ocean is the wreckage of an ancient ship. I want the bar to look and feel like the captain's cabin on that ship.'"

Donald says that though the vision was his, creating the new Freddy's was definitely a communal effort.
"So many regulars and friends pitched in to create this place," says Donald. "I'd just start handing out beers in exchange for work we couldn't afford."

They revamped every inch of the space, filling it with Donald's sculptures and found objects, bringing in the antique red mahogany bar and the great booths and tables from the old Freddy's, and adding everything from handmade wallpaper and a tin ceiling to an 1915 upright piano.

The result is a bar that's cozy and cool at the same time, with a backroom performance space that's also an exhibition space for emerging painters and photographers.
And then there are the videos. Hallucinogenic collages of cult movies, classic TV ads, educational films, and old industrials, they are a Freddy's trademark, playing continuously on TV screens over the bar, and projected in Freddy's backroom performance space. And they are, of course, created by Donald.

"Back in 1980 I bought one of the first home VCRs, a huge and very heavy top-loading Sony Betamax," says Donald. "At the time, I was a very committed and serious painter, but I slowly became consumed by video appropriation and recontextualization. It seemed so much more relevant and personal. And it was an unmined field that I could explore without bumping into too much history."
His videos are a favorite of Freddy's customers. "Most everyone loves 'em. Folks are generally entertained and a bit hypnotized. And a lot of the bands that play the backroom perform with the videos as a backdrop. Some old folks and young mothers have found them a little disturbing, though."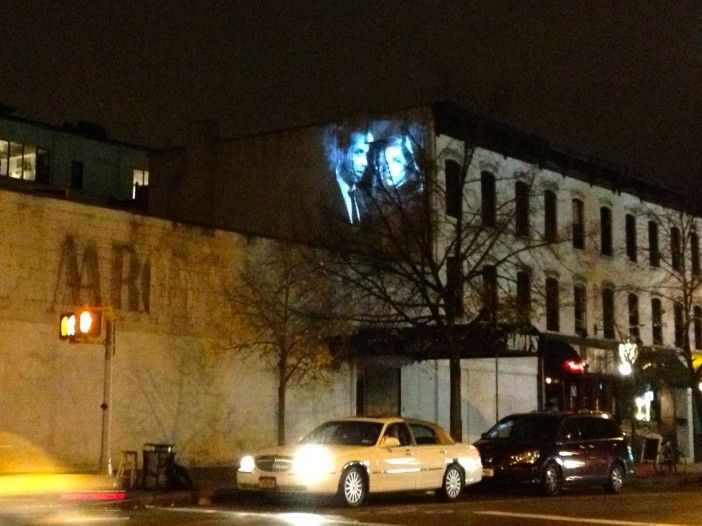 Lately Donald has been projecting his videos — "pedestrian-friendly versions" — high up on an exterior side wall of Freddy's. The projections are visible from blocks away down 5th Avenue.
"We'll be projecting every night, forever…or as long as our projector holds up."
The outdoor projections are one of Donald's ways of contributing to the neighborhood vibe. "I think of the neighborhood as 'Art Slope.' We want to take art to the streets." And, of course, the projections are also a great advertisement for the bar.
Freddy's wide range of events brings in diverse crowds who come to hear the music or see the art, but ultimately Donald wants them to become hooked on the bar itself.
"I love what we've created here, and my hope is that when people set foot in the place, I got 'em, they'll have to come back. And if not, then I probably don't want 'em anyway!"

You might not expect a place like Freddy's to have decent food, but the food is great — comfort food, served from a counter in the back, that includes burgers and tacos and even pigs in a blanket. The menu is the work of co-owner Matt Kuhn.
"Matt still tends bar here," Donald explains. "He also just happens to have an incredible flair for creating great bar food. He's completely responsible for the food and it's fantastic." And co-owner Matt Kimmett still tends bar at Freddy's as well. "We've got the best bar-men in New York," Donald says.
Donald, a self-described "bar connoisseur," couldn't be happier with his life at Freddy's. "My career as an artist and my career as a drinker fully came together here." He no longer logs any hours behind the bar. "Now I'm stuck behind a desk, so to speak." So he's trying hard to listen to his staff. "I'm full of ideas, but I'm not on the front lines anymore. So I try to question myself, and make sure I listen when my bartenders tell me my latest ideas are full of shit!"