Hotbox Mobile Sauna: A Bathhouse on Wheels Comes to Bushwick
If you're seeking to warm up this winter and melt away the seasonal blues, there's a new kid on the block. A pop-up sauna on wheels, hotbox mobile sauna, is hosting a new residency at 26 Vandervoort Place through the winter season in Bushwick.
Saunas have long been associated with cardiovascular health and general wellness, however, this wood-fired mobile unit takes it a step further by incorporating financial accessibility and diversity into the mix. Between sweat sessions—the sauna heats up to 180 degrees and fits 8-10 people at a time— you can grab a hot beverage at the indoor pop-up bar, chat with fellow sauna-goers in the heated tent, or cool off in outdoor ice shower.
Founded in March 2018, hotbox acts as a moving sanctuary of sorts: a retreat where sauna-goers can come together to enjoy the mental and physical benefits of a bathhouse. Hotbox founders, Jackie Aude and Paula Wegman, who are partners in business and partners in life, sought out this mobile service in an effort to create a healthy, safer space for folx to engage with their community. While the sauna is open to all, it also offers special Sweat Sanctuary sessions open only to queer women, non-binary, and trans folx, and has had events in the past centered around QTPOC.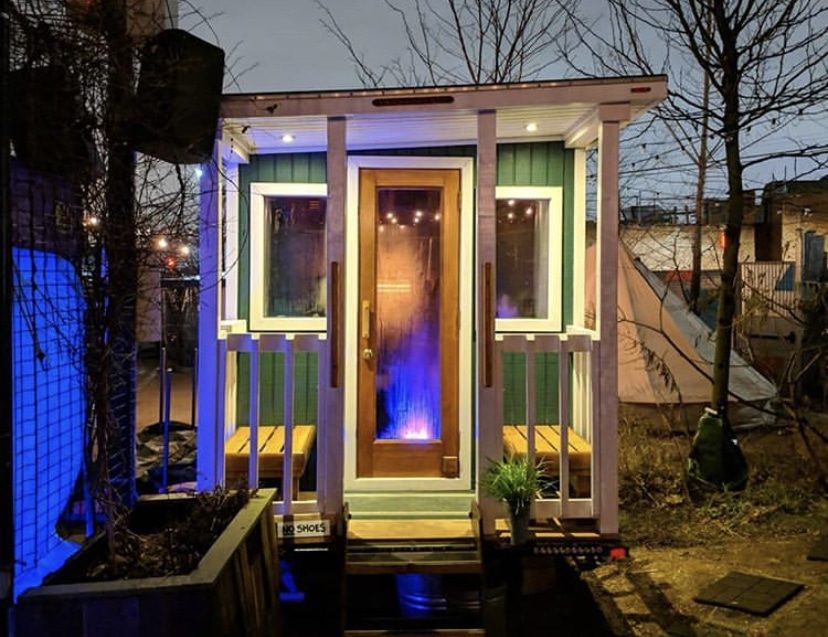 It's not uncommon for LGBTQ+ people—particularly trans and nonbinary folx—to experience discrimination in spas and fitness centers. Aude and Wegman believe that people shouldn't have to choose between physical health and personal safety; their work with hotbox further advances this mission.
"We want to create a space that's inviting and positive, where everyone can exist as they are, be respectful, and feel good," Wegman told Bklyner. "It's important for our communities to have safe spaces to relax and recharge—especially for LGBTQ+ and marginalized folx."
With a service that prioritizes health, the founders felt it imperative to encompass emotional wellness in their overall mission. The hotbox website details this goal, stating that this self-care space will not tolerate discrimination, including "racism, sexism, classism, ableism, sizeism, homophobia, transphobia, religious intolerance, and ageism."
Aude and Wegman began discovering bathhouses throughout New York nearly a decade ago. Soon, their travels in and outside of the states were peppered with visits to various spas and hot springs. Shortly after, the newfound hobby became a business venture.
"We love exploring and learning about all aspects of bath culture – and have for a while," Wegman told Bklyner. "That eventually led us to learn more about New York bath culture and realized what a rich history this city has with it – and still does. It's the diversity of this city that keeps it going."
New York's first public bath appeared on Mott Street in 1851, to help combat public health and sanitation concerns. Since then, these communal saunas have continued to integrate into NYC culture — covering everything from premiere boutique spas to the Russian Turkish Baths on the Lower East Side.
"We eventually learned about and introduced ourselves to the tiny mobile sauna community out in Minnesota. It's a thing! After that, we knew we had to bring something like that here," Aude added. "So we met with a bunch of sauna experts, builders—people who know their stuff when it comes to sweating in an authentic, wood-burning sauna. After years of planning and saving and learning, the hotbox was birthed."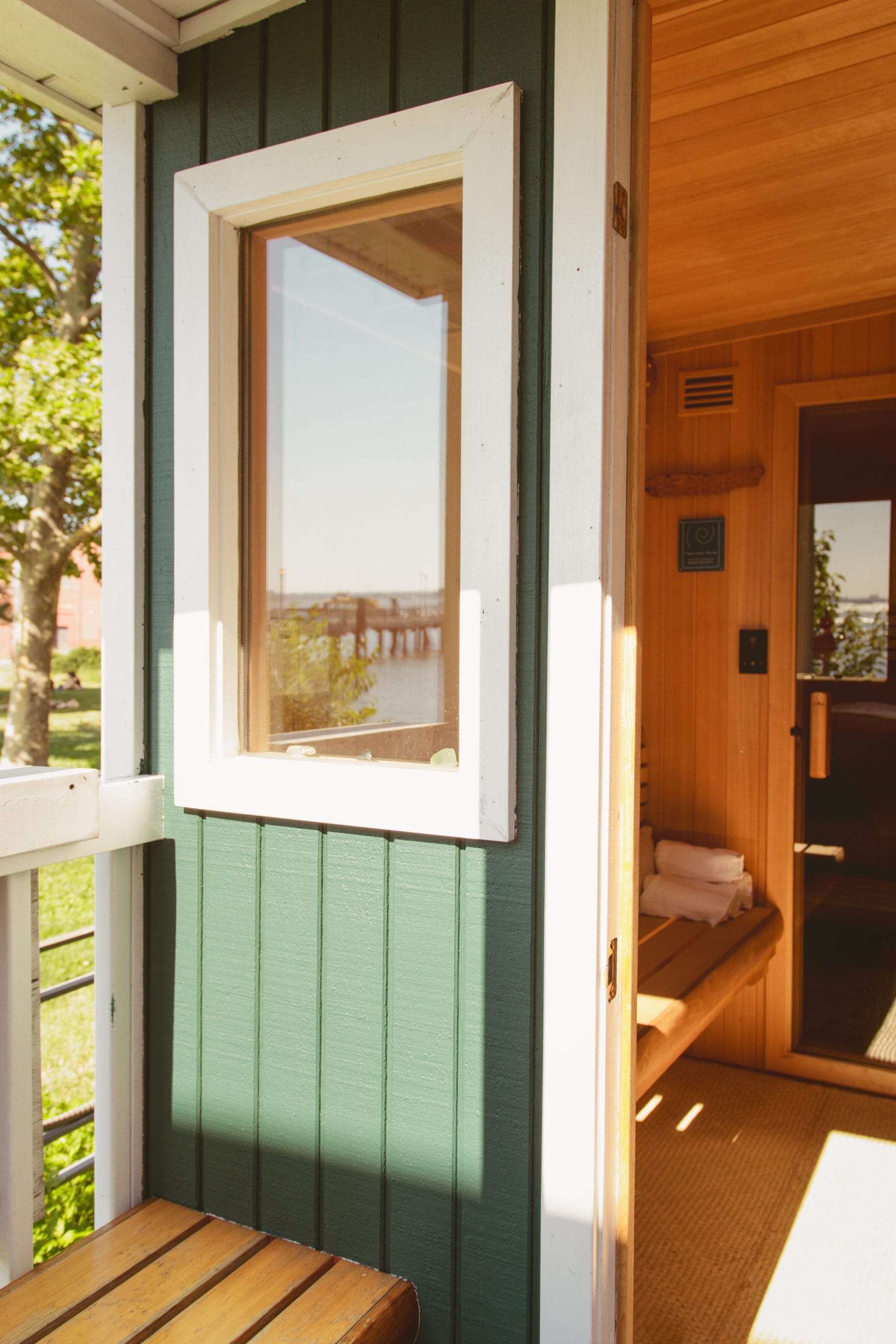 While launching a business is no easy feat, the portability of the hotbox has proven advantageous in supporting the small venture. And while a sauna-on-wheels certainly has its challenges (like learning to operate an 18-foot trailer), its mobility has allowed the business to remain financially accessible in a city with some of the highest rental rates in the world. Furthermore, the hotbox's flexibility of location makes it possible to connect with a greater array of communities throughout the five boroughs, if only temporarily.
"The ability to put heat on wheels and collaborate with people around the city – to transform backyards, driveways, unused lots, and empty spaces, to create a community around something so simple and good for you, is everything," Aude said.
"Sweating with people – strangers or otherwise – is a really honest and simple experience. We like to think that we provide an environment for quiet meditation as well as a place to meet new people and hear new stories," the owners said. "Where people can sit silently or share their state of mind with those around. Both are equally purifying."
Hotbox plans to be in Bushwick through Spring 2020, located at 26 Vandervoort Place, off Flushing Avenue.