Hosting Guide: 8 Ditmas Park Dinner Restaurants To Take Your Out-Of-Town Guests
When family and friends come to visit Brooklyn, the first question on most people's minds is: Where are we going to eat?
There's such an incredible — and overwhelmingly diverse — restaurant scene in Ditmas Park alone, we put together a list of sit-down dinner spots that are sure to impress.
We drew from different ends of the neighborhood, a mix of tried-and-true staples and crowd-pleasing newcomers that have quickly become part of the Ditmas food fabric.
We hope these selections make it easier to make those last-minute decisions to please your entire holiday crew.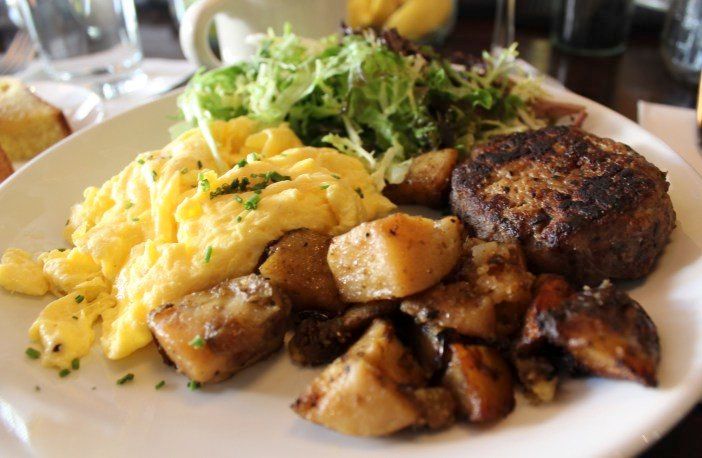 Farm to Table: The Farm on Adderley
It's nearly impossible to talk about food in Ditmas Park without talking about The Farm on Adderley. The spot is well-known beyond the neighborhood (named one of the 10 best farm-to-table restaurants in New York City). This space is great for couples or larger groups and families — plus they have a kids' menu.
Where: 1108 Cortelyou Road between Stratford & Westminster Roads.
Phone: 718-287–3101
Hours: Dinner hours vary slightly per evening, so check them here. Brunch on Saturdays & Sundays, 10:30am-3:30pm, weekday lunch from 11pm-3pm. Note: They are open on Christmas Eve, but closed on Christmas Day.
Reservations: For weekend brunches and Friday & Saturday evenings, they only accept reservations for parties of 5 or more.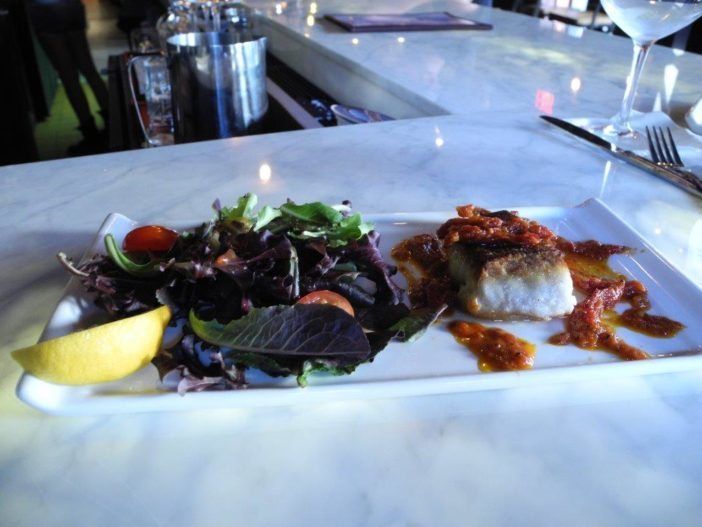 Spanish Tapas: Manchego
This wine and tapas bar is a new addition to the neighborhood this year, steps from the Cortelyou Road Q station. Enjoy fancy appetizers and small plates in a stylishly designed space — best enjoyed by your 21+ guests (not many options for kids).
Where: 1502 Cortelyou Road at Marlborough Road
Phone: 347-425-8511
Hours: Open 5pm to 10pm Monday through Thursday, 5pm to 10:30pm Friday and Saturday, and 5pm to 10pm Sunday.
Reservations: Doesn't take reservations, but has many seating options.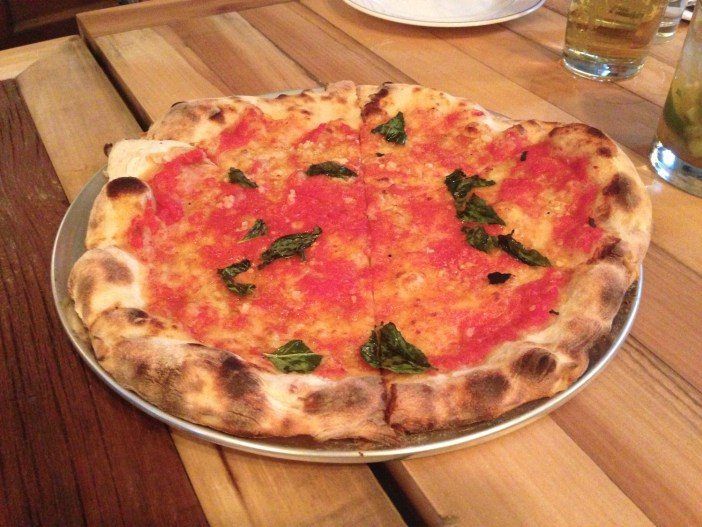 Gourmet Pizza: Wheated
This gourmet pizza shop and bar has been a local favorite since it opened in 2013, with a selection of tasty sourdough crust pies named after different neighborhoods, and a few towering salads to accompany them. To spice it up, try the house-made sriracha or spicy honey sauces for some added heat. The kitchen closes by 11pm, but stay late for drinks at the full bar.
Where: 905 Church Avenue between Coney Island Avenue & East 10th Street.
Phone: 347-240-2813
Hours: Tuesday through Sunday, 6pm to 12am (hours vary slightly, see full hours here) but the kitchen closes between 10:30-11pm.
Reservations: Doesn't take reservations.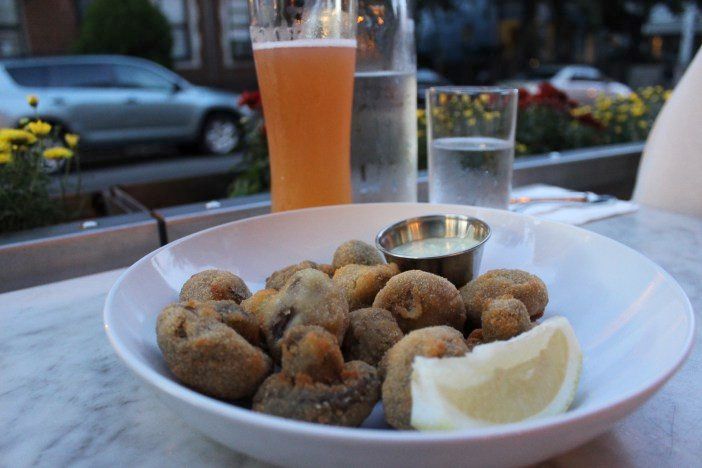 Austrian: Werkstatt
Enjoy Weiner Schnitzel and a diverse menu of Austrian favorites served up by chef Thomas Ferlesch. We ate a serious Austrian feast complete with drinks and desert — and are still full a year later. Sit at the bar, or large tables in the backroom with a wood burning stove. Note: Cash and AmEx only.

Where: 509 Coney Island Avenue at the corner of Turner Place.
Phone: 718-284-5800
Hours: Everyday from 5pm to 11pm; Saturdays and Sundays brunch from 11am to 11pm
Reservations: Yes, for parties of 6 or more.
Burgers: OxCart Tavern
Looking for a serious but underrated burger plus some fried pickles and craft beer on the side? Look no further. Oxcart has been hitting the "under-the-radar" lists for years, nestled on a Newkirk Avenue corner in our very own Ditmas Park.
Where: 1301 Newkirk Avenue at Argyle Road.
Phone: 718-284-0005
Hours: 6pm to 12am most days, check here for full hours.
Reservations: Doesn't take reservations.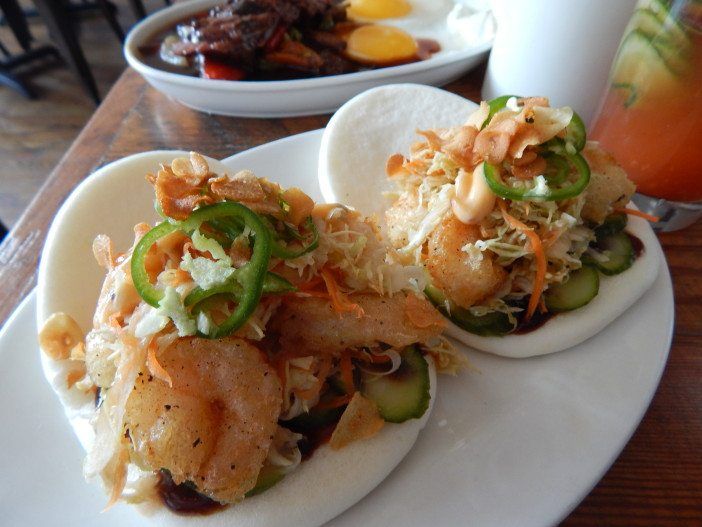 Asian-American: Hunger Pang
This "new American-Asian" restaurant is always drawing attention from throughout the city, even being named one of the most anticipated openings in Brooklyn last fall. Whether you're gorging on miso butter, smoked pork poutine, or short-rib ragu, this is the perfect destination for adventurous eaters and comfort-food lovers alike.
Where: 1021 Church Avenue between East 10th Street and Stratford Road.
Phone: (718) 552-2869
Hours: Tuesday–Thursday 5:30pm to 11pm, Friday 5pm to 11pm, Saturday and Sunday brunch hours, see full list here.
Reservations: Tuesday-Thurs for parties of 2 or more, Fri, Sat & Sun for parties of 6 or more.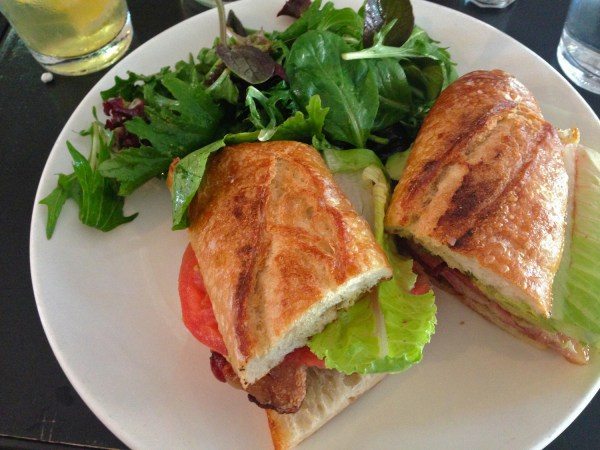 Upscale American: Hamilton's
Hamilton's is Kensington and Windsor Terrace's spot for upscale American food with a casual bar vibe. Enjoy burgers, organic roast chicken, and pasta specials with plenty of seating for the whole family.
Where: 2826 Fort Hamilton Parkway between East 4th and East 5th Streets.
Phone: 718-438-0488
Hours: Monday-Friday, 11am-4pm; dinner Sunday-Thursday, 4:30-11pm, Friday and Saturday 4:30pm-midnight; and for brunch on Saturday and Sunday, 10am-4pm. Open Christmas Eve day, closed after brunch and through Christmas day.
Reservations: Yes, call to make a reservation.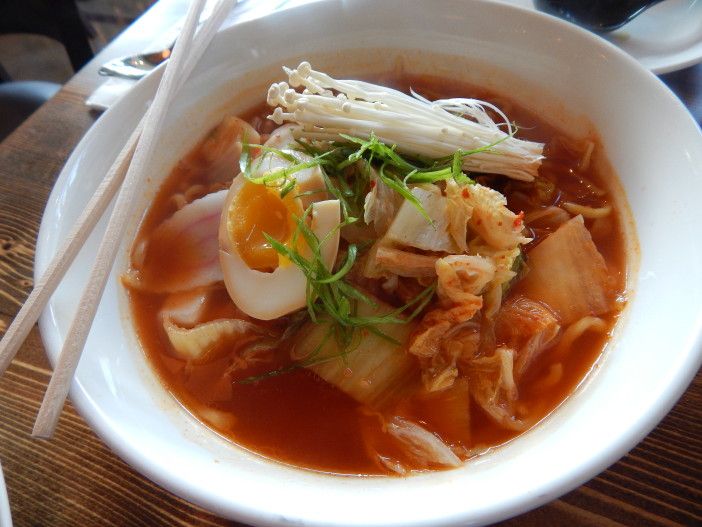 Ramen: Bashi Channel
There are two hot spots for Ramen just blocks from each other — Bashi Channel features soup dumplings, bánh mì sandwiches, spicy ramen, and a many tables for parties large and small. The place is usually jam-packed with neighbors laughing and clinking glasses of beer and wine, so reserve ahead for large groups. For a smaller alternative that's also truly delicious, try Koko Ramen on Marlborough Road.
Where: 1120 Cortelyou Road between Stratford and Westminster Roads.
Phone: 347-221-1970
Hours: Open Monday–Thursday 5pm to 11pm, Friday 5pm to 12am, Saturday 5pm to 12am, Sunday 5pm to 11am, varying lunch/brunch hours.
Reservations: Call to make a reservation.
Bonus: Suzy's Roti Parlour
This Caribbean spot replaced Shayna's on Church Avenue this summer, and we were delighted to learn that they've taken their predecessor's cuisine to the next level. We tasted the oxtail and roti and it was delicious. Though they've upgraded the decor and cleaned up the inside, it's still a small place and we wouldn't recommend bringing a large group.
Where: 907 Church Avenue at the corner of East 10th Street (one block from Coney Island Avenue).
Phone: 718-282-8190
Hours: 11:30am–9pm, Monday through Saturday.
Reservations: None taken, but the restaurant is small.
Still didn't find what you were looking for? Check out a bigger restaurant guide here (but sit indoors, it's going to be a frigid weekend!)