Horror Show: Brooklyn Horror Film Festival Returns October 17-24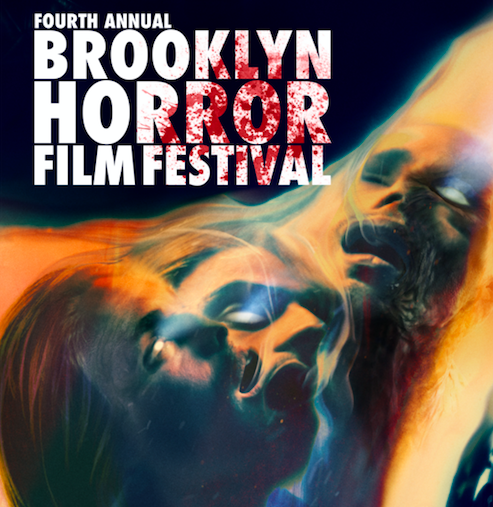 BROOKLYN – Get ready for Halloween! The Brooklyn Horror Film Festival returns for a fourth year, celebrating the art of horror filmmaking with independent features, shorts, and a number of premieres.
Spanning one week from October 17 through 24, the festival will feature new films, events, and parties at various locations across the borough, including two new venues this year, Nitehawk Prospect Park and Cobble Hill Cinemas.
The festival kicks off on Thursday, Oct. 17 with the North American premiere of Jeffrey A. Brown's The Beach House. A couple on a weekend getaway finds an odd, older couple staying at their beach house. After the two couples agree to share the home, it becomes apparent that "something is infecting the water and a fog is making its way ashore."
This year's centerpiece film will screen on Friday, Oct. 18 at LIU Kumble Theater. Daniel Isn't Real features a man who turns to his childhood imaginary friend, Daniel, for help in facing his social anxieties and the stress of taking care of his mother.
Also scheduled for Friday, Oct. 18 at Cobble Hill Cinemas will be a special screening of the 1920 German Expressionist classic, The Cabinet of Dr. Caligari. In honor of the film's upcoming centennial, the screening will be accompanied by a live score performed by The Flushing Remonstrance.
Brooklyn Horror Film Festival's popular Home Invasion program will showcase terrifying new works by local filmmakers, including 12 shorts, The Shed,  The Swerve, and the world premiere of the documentary Depraved: Making Frankenstein in a Brooklyn Loft.
The Slayed! LGBTQ program showcases the best new LGBTQ horror shorts and features, including Kurtis David Harder's Spiral and Emily Harris' adaptation of Sheridan Le Fanu's vampire novella Carmilla.
Three programs—Nightmare Fuel, Creeping Terror, and Head Trip—will feature a variety of scary short films. On Saturday, Oct. 19 at Cobble Hill Cinemas Nightmare Fuel will present a collection of shorts that covers everything from "insatiable cannibals to dating app ghouls, relentless serial killers and occult-signaled demons."
Also on Saturday, Oct. 19 at IFP in DUMBO, Creeping Terror will screen a group of films that explore "deadly family traditions, unique vampire lore, urban legends and more." On Oct. 20 at Cobble Hill Cinemas, Head Trip will feature "subversive and genre-bending" films "that include nihilistic poultry conspiracies, homicidal zoo animals, real world tragedies and psychedelic freak-outs."
Wrapping up the festival on Oct. 24 will be the New York premiere of director Joe Begos' "good old-fashioned 'siege movie'" VFW. The director will be at the screening as well as the Closing Night Party—both happening at Nitehawk Prospect Park.
2019 Brooklyn Horror Film Festival
Thursday, October 17 through Thursday, October 24
Various locations
Tickets start at $16