Horrible Homecrest Tower Might Get Torn Down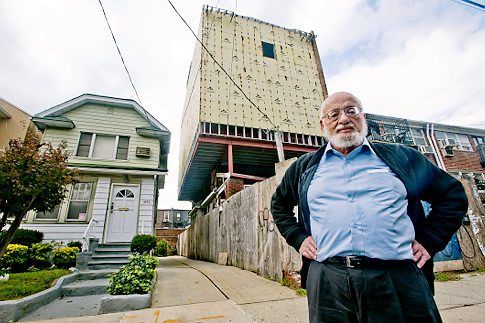 A fight that has stretched over seven years might finally be ending as a state judge has ordered the city to re-examine building plans from a shady developer who has attempted to build a 53-foot addition to his Homecrest home. The New York Daily News is reporting that Judge Yvonne Lewis has sided with neighbors who have spent years complaining that the home in question (1882 East 12th Street) was illegally altered.
We last reported on the 53-foot eyesore in October of 2010. At that time, Joseph Durzieh, owner of the house, was arguing that he had the proper permits to construct the enormous additions because he was merely altering his house and not building a new structure entirely. Neighbors argued that Durzieh actually tore down most of his house to set up the new addition to rent out condos. Durzieh maintained that the addition was meant only for his family but many were skeptical considering that plans called for an elevator and exterior staircase.
While Judge Lewis doesn't have the authority to order the tearing down of Durzieh's tower, she informed Durzieh to prepare to do so when the city properly re-examines the case. Neighbors were thrilled at Lewis's decision but still livid at the nightmare they've had to live with.
"The site is in an appalling state," neighbor Betty Travitsky told the Daily News. "There has been no upkeep. To live next to this is horrible. People walk by and laugh."
Despite the judge's decision, the Board of Standards and Appeals (BSA) still has the final say when they again re-examine the building plans and will provide a final decision on July 23.
Still, optimism is strong that the BSA will reverse its previous decision.
"Common sense says anyone in their right mind would rule to tear this aberration down because it is not and never was an alteration," said Walter Maffei, an architect consulting with the neighbors. "But it's lack of common sense and respect that got us to this point."