Honoring The Auxiliary: Sheepshead Bay Thanks 61st Precinct's Volunteer Cops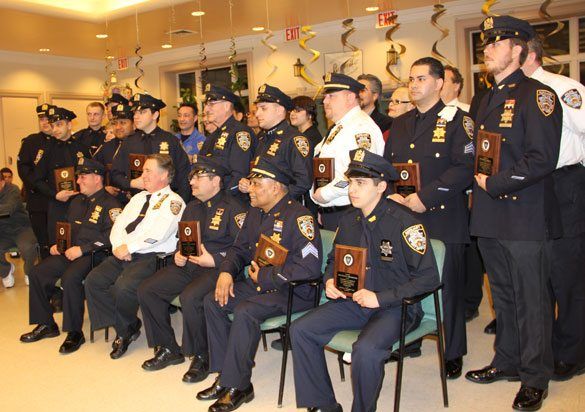 Sheepshead Bay honored the Auxiliary Police Officers of the 61st Precinct this past Wednesday evening for their hard work and dedication after Superstorm Sandy.
The auxiliary force of the 61st Precinct, the city's largest, is an all-volunteer force who've come together to assist local NYPD operations by performing uniformed patrols. After Sandy, auxiliary units were deployed to hard-hit areas, including Manhattan Beach and Gerritsen Beach.
The officers received plaques, certificates, and standing ovations from community leaders and locals at Wednesday night's 61st Precinct Community Council meeting. Neighbors joined together to celebrate the communal effort to get Sheepshead Bay back on its feet after October's disastrous hurricane.
"Because of them, we felt assured our lives were coming back to normal," said one local.
Officers responded graciously.
"We make a living by what we get; we make a life by what we give," said one of auxiliary's recipients.
Congratulations to the following officers:
A/LT Joseph Bognar
A/LT Yassir Sadik
A/SGT Jonathan Legarreta
A/SGT John Ramnauth
A/SGT Ray Santiago
APO Victor Arazi
APO Thomas Brown
APO Steven Diaz
APO Richard Farnum
APO Grigory Grigoryants
APO Lior Levin
APO Samuel Modovan
APO Vitaliy Molnar
APO Hector Oquendo
APO Alfredo Perez
APO Aleksandr Toyb
If you're interested in becoming an Auxiliary Police Officer, you can apply online.