Homeless Shelter Moves Into Former Windjammer, Sharing Space With Alleged Hot Sheet Hotel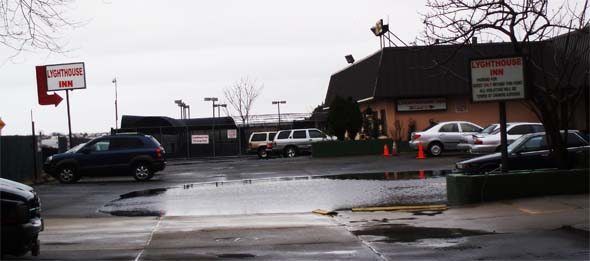 Using emergency provisions, the New York City Department of Homeless Services has moved nearly 20 families into the Lyghthouse Inn, an alleged pay-by-hour hotel formerly known as the Windjammer Motel.
Neighbors sounded the alarm over the shelter at the Sheepshead Bay – Plumb Beach Civic Meeting October 7, alongside elected officials who criticized the agency for poor communication with the community.
The agency confirmed that the family-oriented shelter opened in early October, and 17 families with children are already moved in. It was carved out of the motel's 3206 Emmons Avenue property, with a separate entrance through an unmarked door, and there are plans to house as many as 69 families at the location.
"Sheltering New York's families with children is a collective responsibility to be shoulder by all. We hope that the community is compassionate and supportive as these families work toward rebuilding their lives," an agency spokesperson said.
Neighbors at the meeting did indeed express compassion for the families, many of which are single mothers or victims of domestic violence. But they were critical of the agency's lack of communication, and shared concerns about the families' well-being alongside the hotel's clients, as well as its proximity to another family shelter just one block away.
"You cannot attack the homeless, the people who are living in there because you're an elitist or you think you're hot stuff. That's wrong. And after what we went through with Sandy, there's no way in hell you can turn around and say 'Make them homeless' when half your neighbors were homeless," said neighbor Barbara Berardelli.
The group did express concerns about the communication.
"All of a sudden on Thursday evening [October 2], about 5:30, 6 o'clock, big vans pulled up and they started dumping out vans and mattresses and cribs. The next day people were notified, about 4 o'clock, on Yom Kippur, when most offices were closed already, that the shelter was opening," said civic president Kathy Flynn.
The agency said that elected officials and Community Board 15 were notified of the shelter's opening as early as mid-September, about two weeks before work began.
But Councilman Chaim Deutsch told the group that it was only being discussed as a possibility, not a certainty.
"They told me nothing was set in stone [during a conference call with the department]," said Deutsch. "The next thing I know, I get a phone call saying, 'We're moving furniture in.'"
Assemblywoman Helene Weinstein recounted much the same.
Establishing a homeless center is often a process spanning many months, including community feedback and Community Board review. However, the pols explained that the agency used an "Emergency Declaration" to expedite the process – which the agency confirmed it uses during times of "dire capacity needs." That allows them to temporarily take over the space and do community approval later. The agency will still need to seek approval over the next six months or so, the pols said.
Both Weinstein and Deutsch said they look forward to learning more about the agency's long-term plans.
Until then, they both remarked on the shelter's less-than-stellar landlords.
"[When I heard about it,] first I went to the Lyghthouse around the corner. I had to wait in line because people were asking for rooms for two hours, three hours, four hours. So I had to wait in line just like everyone else," said Deutsch.
"There's safety issues, there's security issues, there's, I guess I'll put in quotes, 'patrons' of the hotel," said Weinstein. "There are issues that need to be addressed."
In regards to safety, the agency noted that there will be 24/7 security, though declined to elaborate.
Both pols are looking forward to additional meetings with the agency to address those issues, including potential overcrowding concerns at the nearby elementary school, PS 52.
Still, they admitted there's little they can do in the short term, especially as the city is in the midst of a homeless housing crisis.
"I believe there's 57,000 individuals that are homeless. Eleven thousand families that need shelter. That's a lot of people in New York City, so I accept that we have a responsibility to have a fair share in our community," said Weinstein.