Homeless Man Dies Under A Red Blanket In Boro Park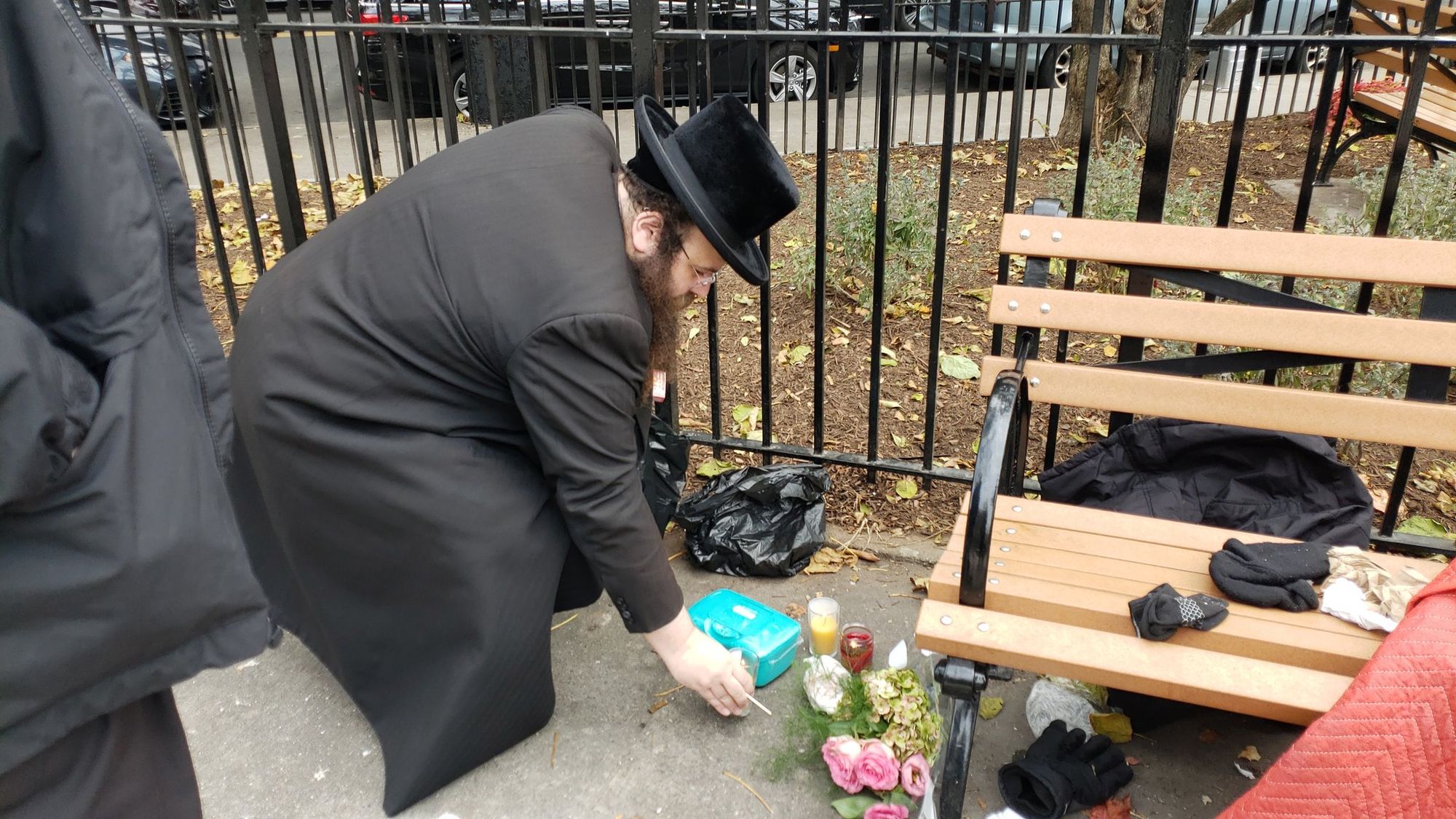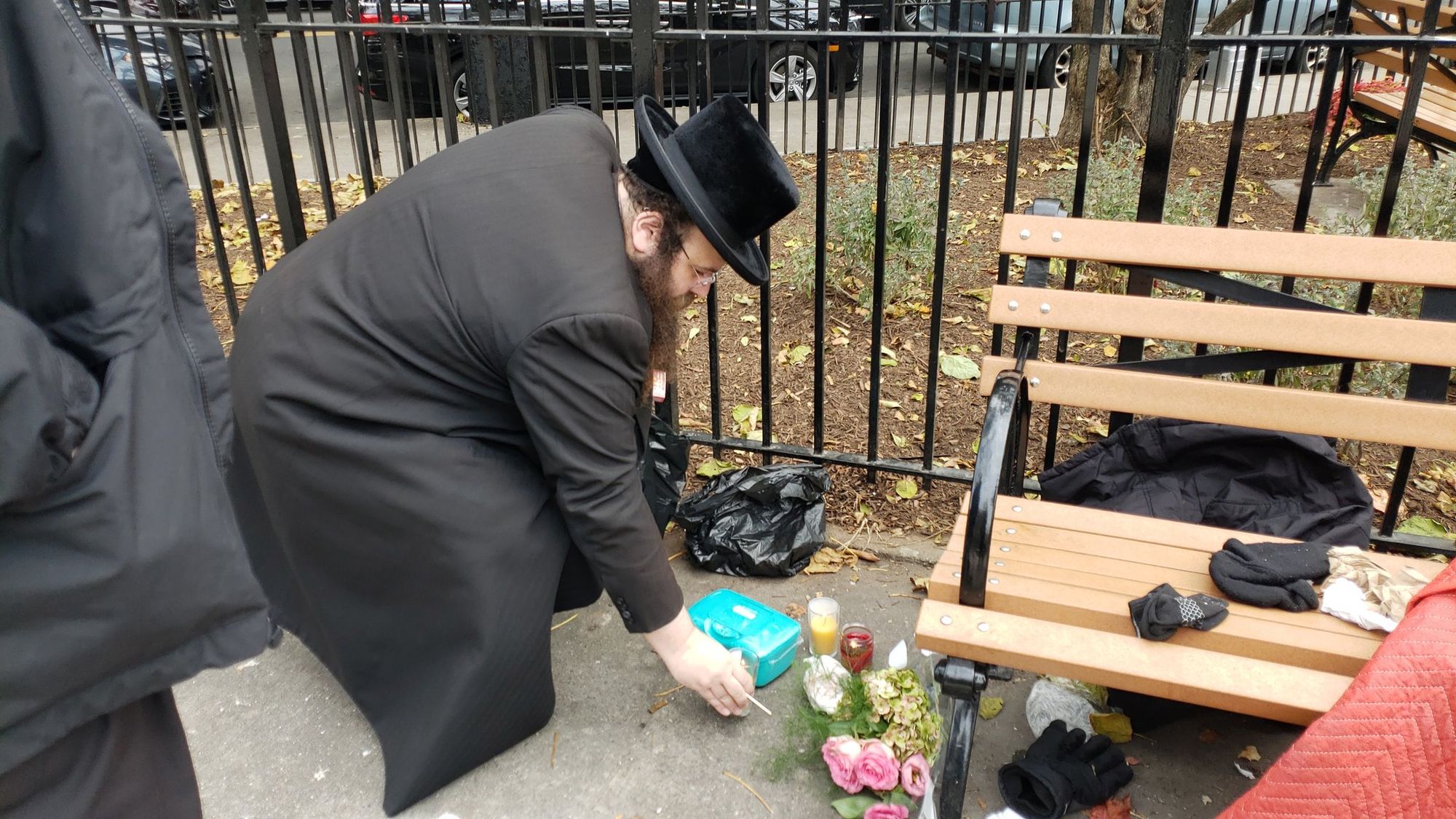 BORO PARK – A homeless man died while sleeping on the streets in Brooklyn over the weekend.
On November 10, a 46-year-old homeless man who was sleeping on a bench outside the Alben Triangle park did not wake up. The NYPD would not provide us with any information, and Masbia founder Alexander Rapaport called it a Code Blue death, as cold temperatures were running throughout the weekend. Code Blue is in effect when temperatures drop below freezing to and anyone in need of shelter will be provided one by the City.
The gates of Alben Triangle, a small park on 46th Street and 11th Avenue, were closed for many years. While it was being renovated, it was home to homeless people. On Friday, November 9, a ceremony was held to open up the park. New trees were planted and benches were added. But after the ceremony, the gates were locked. Rapaport explained that many people had been complaining about homeless people sleeping there. "But these are not dangerous people. There are mainly immigrants from Hungary," he said.
So, since the gate was locked, homeless people were confined to this one bench outside the Triangle.
"On Sunday morning, one man was found dead under a red blanket," Rapaport said. "When I went there, the rest of the homeless people were sitting there in mourning."
Being homeless in Brooklyn is no easy task. We reported on it back in August where a few homeless people call the Kensington Plaza their home. According to the Bowery Mission, over 4,000 people sleep on the streets, subways, or parks every night in NYC. And over 63,000 of them sleep in shelters.
Over the last decade, the situation has just gotten worse – the number of people in shelters has almost doubled.
While it is too late for the man in question, here is some information from the city that may help you help a homeless person:
"A Code Blue Weather Emergency notice is issued when the temperature drops to 32 degrees Fahrenheit or less between 4 p.m. and 8 a.m., including National Weather Service calculations for wind chill values. No one who is homeless and seeking shelter in New York City during a Code Blue will be denied. Should you see a homeless individual out in the cold, please call 311 and an outreach team will be dispatched to offer assistance. Code Blue Weather Emergencies include the following options for the homeless:
Shelters: During a Code Blue, shelter is available system-wide to accommodate anyone who is reasonably believed to be homeless and is brought to a shelter by outreach teams. Accommodations are also available for walk-ins.
Drop-in centers: All drop-in centers are open 24-hours per day when Code Blue procedures are in effect and will assist as many people as possible for the duration of the emergency. Drop-in staff can also make arrangements for homeless individuals at other citywide facilities.
Street homeless outreach: Teams will contact vulnerable individuals on their Code Blue Priority Lists to ensure safety and bring them to shelter. DHS coordinates Code Blue efforts directly with agencies such as NYPD, DSNY, and the Parks Department, at a borough level."