Holy Shnikes! Car Slams Through CVS Storefront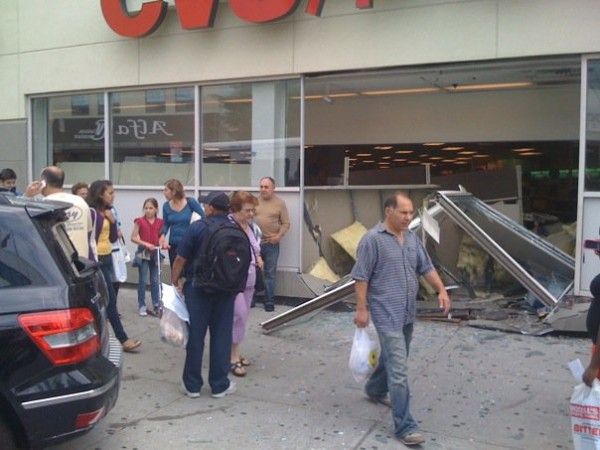 UPDATE (3:28 p.m.): We just heard a little more from the reader. Here's what he wrote:
I do not think anybody got hurt, not sure what happened to the driver, and initially I thought it was an explosion. It sounded like a bomb going off. There were a couple of cashiers in front but no serious injury, one cashier had a scratch on his arm but nothing major and ambulance was still checking him out. People did not scream but everyone was freaked out, saw a bunch of women in tears, people panicked, ran from the front to the back.
Original story:
Apparently the driver of a black Mercedes SUV felt the CVS Drugstore at Sheepshead Bay Road and East 14th street needed a drive through. At around 2:00 p.m. today, the car crashed through the wall facing Sheepshead Bay Road, landing right where the registers are. A reader who was shopping inside at the time sent in these photos. We don't know if anyone was hurt, and we sincerely hope no one was. We'll update with more information as we receive it.