A History Of Coney Island's 112-Year-Old Polar Bear Club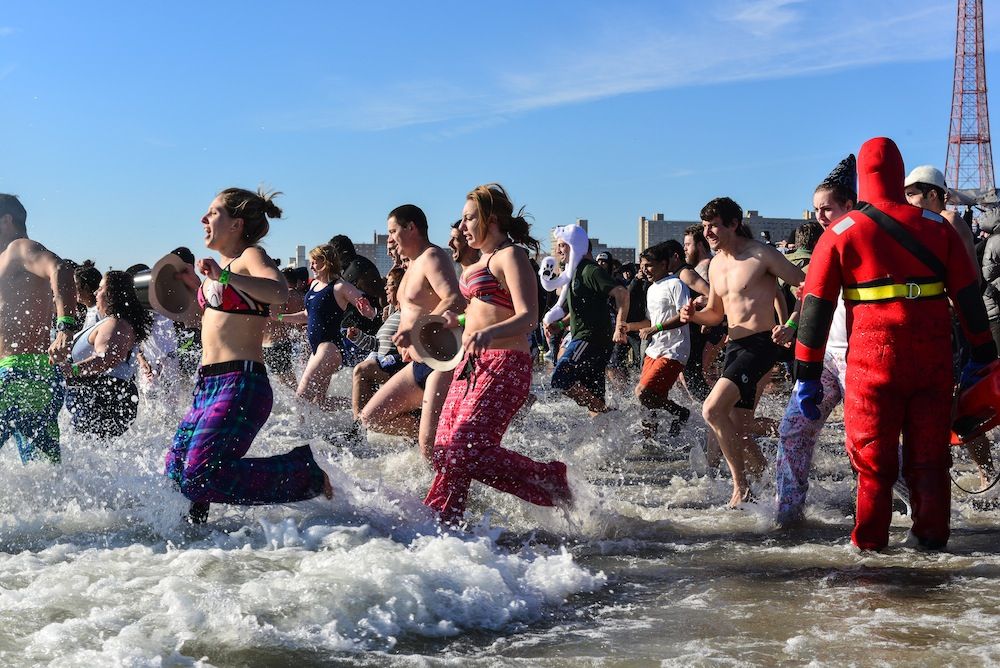 The Coney Island Polar Bear Club has become widely associated New Year's Day, when hundreds of hipsters and health nuts alike charge into the Atlantic Ocean to take part in group's momentous annual swim, which is open to the public and raises money for a great cause.
But the legend and ritual that surrounds Coney's winter swim club — which is rumored to be the oldest such club in the country — are more bizarre and colorful than you could imagine. In a lengthy feature, AM New York takes a look at the history of the Polar Bears, their eccentric founder, and their strange, strange ways.
First, a few basics to know about the Polar Bears, courtesy of AM New York:
The club was formed in 1903 by millionaire Bernarr Macfadden, a publisher and health enthusiast whose fame also included the creation of Sexology Magazine and a religion that combined dieting and Christianity. At 85, he parachuted out of an airplane. His followers continued the winter bathing tradition, and, for decades, the club was formed by men who impressed other Coney Island beach goers with their athleticism and daring in the face of blizzards and waist-high snowdrifts.
Today, new members are introduced as "cubs," required to do 12 swims before they are voted in, but they don't have to pass any physical fitness tests. Dues are $40 a year. And the club has grown to more than 140 strong, from tradesmen to professionals. Club organizers say some members swim year-round, competing in winter swimming in places like Siberia and China. Others just show up on Sundays.
In addition, we learned some fun historical details and facts surrounding the club, including:
Winter swim clubs were all the rage in Coney Island during the turn of the 20th century.
Former Coney Island strongman and Olympic athlete Joe Rollino was once a member of the club.
The club's president often blows on a conch right before each weekly swim.
Many members proudly boast polar bear tattoos.
A former "Wall Street warrior" has become the club's unofficial spiritual leader.
Women were banned until 1964.
Members claim swims make them resilient against winter illnesses.
A colorful Coney Island rabbi broke with the group in 1992 to form his club: the Brighton Beach Ice-Breakers.
Read about these stories and more right here.