History at Home: This Day in the Brooklyn Daily Eagle
As we wander about our modern neighborhood, caught up in the hustle and bustle of everyday life, it's easy to ignore the long and vibrant history of our community. Let's remedy that. Every weekend, we'll take a step back, with the help of the Brooklyn Daily Eagle archives, and explore what was happening around South Slope over a century ago.
On this day in 1895, "A WOMAN" fed up with the ongoing railroad strike, says that it's time to get the big guns out, and declare martial law.
In the same issue, an ice skater laments on behalf of the poor "unfortunate Brooklynites" who must suffer at the hands of lazy Prospect Park workers.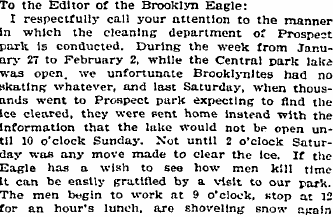 Finally, a South Brooklynite is ready to shove it to the elevated railroad, after difficulties during their rush hour commute.
Have an interesting bit of South Slope history to share? Send it to editor@bklyner.com, and we'll publish it in our weekly History at Home segment