Historian Suzanne Spellen Gives Primer on Park Slope's History and Architecture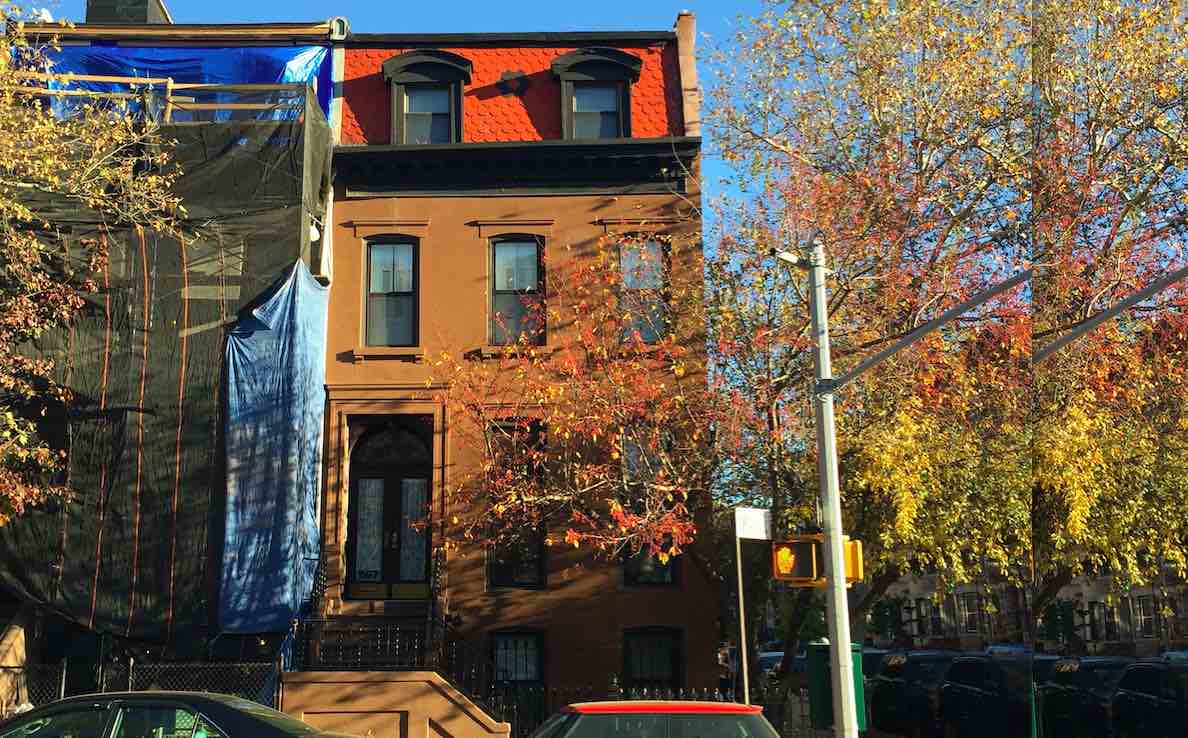 On November 17, the first of a six-part series of "Brownstone Prep" lectures "for owners, investors, and dreamers" was held at the opulent 267 6th Avenue (between Carroll Street and Garfield Place).
The building, formerly home to the Swedish Athletic Club, showcases some of the classic brownstone detailing that was discussed during the seminar by the historian and writer, Suzanne Spellen.
The event was organized by John Mazurek of the Mazurek Team at Douglas Elliman and Brownstoner with proceeds benefitting the Park Slope Civic Council.
Spellen took the audience back to Brooklyn's humble beginnings when the Dutch began settling in the area and an uninhabited Park Slope was "known for its stagnant swamps…. People caught fevers, no doubt from mosquitoes…[causing] travelers to hurry past it as fast as possible."
During the Revolutionary War, the 1776 Battle of Brooklyn took place in the Park Slope/Gowanus area. Brooklyn became a city in 1834 and shortly after was divided into wards. The Park Slope area was Ward 8, "one of the least populated wards in the city."
Prospect Park was established in 1867 after much drama involving the city having to negotiate with and pay large sums of money to the wealthy and shrewd businessman Edwin Litchfield who owned most of the land on the west side of the park. Along with the opening of the popular park, the Gowanus Canal was completed in 1869 and the Brooklyn Bridge opened in 1883. Park Slope, and the surrounding neighborhoods, was ready to be developed.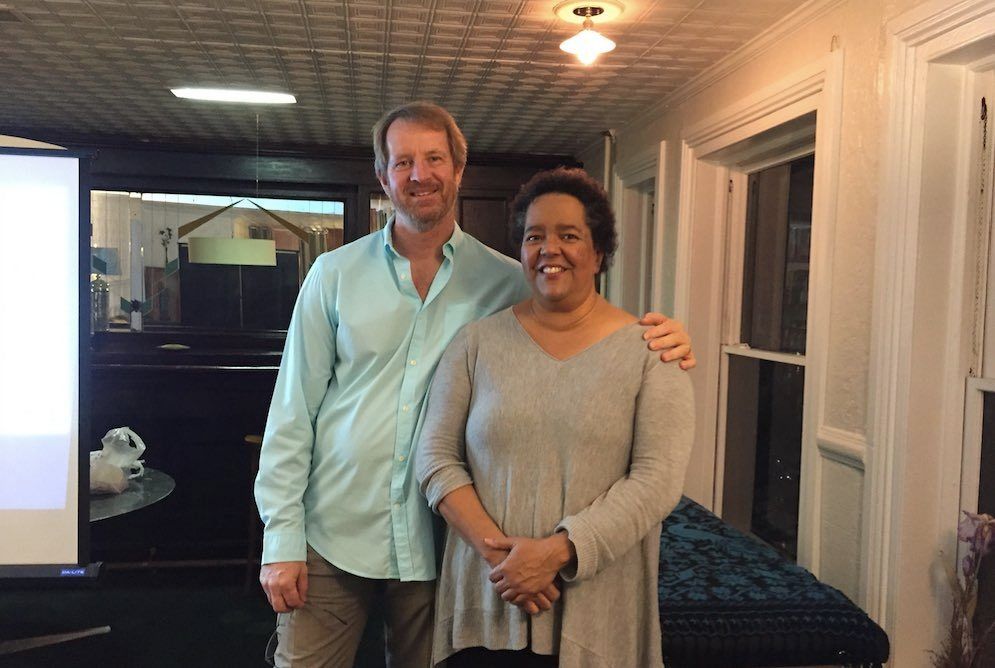 Unsurprisingly, according to Spellen, "the most expensive houses were [built]  by the park—along 9th Avenue which is now Prospect Park West, 8th Avenue, and the side streets between Plaza and 3rd Streets. This [area]  was called the Gold Coast." She continued, "upper-middle class housing [was built]  between 6th and 7th [Avenues] on the named and numbered streets, and as you went down toward Gowanus [you'd find] the more modest housing…."
The Italianate was the first popular architectural style in Park Slope and was prominent from the 1850s–1872. According to Spellen, this style, along with Neo-Grec, are considered the "classic Brownstones of our Brownstone neighborhoods." Italianate buildings were made with Brownstone, a sandstone, and are know for ornate hand-carved details that include brackets located around windows, doorways, and the pediments above doors.
Italianate buildings were typically built on speculation. A builder would buy a group of lots, develop them, and sell them. This style was to be viewed "the long way—you'd see down the street…the symmetry of [all the lots]  being the same."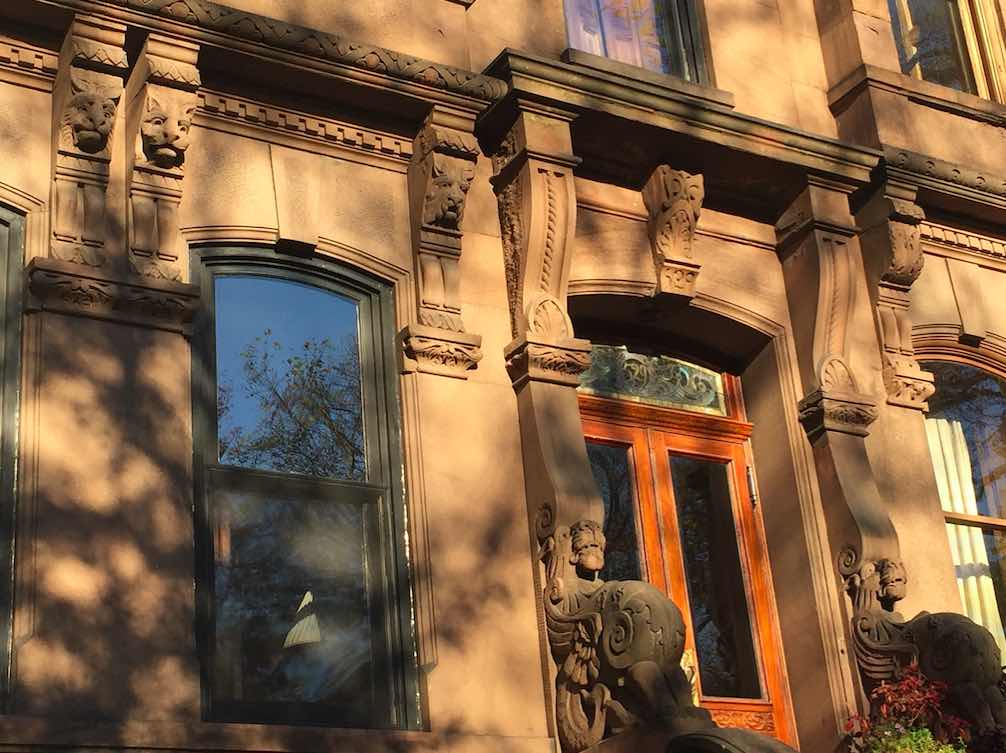 Neo-Grec was popular from 1872-1882. According to Spellen, there are more Neo-Grec style buildings in Park Slope than any other architectural style. As with its predecessor, Italianate, "the detail was not in the individual house but the idea of the whole row," as the blocks of buildings would "form a very symmetrical and linear streetscape."
The surge in Neo-Grec buildings occurred in Park Slope and Bedford-Stuyvesant in the late 19th century due to the innovation of the pneumatic drill. The tool enabled pattern designs to be carved into brownstone more easily, quickly, and cheaply (as opposed to hand-carving), resulting in lower building costs and more reasonable selling/purchasing prices.
After a brief diversion into French Neo-Grec, a variation of Neo-Grec that was "frothy with lots of curves lines and flowers…flourishes and curlicues," Brooklynites became bored with all the brown houses that looked the same, so the Romanesque Revival/Queen Anne period was born.
Popular between 1883-1893, the Romanesque Revival/Queen Anne is Spellen's favorite period. She describes this period as the most creative in Brooklyn Brownstone history because the people building the homes had started to formally study architecture and to attend art schools like École des Beaux-Arts in France.
Spellen explained that Romanesque Revival and Queen Anne styles are "intertwined," both incorporating a "combination of shapes and forms" and a mixture of texture, patterns, and materials—"no longer just Brownstone." Merging a "wonderful pastiche of materials" like wood, limestone, granite, colored brick, terra cotta, pressed metal, stained glass, wrought iron—"it was beauty for beauty's sake."
Spellen suggested checking out the Adams House on the corner of 8th Avenue and Carroll Street to see the "finest example" of Romanesque Revival architecture.
Discerning Brooklynites eventually grew tired of Romanesque Revival/Queen Anne as well, deeming it too fussy. The next trend was the Beaux-Arts or Renaissance Revival styles inspired by the classically shaped white buildings in marble and stucco seen at the Chicago World's Exhibition in 1893. Renaissance Revival is, according to Spellen, "cleaner…airier…and more restrained" than Romanesque Revival.
As the 20th century approached, the Tudor and Medieval Revivals became the trend, emulating the Tudor-style homes featuring half-timber accents that were popping up in the suburbs.
Spellen then discussed a few notable architects who helped create some of Park Slope's most noteworthy Romanesque Revival/Queen Anne buildings.
C.P.H. Gilbert (Charles Pierrepont Henry Gilbert, 1861-1952) was one of the starchitects of old Park Slope. In 1887, the New York native started to design houses for Brooklyn's wealthy living on 8th Avenue, Carroll and Garfield Streets, and Montgomery Place. Spellen describes his work as "exuberant" exhibits of "wonderful massing[s], Romanesque arches, towers and turrets…dormers, witch's hat towers, stained glass, and stairways." Gilbert designed the majestic Adams House on 8th Avenue.
Montrose Morris (1861-1916) is a favorite of Spellen's with his eclectic designs and "excellent taste." He built the Hulbert House located at 49 Prospect Park West (now the Poly Prep Lower School) in the Romanesque Revival style but used white stone instead of brownstone. According to Spellen, Morris was way ahead of his time because 10-15 years after he built Hulbert House, "everyone switched to white stone." Hulbert House is a classic Montrose Morris house featuring mixed towers—"an 8-pointed, octagonal tower on the right [and]  a round tower on the left," as well as lots of ornamentation.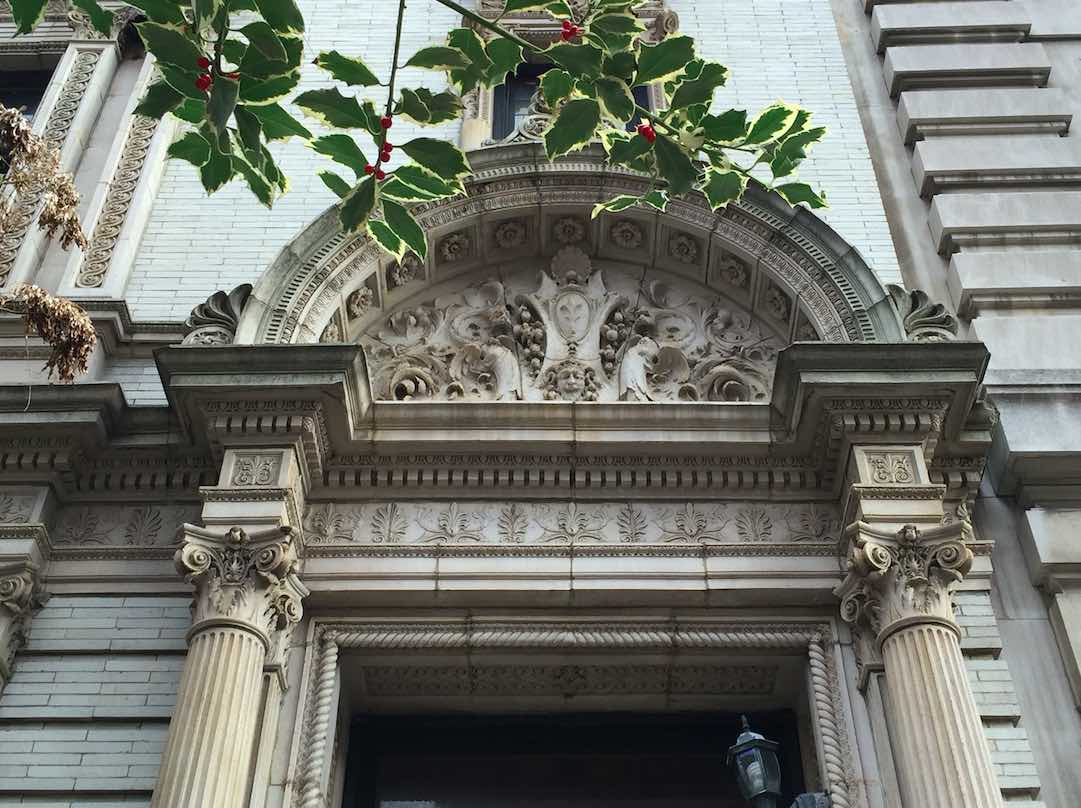 When the Beaux-Arts and Renaissance Revival styles became au courant, Morris adapted and created "some of his best work in Park Slope on Prospect Park West." One of his Renaissance Revival buildings is located on 8th Avenue directly across from the Adams House.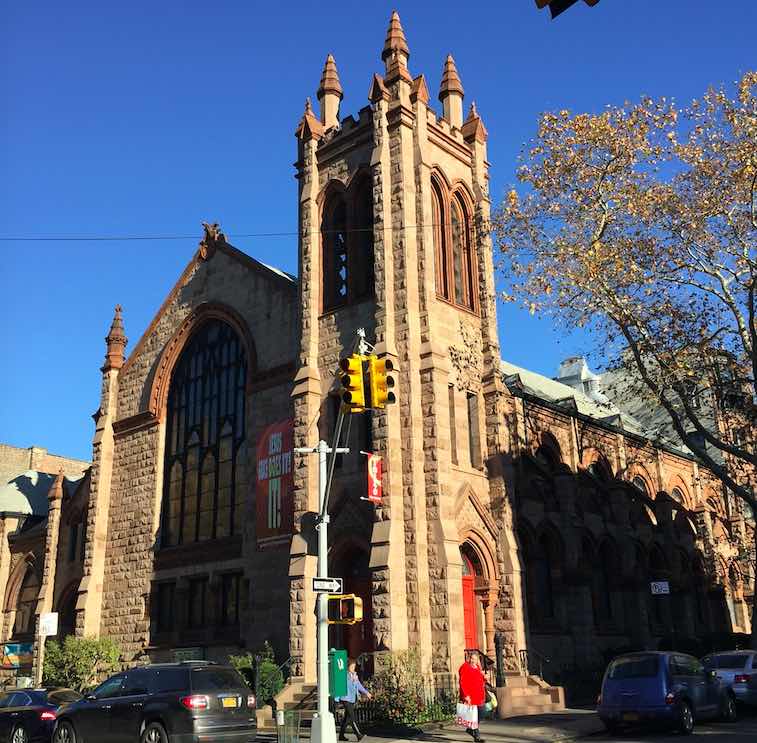 Born and educated in England, the Parfitt Brothers—Henry, Walter, and Albert—offered an eclectic, arts and crafts type of style that was different from what other architects were doing. They came to the United States in the 1880s and "took Brooklyn by storm." In addition to designing houses, they also built churches, including Saint Augustine Church on 6th Avenue and Grace Methodist on 7th Avenue, each with a distinct style.
Spellen's lecture on Park Slope was informative and fascinating, leaving BKLYNER wanting to learn more about the borough's history and magnificent architecture. Fortunately, she offers walking tours in various Brooklyn neighborhoods. Find out more on her Facebook page.
The next Brownstone Prep lecture titled "An Evaluation" will take place in January and will focus on what to look for when inspecting older buildings. Email brownstoneprep@gmail.com for more information.