Hillary Clinton Coming To Fort Greene To Promote New Book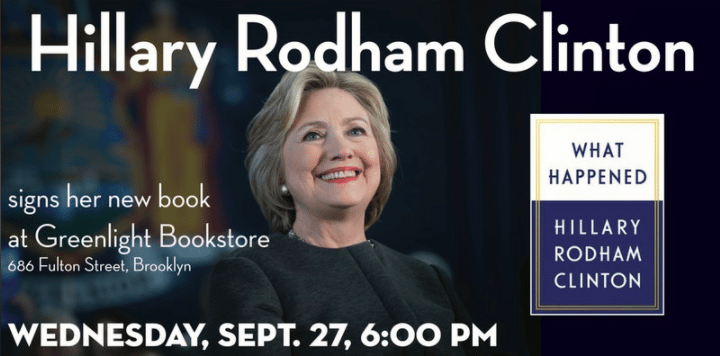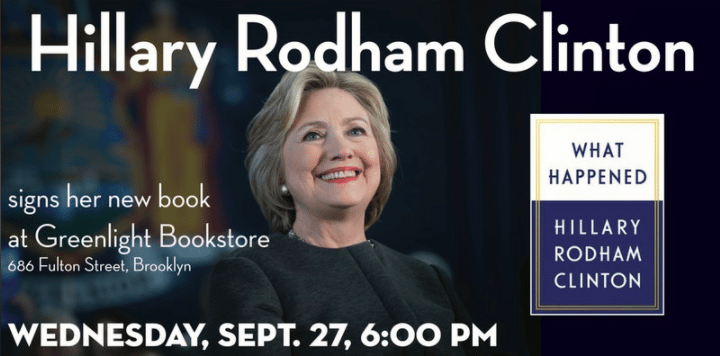 FORT GREENE – Hillary Rodham Clinton will be signing copies of her new memoir, What Happened, a personal account of her experiences during the 2016 presidential campaign at Greenlight Bookstore in Fort Greene on Wednesday, September 27.
In the book, the former Secretary of State and Democratic presidential candidate "reveals what she was thinking and feeling during one of the most controversial and unpredictable presidential elections in history," the book's description reads.
"Now free from the constraints of running," Clinton tells of her "personal experiences of becoming the first woman nominated for president by a major party in an election marked by rage, sexism, exhilarating highs and infuriating lows, stranger-than-fiction twists, Russian interference, and an opponent who broke all the rules."
Clinton discusses what it was like running against Trump, mistakes she made during her campaign, and how she has coped and recovered in the aftermath.
After announcing the event on Monday, August 28, Greenlight Bookstore sold out of the 1,000 tickets within two days, store manager Jarrod Annis tells BKLYNER. He notes that the event is only a book signing and that Clinton will not speak nor read excerpts from the book.
Ticket holders will receive a wristband to access the long book signing line which will primarily be outside Greenlight Bookstore. They will receive a hardcover copy of What Happened when they enter the shop.
Additional copies of What Happened, as well as Clinton's new children's book, It Takes a Village, will be available for sale during the event, Annis adds. Clinton will sign up to two books per person.
Greenlight Bookstore, 686 Fulton Street, Fort Greene
Hillary Rodham Clinton Book Signing
Wednesday, September 27 at 6pm