Heroic Teen Died Saving Others In Brighton Blaze, Now Family Can't Pay For Funeral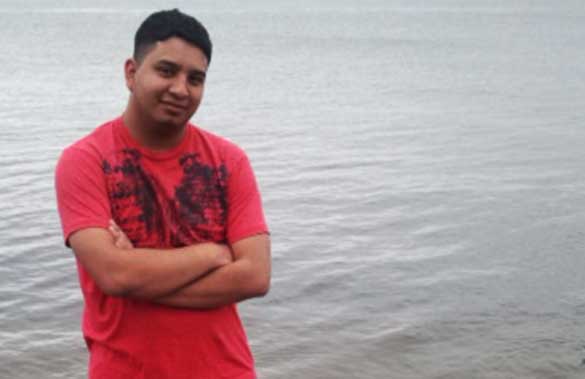 An 18-year-old Brighton Beach man died on Friday after rescuing his little brother from their burning home, then rushing back into the blaze to save an elderly neighbor. Now the family is struggling to pay for the teen's funeral, and is turning to the community for help.
Jhordan Caballero lived up to his surname – Spanish for "knight" or "gentleman" – when he guided his 8-year-old brother Renzo out of their Brighton 3rd Street two-story home after a blaze erupted on the first floor, filling the home with thick smoke and scorching heat. Caballero then rushed back in to save a 61-year-old woman.
But Caballero, finding the woman stuck, rushed back upstairs to his apartment to call 911. He never made it back out of the house, succumbing instead to the smoke.
According to the Daily News:
He was unconscious when firefighters found him.
"The building was like an inferno," said Olga Martynchuk, 39, a neighbor.
She said Caballero was covered in soot when he was pulled from the house.
"I couldn't tell that it was him at first," Martychuk said. "He was all black with smoke, you couldn't see his eyes."
She said firefighters fought hard to save him. But he died at Coney Island Hospital soon after.
"First one fireman and then another, and then a third and even a fourth they all took turns pumping his chest, but they could do nothing," Martychuk said.
The younger brother and the neighbor, who was pulled out by firefighters, were treated for smoke inhalation at the same hospital, officials said.
Caballero was a Lincoln High School grad and Kingsborough Community College freshman whose family emigrated to Brooklyn from Peru four years ago.
Now his family, already grief-stricken from their loss, is hit with another burden: trying to pay for Caballero's funeral bills.
"The boy was a hero," said Pat Singer, executive director of the Brighton Neighborhood Association. "He gave up his life to save two lives. The family does not have the money to bury their son."
The BNA has contacted Catholic Charities  and the Hebrew Free Fund, but to no avail. Now they're asking the community to help give the teen the burial he has earned.
"If anyone wants to donate through the Brighton Neighborhood Association, we will be glad to give them our tax exemption number," Singer said.
Readers can send checks to the Brighton Neighborhood Association, 1002 Brighton Beach Avenue, Brooklyn, NY, 11235. You can call (718) 891-0800 or e-mail bnapsinger@aol.com if you have additional questions.