Meet Brooklyn's Latest Heroes Helping Neighbors In Need – Sergeant Heart, Masbia, Catholic Charities of Brooklyn and Queens, Massage Outpost, and Sweet Chick
BROOKLYN HEIGHTS – Borough President Eric Adams honored a sergeant and four organizations for their work, hoping people get inspired and encouraged to give back just like these organizations and individuals did.
"This diverse group of public servants, faith leaders, and small businesses share a common commitment," Adams said yesterday at Borough Hall. "Our latest 'Heroes of the Month' help those with nowhere else to turn, bringing hope and opportunity to those in need. They are the human embodiments of a safety net that catches our neighbors when they stumble or fall."
January's 'Hero of the Month' was NYPD Sergeant William Hart, who saved a 13-year-old boy from jumping over the Manhattan Bridge.
Sergeant Hart was walking on the Manhattan Bridge from Brooklyn doing a quality of life inspection when he saw a young boy who had already crossed over the fence and might have jumped had no one intervened. After talking to the boy behind the fence, he climbed over the fence, grabbed the boy and brought him to the pedestrian side.
"I want to thank Sergeant Hart for saving this young man, and I pray that he [the boy] is in a healthier place today," Adams said. "Sergeant Hart's career of sacrifice is a reflection of the heroism he showed on the Manhattan Bridge during that cold January day, and our borough is in gratitude for his continued service."
Sergeant Hart joined the NYPD in 1998, he volunteered for the Emergency Service Unit (ESU) for 11 years (which he says trained him for situations like these), and he served 21 years in the military. Despite his heroism, Sergeant Hart does not feel like a hero.
"I was lucky that I was still not too old enough to jump over a fence," Sergeant Hart told Bklyner. "I did not think a 13-year-old could be in this scenario. That was an eye-opener for me. I have young nieces and nephews; I would never have thought that if they were having a bad day, that it could be more than that."
Sergeant Hart said the most important thing anyone could do when someone appears to be distraught is to ask if they are OK.
"Call 911 no matter what. Just ask, 'Are you OK? Can I help you?'
"The federal shutdown had a deep impact on so many Brooklynites, from residents of NYCHA to food stamp recipients, and it disrupted everything from air travel to tax collection," Adams said. "Thankfully, a number of groups stepped in with acts of kindness, both big and small, that really helped to fill the gap and restore workers' dignity."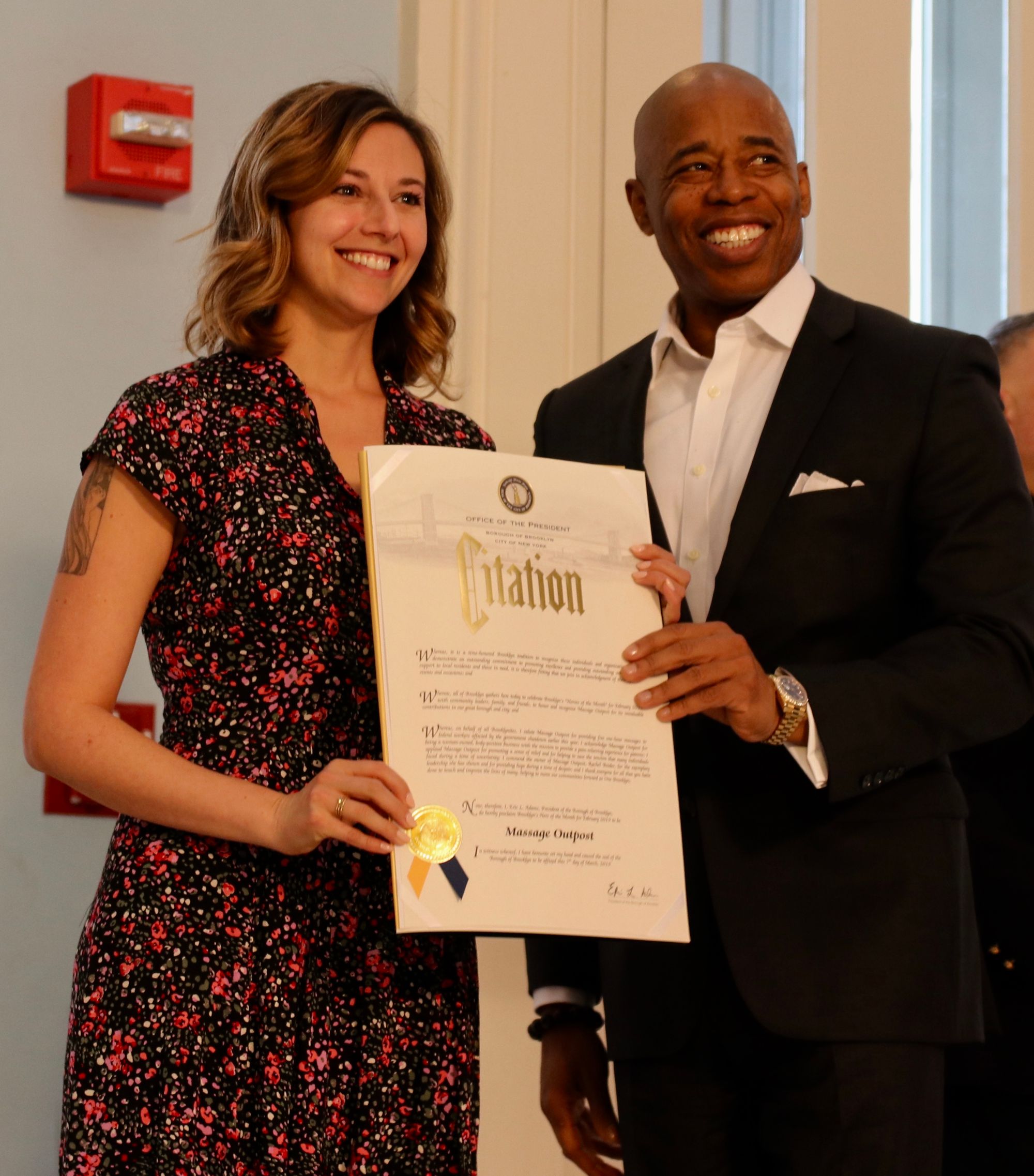 Owner of Massage Outpost Rachel Beider heard of the story of furloughed workers needing help when she was walking her dog. She began thinking of stuff she could do to assist them.
"We do massage therapy. I feel like you don't have to be a big business to make an impact. This is what we could offer these people who were obviously stressed," she said. "We saw 87 furloughed government workers. That's 87 hours of massage, which is amazing. It just felt like the right thing to do."
Richard Slizeski, the Vice President of Mission at Catholic Charities of Brooklyn and Queens, said he was not a hero. He said his organization assisted about 600 furloughed workers.
"We just helped people through a rough patch," Slizeski said. "It's really in our mandate of who we are. It's something we do every day to respond to people in need because we feel we're called to do that."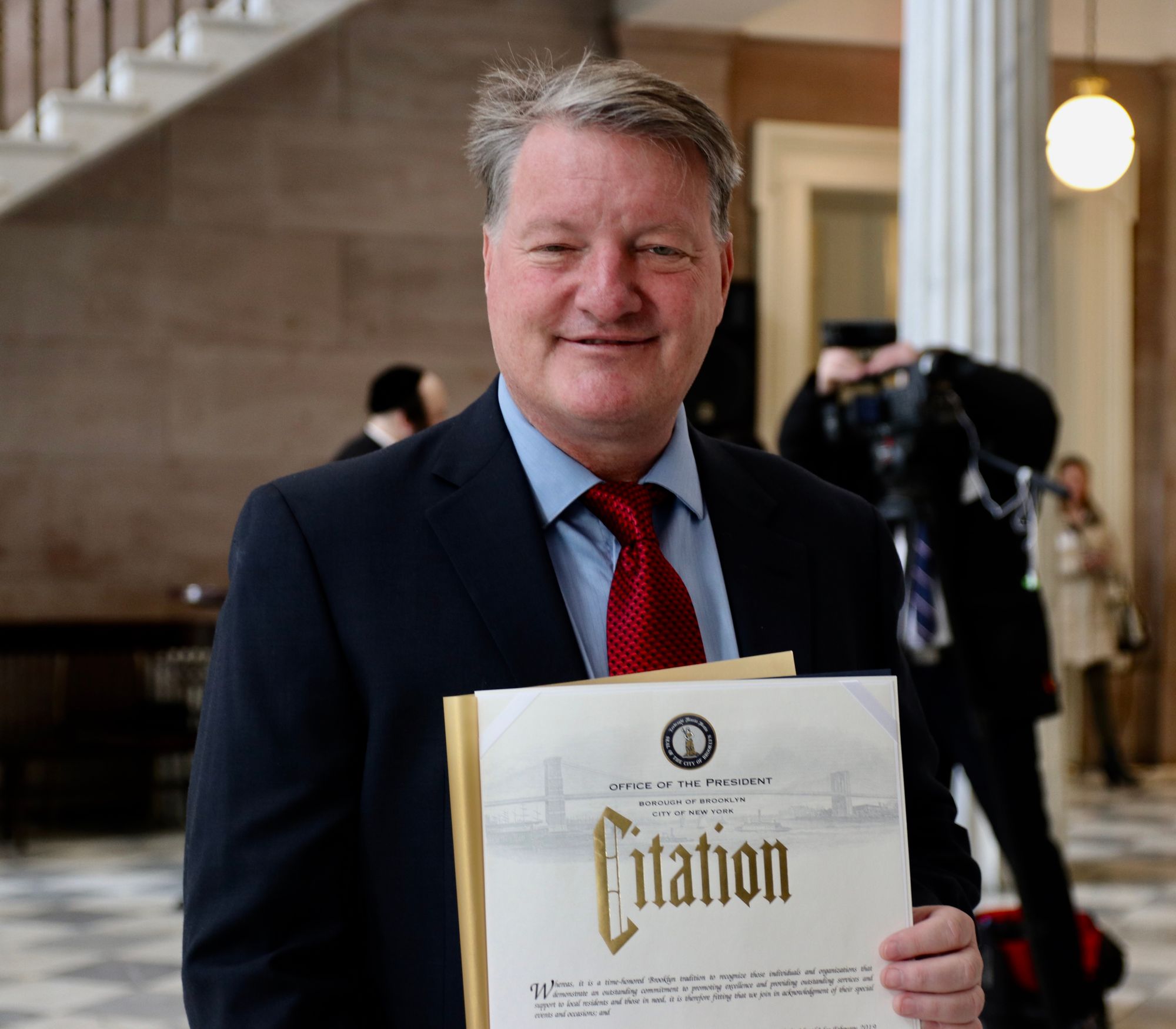 Joanna Shkreli, a member of Catholic Charities of Brooklyn and Queens said she personally feels good giving back to others.
"Hero is a big word and big responsibility, but we're really happy to have made an impact on furloughed workers," Shkreli said. "Personally, it's a personal mission of mine which correlates with our company's mission of giving back and protecting the underprivileged."
Masbia is a kosher soup kitchen and pantry based in Flatbush, Borough Park, and Forest Hills. Executive Director Alexander Rapaport was there to pick up their citation from the borough president. Like the others, Rapaport said he did not feel like a hero.
"Whenever I visited my grandmother – and that would've been 200 times a year – she would tell me how she used to feed people in the concentration camps. She would steal food and give it to people held captive," Rapaport said. "This is nothing. Giving out some fliers at JFK is no hero. But in the news, it looks like this place is going in the wrong direction. So, we need to promote goodness – we have to."