Hero Cops Reunite Lost Girl With Mom On Beach During July 4 Festivities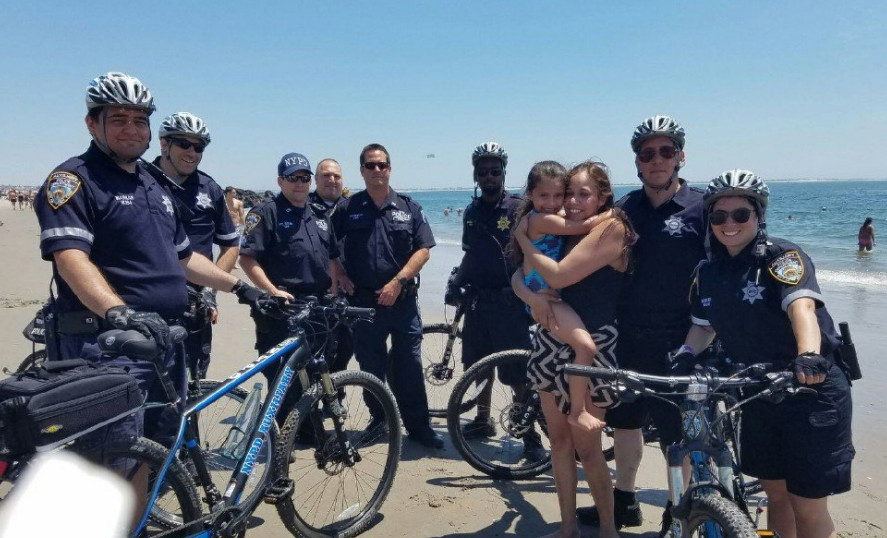 A Fourth of July tragedy was averted when two cops from the NYPD's anti-terrorism unit tracked down a lost tot at Coney Island's beach Monday morning.
At around 10:30am, the girl wandered away from her family and her mother notified auxiliary cops who radioed out a description of the child, according to an NYPD spokesperson. Detective Kevin Grogan and Sergeant Mark Teitler canvassed the beach and were able to reunite the child with her mother.
The counter terrorism unit tweeted out a photo of the heartwarming moment Monday.
The NYPD announced that it beefed up its security patrol for the holiday weekend in light of the recent terror attacks in Istanbul, Bangladesh, and Baghdad..
NYPD Commissioner Bill Bratton urged revelers to report anything suspicious over the holiday weekend.
"We're expecting a very safe July 4. We've put out extra layers of security in light of the recent terrorism events around the world," Bratton said on John Catsimatidis's AM 970 radio show Sunday morning.
But despite the added man power from the NYPD, it was a bloody Independence Day weekend citywide, with 20 people shot — one critically — during the festivities, reports our sister site Ditmas Park Corner.
The holiday coincides with Muslim holy month of Ramadan and our sister site Sunset Park Voice also reports a bloody beating of two teens outside a 3rd Avenue mosque Sunday night, with some politicians are calling for the incident to be classified as a hate crime.