Here's What It Feels Like To Take The Coney Island Polar Bear Plunge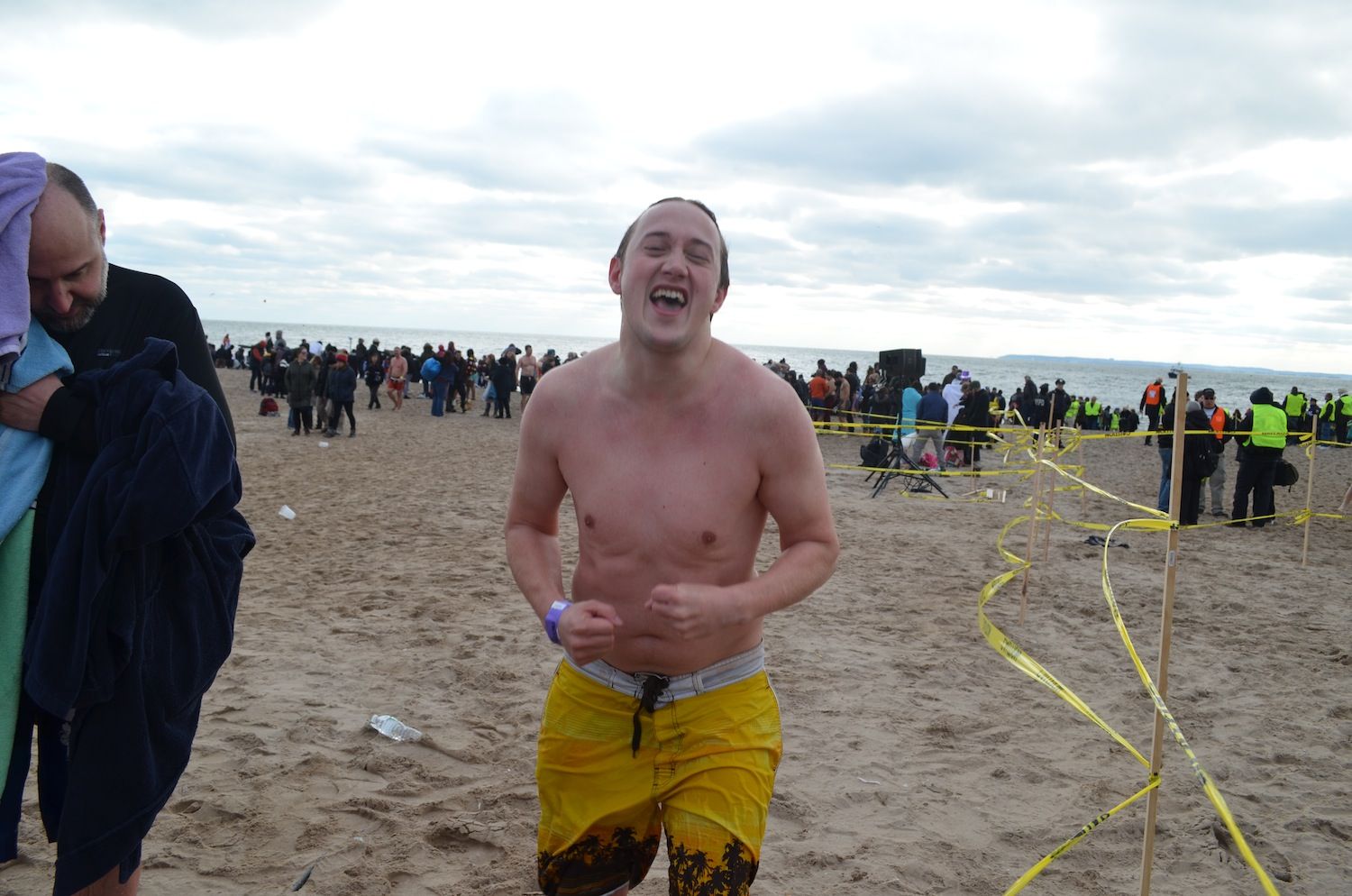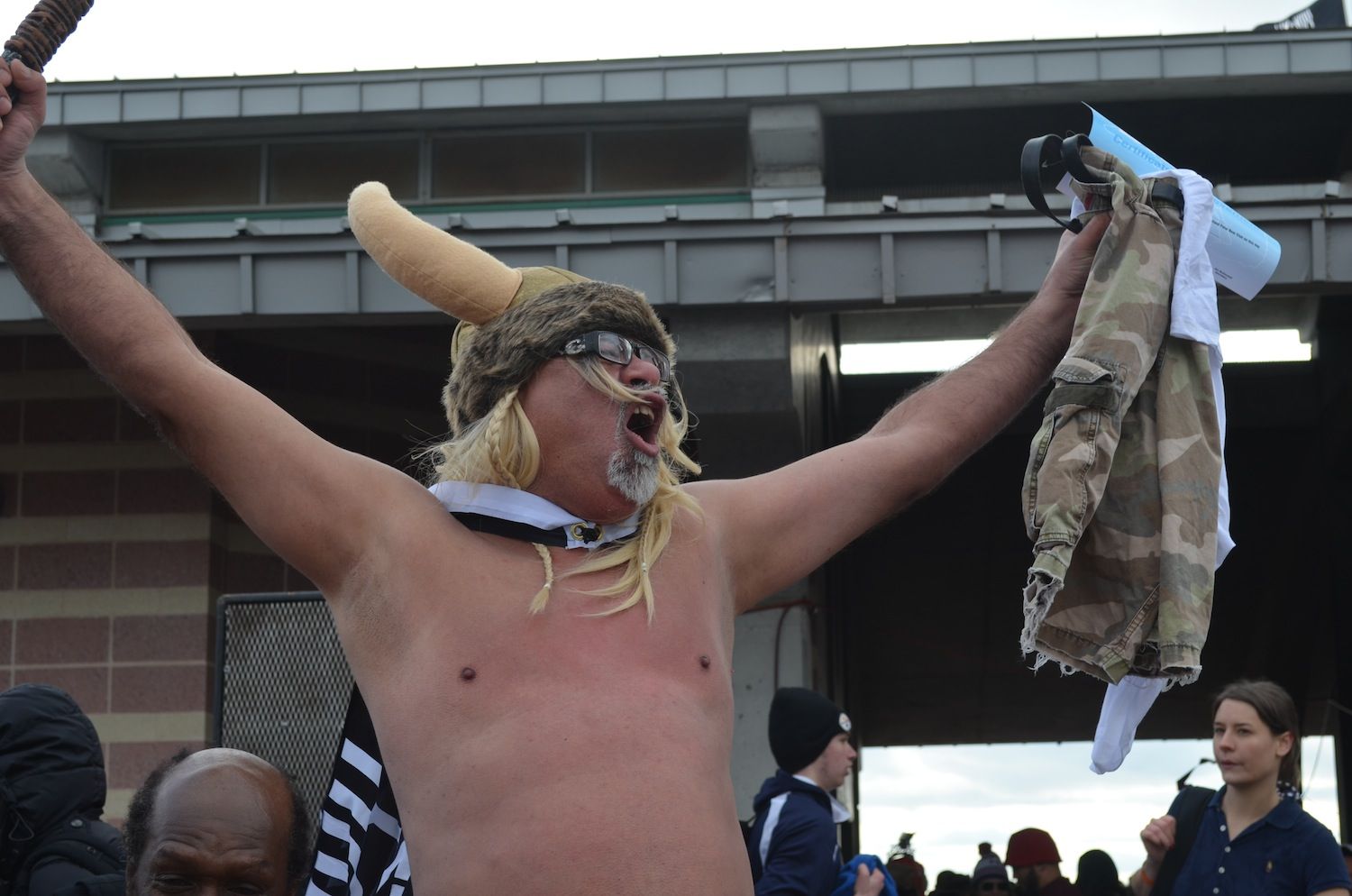 You can't conquer the Atlantic Ocean.
That's the conclusion I came to when I joined thousands of New Year's Day revelers in Coney Island Friday for the annual Polar Bear Plunge. The event, which has become a Brooklyn tradition since the Coney Island Polar Bear Club was founded 112 years ago, drew all kinds of costumed characters, oddballs, thrill-seekers, bearded hipsters, lunatics and veteran cold-water swimmers. Even Mayor Bill de Blasio's son, Dante, got in on the action, according to the Daily News.
The weather Friday was a relatively balmy 50 degrees — only 10 degrees warmer than the ocean. At least, that's what the MC kept blaring over the loudspeaker during the hour-long event. His constant declarations about the temperature almost felt like a taunt, as if he was saying: "Get in there you wimps! The water's fine."
The first plunge took place at 1pm, which gave ample time for late-night partiers to sleep in and get some coffee before charging into the ocean. Some might even consider that a dive into the icy Atlantic would be a great way to kick a New Year's hangover. (An assertion that I found to be absolutely true.)
https://youtu.be/kipxoCROXIM
The event is organized by the Coney Island Polar Bear Club, which asks participants to make a recommended $20 donation to Camp Sunshine, a group that provides retreats for children with life-threatening illnesses. By signing up online in advance, you can skip the lengthy registration line on the day of the event. However, even though the line for same-day registration stretched almost 20 yards, I got through it amazingly quickly thanks to the CERT volunteers who kept things moving.
And while you certainly don't need a ticket to jump in the ocean on New Year's Day, I didn't want to be a freeloader. The Polar Bear Club also incentivizes swimmers to give a little more by providing a maroon, Camp Sunshine shirt with "I DID IT!" printed on the back for those who donate $40.
Adam Rabiner, who joined me for the plunge with his two courageous kids and his wife (who is my co-worker), talked me into going for the shirt by explaining how it actually cost less than the listed price tag.
"It's really a $20 shirt since you're already supposed to pay $20. At least, that's how I like to think about it," he said.
We signed up to join the 1:20pm group. But by the time we got on the beach, pushing through the throngs of soggy, red-faced, blue-lipped people retreating from the water, the event's structure appeared to have wasted away. Swimmers were ducking under the yellow tape that cordoned off "the chute" and barreling into the surf as they pleased.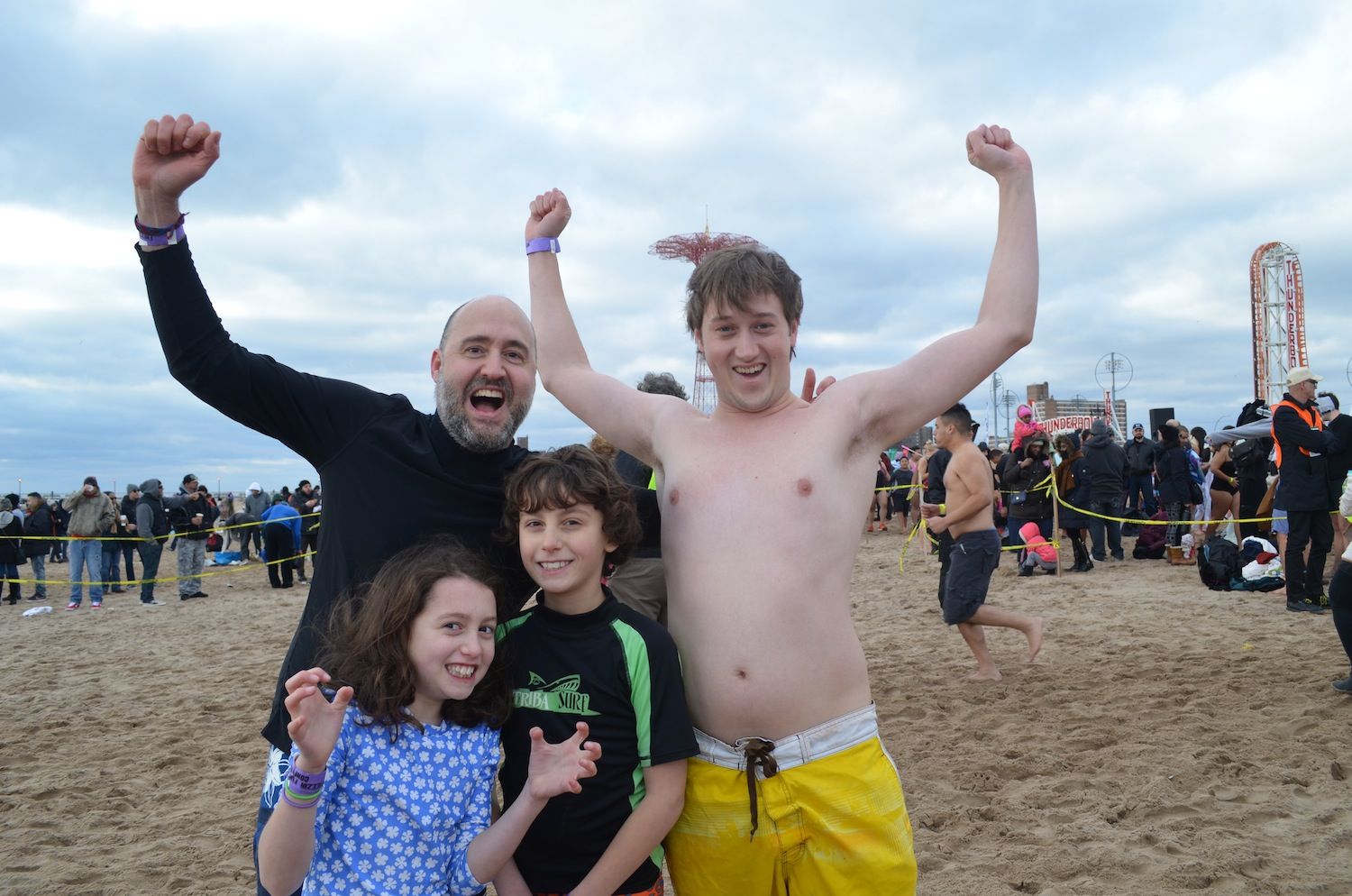 We took a few photos for posterity and then dashed towards the sea.
The ocean works quickly to drain the heat out of your bones. It's not about whether you're going to adjust to the cold, I found, but a question of how long you can last before the Atlantic drives you back to the beach. The water felt like a million icy pin pricks attacking my skin. Interestingly, the first part of my body to go numb was my groin and upper thighs. I wish I could provide a scientific explanation for that experience, but the internet has been unable to answer my query.
I high-fived other shrieking swimmers pushing through the surf and then dove beneath the waves. Within minutes, I had lost feeling from the waist down. "One more minute," I kept saying to myself while the ocean continued needling my body. What finally drove me out of the sea was an ill-conceived underwater swim in which I managed to stay submerged for more than a few seconds. When I came surging out of the water, I felt like I'd been socked in the face by a frozen softball. Cheeks stinging, I ran onto the beach, smacking a few outstretched hands along the way.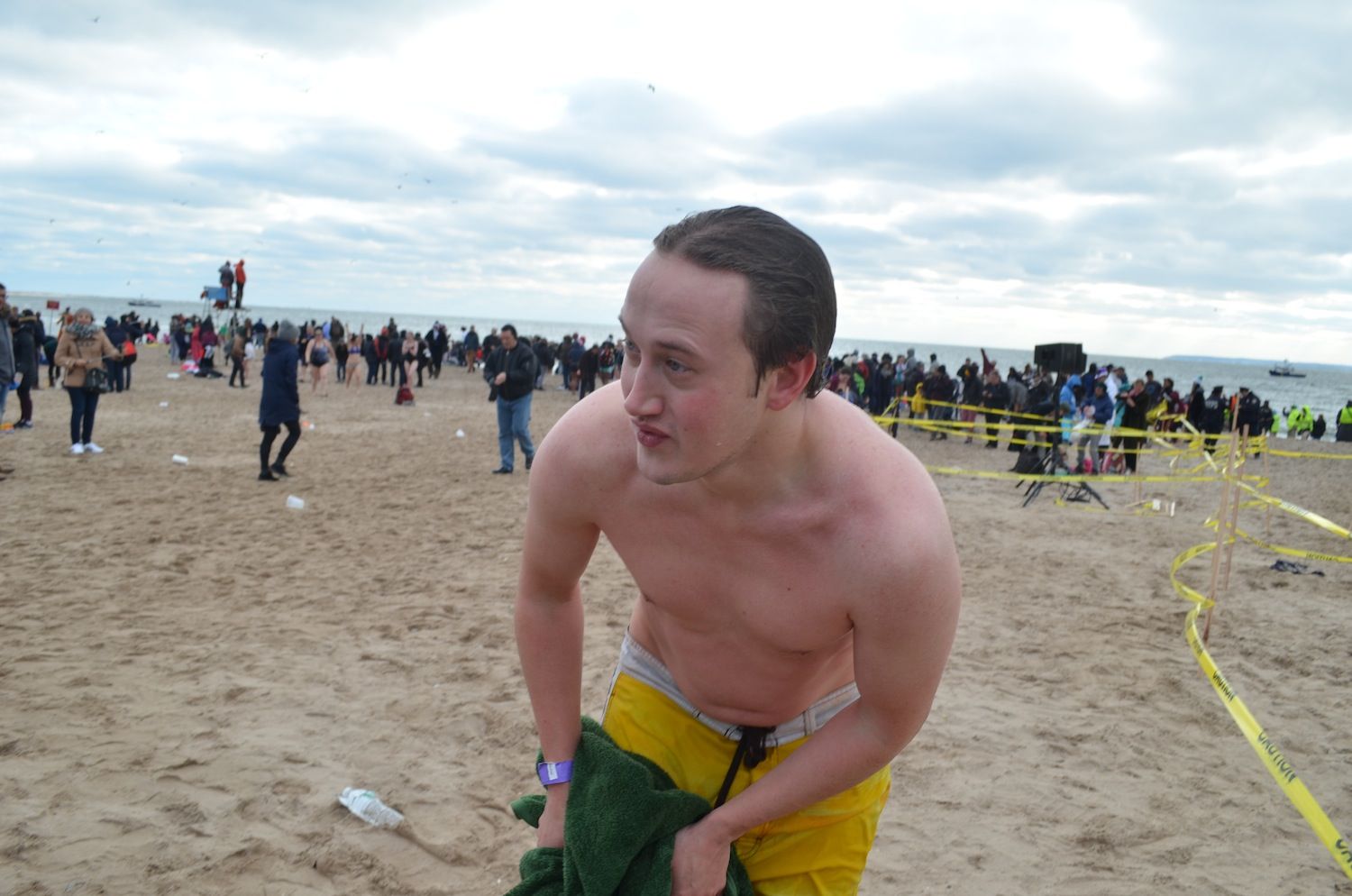 When I got back to the pile of sand-stained clothes I had left on the beach, I had regained feeling in my feet. They felt like ice blocks soldered to my ankles and I almost expected to hear a clinking noise during each step. Eager to get warm, I slipped out of my swimsuit while my co-worker and photographer Rachel Silberstein awkwardly kept a towel around my waist.
For some reason, after I finished getting dressed, I wanted a beer. Perhaps I felt like ordering a cold beverage could redeem myself after the spanking I'd just received from the Atlantic Ocean. Adam and his family had already hurried back to the car so Rachel and I struck out in Coney Island to find a bar. When we finally found a spot that wasn't already overcapacity and huddled down for drink and hot chili, I discovered that I was still shivering. It would take some time for my body to completely unthaw.
Physically, I found the Coney Island Polar Bear Plunge to be absolutely awful.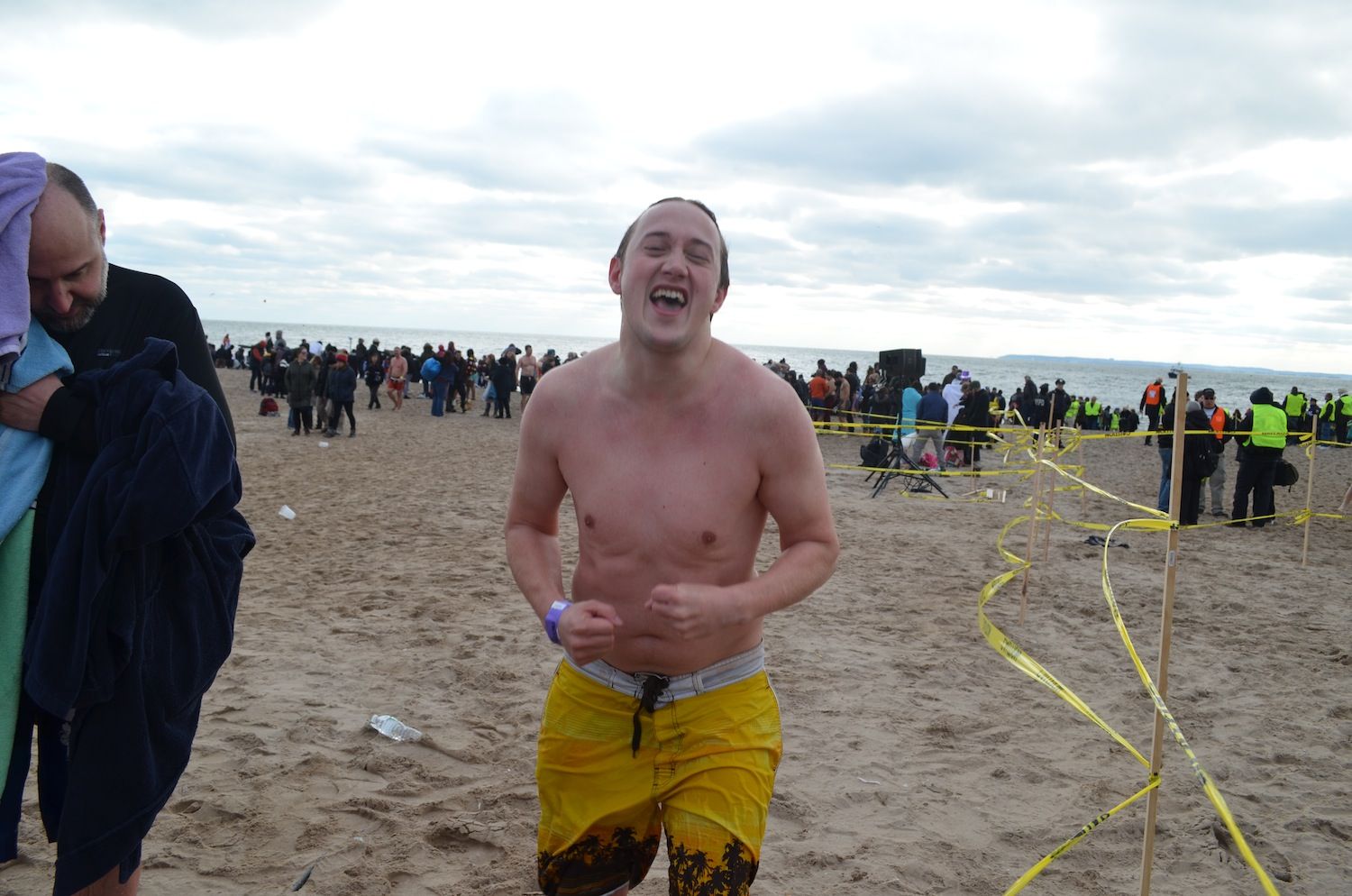 It's a bone-piercingly cold war with Mother Nature that you will surely lose. But when you do scamper back to your modern comforts with your tail tucked between your legs, you'll do so with a feeling of vigor. You may have lost the battle, but you were never going to win anyway. And you got to share your defeat on New Year's Day with many of the people who make Brooklyn such a beautiful and magical place to live.
Video by Chun Kit.