Here's Your Guide To The Brownstone Belt's Outdoor Movies This Summer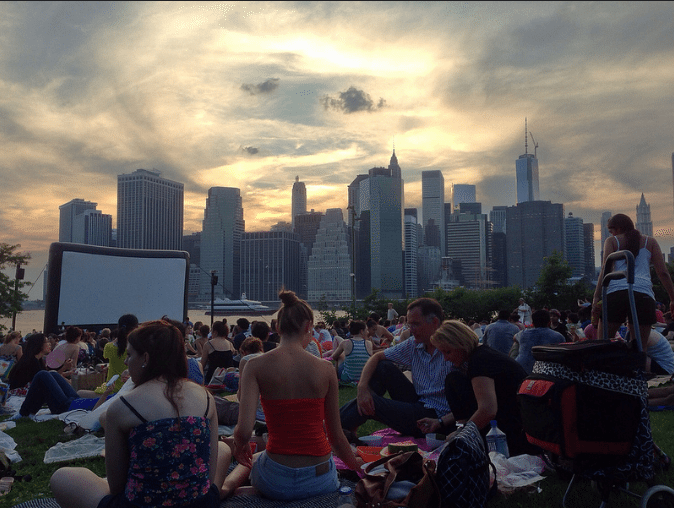 We don't know about you, but we're ready for summer. So, get out your beach towels, grab your hummus, and prepare to take advantage of the warm weather (whenever it gets here). Here's a list of outdoor movies in our part of Brooklyn.
Fort Greene Park
May 19 at 8PM: Cloverfield
Brooklyn Bridge Park (Pier One Entrance on Old Fulton Street and Furman Street):
These movies come with the Manhattan skyline in the background and are preceded by a short film curated by BAMcinématek.
July 7 at 6pm: Singin' in the Rain
July 14 at 6pm: Harold and Kumar Go To White Castle
July 21 at 6pm: Purple Rain
July 28 at 6pm: It Happened One Night
August 4 at 6pm: American Graffiti
August 11 at 6pm: Selma
August 18 at 6pm: A League Of Their Own
August 25 at 6pm: ??? To be determined by a vote! It'll be one of The Sandlot, Milk, or La Bamba. (The Sandlot is the right answer, btw.)
Habana Outpost
This Fort Greene institution shows movies every Sunday night at 8pm. Here's the list of what's next for the rest of the year.
May 22 at 8pm: West Side Story
May 29 at 8pm: Coming to America
June 5 at 8pm: Weird Science
June 12 at 8pm: Gentlemen Prefer Blondes
June 19 at 8pm: Flashdance
June 26 at 8pm: Trading Places
July 3 at 8pm: Rocky (True story: Sly Stallone was screwed at the Academy Awards this year)
July 10 at 8pm: Wayne's World
July 17 at 8pm: Road House
July 24 at 8pm: Saturday Night Fever
July 31 at 8pm: Jaws II
August 7 at 8pm: Risky Business
August 14 at 8pm: Viva Las Vegas
August 21 at 8pm: The Last Dragon
August 28 at 8pm: House Party
September 4 at 8pm: The Karate Kid
September 11 at 8pm: ¡Three Amigos!
September 18 at 8pm: Bulworth
September 25 at 8pm: New Jack City
October 2 at 8pm: Bloodsport
October 9 at 8pm: Shaft
October 16 at 8pm: Cobra
October 23 at 8pm: Ghostbusters
October 30 at 8pm: The Rocky Horror Picture Show