Here To Stay, Or Revolving Door? 3 Slope Shuttered Storefronts Opening Soon In 2016
Out with the old, in with the new? It's hard to know what will stick and what won't in the Park Slope food business. What we do know is this: changes are upon us as we begin 2016.
Here are three new businesses that are coming. They replace food shops that were here for a relatively short period of time.
The turnover has not taken too long for this trilogy of storefronts. (Although, don't get us talking again about Blue Bottle Coffee). The three previous businesses closed either mid- or late-2015.
Opening Soon: Brewshot Cafe (291 5th Avenue between 1st and 2nd Streets)
Replacing: Beygl, closed in October 2015.
This looks to be Brewshot's second store — the original has been up and running in Jersey City. The business' website tells us "we let our customers choose the beans, the base, and the brewing method. Our organic and fair trade coffees and artisanal teas are always made fresh, ensuring that we serve products we believe in." In addition to the coffees and teas, they offer pastries as well as "frozen yogurt topped with espresso."
Many neighbors were not happy to see Beygl go. Some considered it their go-to bagel place. The neighbors who contacted us were disappointed — and at times frustrated — with the closing and lack of information.
In short, the place was at first closed temporarily by the Health Department in early October. The temporary status changed to permanent later that month.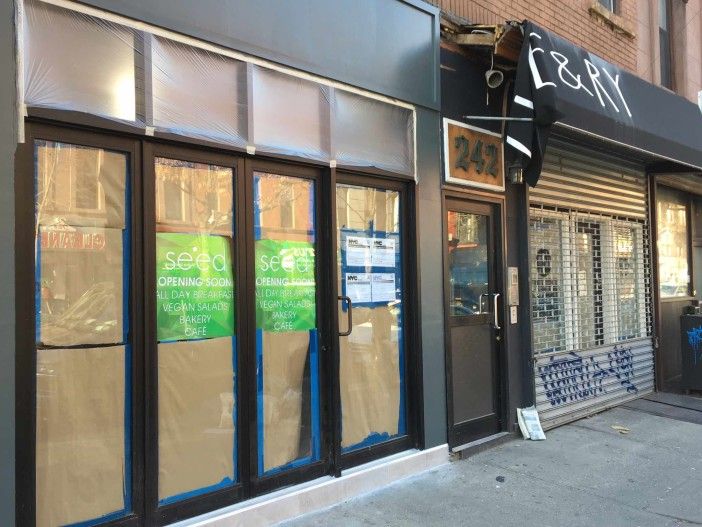 Opening Soon: Seed (242 5th Avenue, between President and Carroll Streets)
Replacing: Ollie & Ry, closed in July 2015.
Without any online presence for Seed, we can only go from the new signage that has popped up on the storefront. We should expect this cafe to serve breakfast all day, as well as pastries, and vegan salads.
Ollie & Ry shuttered midsummer, after lasting for roughly six months. We thought favorably of their house-made gravlax, but it wasn't enough to keep them going. Previously to that, Bageltique had closed in December 2014. So we'll see if Seed slows down the revolving door.
Opening Soon: Juice Press (207 7th Avenue at 3rd Street)
Replacing: Yogurtland, closed May 2015

The height of fro-yo mania — at least as far as our neighborhood goes — was a few years back. Yogurtland is part of a national chain, and the neighborhood outpost lasted less than three years, closing in May 2015.
Juice Press is New York-based chain that's moving into the corner storefront. Brooklyn already has locations in Brooklyn Heights and Williamsburg.
Along with juices, the place offers up smoothies, cleanses, "super foods," and … the "Guru smoothie."
According to DNAinfo, "the $15 Guru smoothie is a 510-calorie, 16-ounce 'meal replacement' made of frozen fruit and 'superfoods.' It initially sold for $18, but Juice Press founder Marcus Antebi lowered the price in 2011."
With an abundance of juice and smoothie shops in the area, we'll see if juice-smoothie-mania will still be going strong.
Are you looking forward to these new places? Any thoughts on how you think they'll do?