Help Us Celebrate Our First Anniversary on Thursday at Sycamore!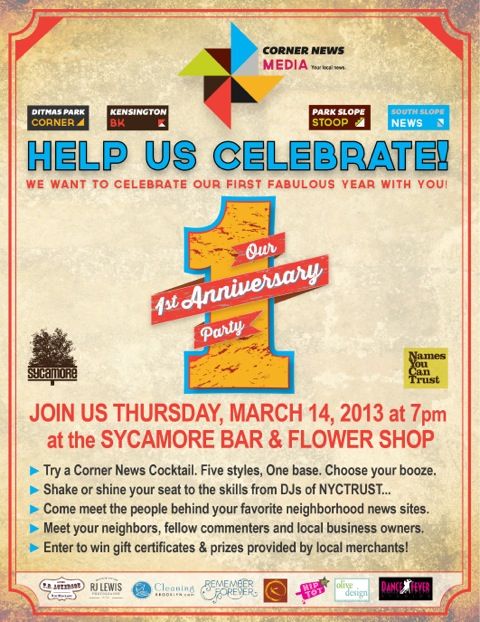 Reminder! Tomorrow, Thursday, March 14 at 7pm at Sycamore (1118 Cortelyou Rd), join us to celebrate the one year anniversary of Corner News Media and our four local news sites, Ditmas Park Corner, Park Slope Stoop, South Slope News, and KensingtonBK!
Try some custom Corner cocktails, enjoy Ditmas Park's best DJs (NYCT), and meet the people behind the sites — Mary Bakija, Arianna Rebolini, Christine Bush, Julee Whalin, and Liena Zagare.
Also, we have an amazing group of local businesses who have generously donated items to help us celebrate our first anniversary. Some of the raffle prizes we are giving away tomorrow include gift certificates to Ox Cart Tavern and T.B. Ackerson Wine Merchants, a session with Karuna Acupuncture, family portrait sessions with RJ Lewis Photography, house cleaning from Cleaning Brooklyn, family ticket pack for for to Hip Tot Music Fest, dance classes at Dance Fever Studios, Coffee Mob money, photography classes and workshops at Remember Forever, interior design services from Olive Design, Flatbush Food Co-op money, Benny's Barber Shop and even Friendly Rx Pharmacy dough as well!
Ages 21 and over, please. Happy hour specials start at 7pm! Check out the Facebook event page!
Raffle prizes will be provided by the following businesses:
Coffee Mob: Buck Berk, owner of Coffee Mob, who is determined to bring the masses together to explore the wonderful and complex flavors of Arabica coffee, is opening shop in April at 1514 Newkirk Avenue near the Plaza.
Dance Fever Studios: With two locations, one at 3009 Avenue J and second at 159 20th Street, is commited to making dancing easy and fun for everyone. Dance Fever teaches basic, beginning fundamentals, all the way to performance levels.
Hip Tot Music Fest: The family-centric Hip Tot Music Fest is a series of live performance and music concerts for families at state-of-the-art performance and art space Littlefield in Brooklyn.
Cleaning Brooklyn: A full service cleaning company, was established in 2006 by Donna Walrond, a single mother with a dream. Bonded and insured, Cleaning Brooklyn does everything from regular to deep cleans to move in and move outs. Cleaning Brooklyn offers an exclusive 20% discount to our readers!
RJ Lewis Photography: A family run photography company. RJ loves to connect with all his clients to provide the best work possible. RJ loves to connect with all his clients to provide the best work possible.
Karuna Acupuncture: Located at 1011 Beverly Road, Karuna Acupuncture is owned by Melanie Severo, acupuncturist and registered nurse. She has studied Eastern and Western modalities of healing for over 20 years. Karuna Acupuncture's mission is to support you as you work to heal your body and mind, enabling you to realize your greatest potential. Free consultation is available when you mention the ad on our site.
Olive Design: Mary Van Vliet is the owner of Olive Design, named after her unflappable grandmother. From colors to home furnishings, let Mary help you make your home more lovely and livable.
T.B. Ackerson Wine Merchants: Located on 1205 Cortelyou Road, T.B. Ackerson specializes in Brooklyn-made spirits including whiskey, rum, gin, and wine.
Remember Forever: Located in NYC, Remember Forever offers 15 different workshops plus advanced programs, masterclasses, and specialist events so that every camera owner — from beginner to professional — has the opportunity to learn, increase skills, take better photos, and have a wonderful time.
Friendly Rx Pharmacy: You may remember when we covered Friendly Rx Pharmacy's opening last October. Located at 651 Coney Island Avenue, Friendly Rx offers free pickup and delivery, and is also a compound pharmacy.
Flatbush Food Co-op: FFC was started in 1976 by a small group of individuals in the community who wanted access to wholesome, organic food. In the past 30 years, they've evolved to a full service natural and organic market and deli. Open to all, so anyone can shop, FFC is located at 1415 Cortelyou Road.
Ox Cart Tavern: Located at 1301 Newkirk at Argyle, Ox Cart is known for its for its awesome food, fine beer, wine, and a full range of cocktails. Meet with friends, have a bite to eat, and enjoy your favorite sports events and other popular entertainment on two big flat screens. All just a short walk from the Q, right in the middle of Ditmas Park.
Benny's Barber Shop: Known for its Fast Service, Friendly atmosphere with affordable Great Haircuts and Shave. Our barber will listened exactly what your haircut needs are before starting. Go in for a razor shave and experience your smoothest face ever.