Help Support Family Of Slain Flatbush Teen Anthony Nazaire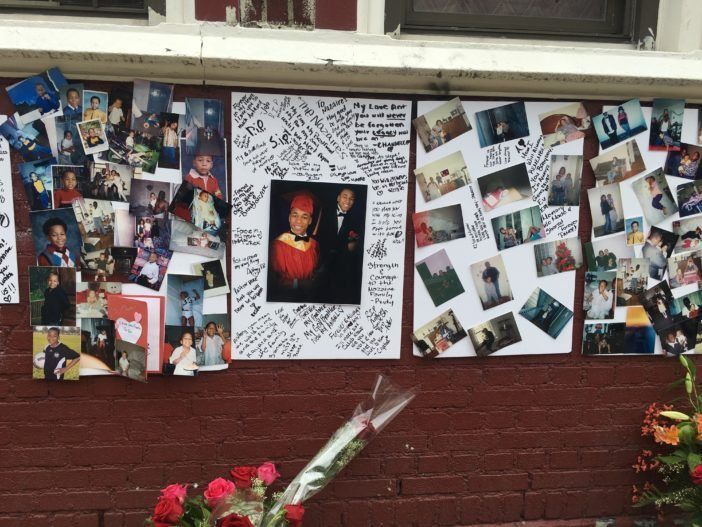 Community support is pouring in via a fundraiser to help cover funeral costs for Anthony Nazaire, a 19-year-old Flatbush resident who was stabbed to death on the Cornell University campus last week.
Nazaire's mother, Katia Toussaint, has been a community pillar, fighting for tenants rights with the Flatbush Tenant Coalition. And in the wake of such a tragedy, many people want to return that support to Nazaire's family, who are left with this deep loss long after the camera crews pack up and the news headlines ebb.
The gofundme page was created by Anthony's sister, Kiara Nazaire, and in only 6 days it has garnered spectacular response. Many small and large donations have brought the family close to their goal of raising $25k to cover the funeral costs.
"It is a real testament to how much people loved Anthony, and to the incredible and kind young man he was," said Aga Trojniak of the Flatbush Tenant Coalition. "We hope this outpouring of support will bring some comfort for his the family."
"Any donation we receive would mean the world to us as this tragedy was so unexpected we never expected to be burying Anthony but to actually be waiting to attend his graduation," writes the family.
Anthony's mother Katia Toussaint, a core tenant leader with the Flatbush Tenant Coalition, worked to fight tenant injustices at 2010 Newkirk Avenue — a building who's infamous landlord has earned headlines for his neglect and abuse.
Trojniak says:
Katia — together with the other tenant leaders in the building — organized for years to stop the intense harassment in the building, which includes a severe lack of repairs and intimidation. She is also part of our fight to stop decades-old (and continuing) rent overcharges by the landlord, Moshe Piller.
Last week, a beautiful memorial in front of 2010 Newkirk Avenue attracted many neighbors and friends. People stopped to gaze at the outpouring of photos, handwritten notes, candles and flowers left at Anthony's home to celebrate his life and grieve his sudden death.
We extend our deepest condolences to Anthony's family and everyone affected by this tragic death in the community. For those who want to attend the public funeral this week, see the information below.
Funeral information: The viewing will be on Friday, September 9 from 4pm to 9pm at Harmony Funeral Home, 2200 Clarendon Road. The Funeral will be on Saturday, September 10 at 9am at Church of The Holy Innocents, 279 East 17th Street.
In addition, show your support by making a donation to the Nazaire/Toussaint family here.