"Hell House" Once Home Of Famed Cartoonist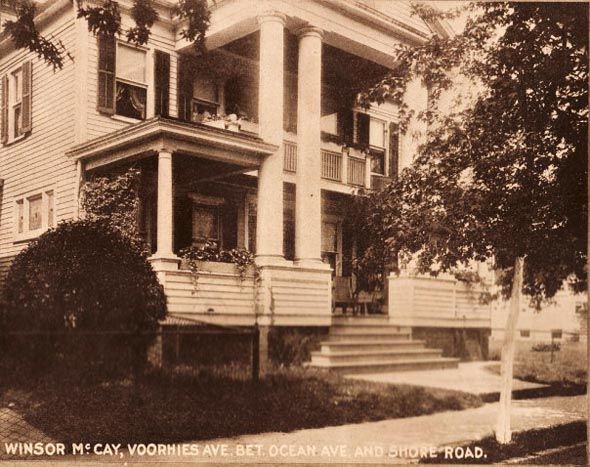 After seeing our posts about 1811 Voorhies Avenue, now known to some as the "Hell House" for its graffiti and nefarious residents, local historian Joseph Ditta sent us the above photo of the same house published 101 years ago.
According to Ditta, the photo came from a very rare 1909 marketing pamphlet titled Views of Picturesque Sheepshead Bay. The home was occupied at the time by Winsor McCay, a pioneering cartoonist who influenced Walt Disney, Moebius, William Joyce, and Maurice Sendak. His most iconic series was Little Nemo in Slumberland. McCay died in 1934 and was buried at the Cemetery of the Evergreens.
Now, more than a century after it was built and lived in by a historical icon, the property's owners seek to tear down the structure and replace it with condominiums. Failing that, they're attempting to subcontract it to the city for a new life as a halfway house or homeless shelter. Such a turn would seal its fate to further destruction, until it's finally pulled down and forgotten about like so many of Sheepshead Bay's notable structures.
What should be done is a full restoration and landmarking. Evidence of Sheepshead Bay's rich cultural history is fading fast, and homes like the Winsor McCay House ought to be preserved to remind people of our past. Like the other historical homes of Brooklyn, the McCay House could be a museum, cultural center, and pillar of community organizing for generations to come – a far more desired asset in Sheepshead Bay than another condo or halfway house.