Heir To The Tome: An Interview With Sam Jaffe Of Community Bookstore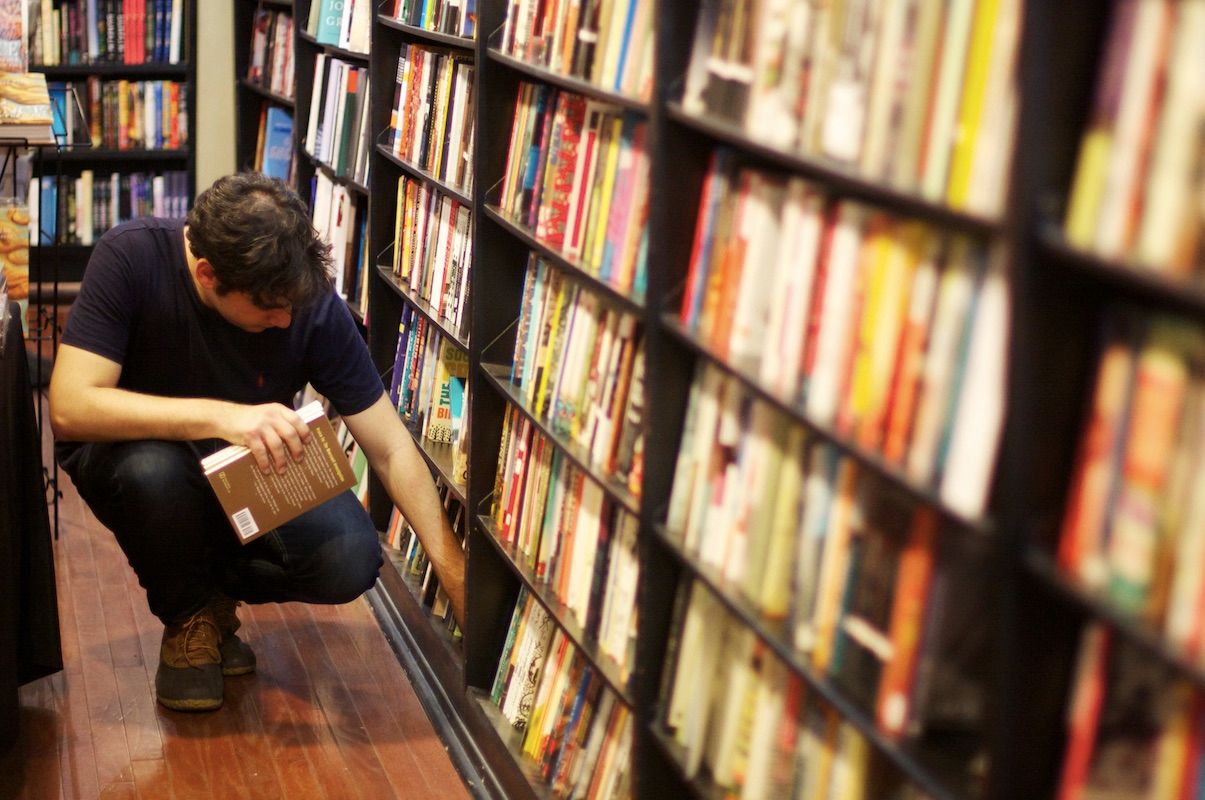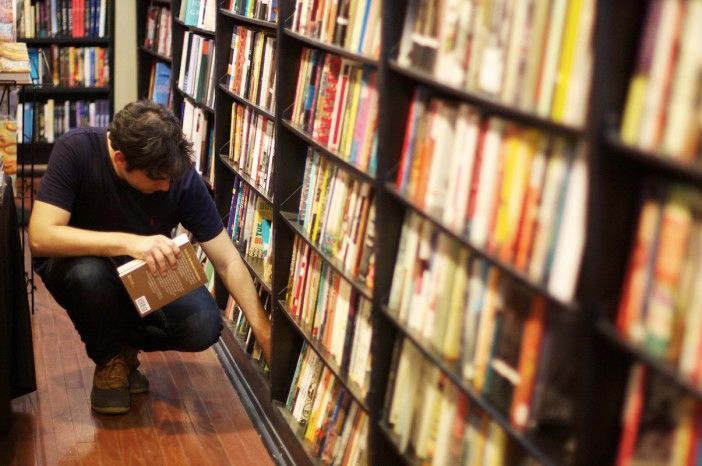 A Park Slope institution since since 1971, Community Bookstore (143 7th Avenue, between Carroll Street and Garfield Place) has long been a place for neighborhood residents to find quality reading material. But by the mid-2000's, the store faced declining sales and was taken over by co-owners, Ezra Jaffe and Stephanie Valdez.
Since then, Community has not only survived, but is now a thriving hub of literary culture, located in the heart of Park Slope on 7th Avenue. We spoke with Sam Jaffe, employee, and son of co-owner Ezra, about the store's revival and its hopes for the future. The following interview has been edited and condensed.
PSS: What do you do at Community Bookstore? What exactly is your job, Sam?
Sam Jaffe: I do anything that is asked of me. I pack all the books, I shelve, I help customers, I return all the books. I try to clean as little … as much as possible. My official position is supplies intern. But that's because I once ordered 30 box-cutters by mistake, so I was demoted from supplies manager to supplies intern.
How long have you been working at Community?
I've been there on and off five years. When I was in college I came back for a couple of Christmases and one summer, and when I graduated [from Bard College]  in 2013, I've been there ever since. My dad took over with Stephanie, the other co-owner in 2011. I didn't grow up there. I didn't grow up around books.
Community has had pretty good success since your family and Stephanie took it over—now you've opened up another store in Windsor Terrace. Could you talk a little about that?
We found that Community Bookstore was really successful. Another person from Terrace Books [242 Prospect Park West, between Prospect Avenue and Windsor Place], which used to be called Babel's Books, came to us and she said, 'you've done this incredible thing with Community Bookstore, and used books are becoming too much for me. I'd really like you to take it over.'
So we did, and Terrace Books is modeled after Community. The idea is that a neighborhood needs a good bookstore—that's more or less the guiding philosophy for both places.
What do you think separates Community from other independent bookstores, like say, McNally Jackson?
We have a huge kids section and we're making sure we're catering to the young ones and having fun with them, making sure we're opening up that space to them. A lot of bookstores don't like kids books—they'd be looked down upon. But we know that's what the community wants.
Another thing is having events, small and big. And not just events for hip books, but events that will spark interest in translation, in my scholarly work. We also have literature events (mostly), but we're trying to cater to different interests that way.
Lastly, I think the very simple thing is having a buyer's club. Even though it's an informal free thing, you sign up for it and all of a sudden you become part of this large family. You're involved.
I've definitely been lured in by the promise of saving ten dollars through the buyer's club.
And our cat lures you in. Our staff lures you in. I don't like to use the word charm, but I think there's a certain something. The same people have been working there. Our turnover rate is very small; you know the people behind the counter, you know their names. Especially compared to other business, where maybe the owner stays the same, but staff changes constantly.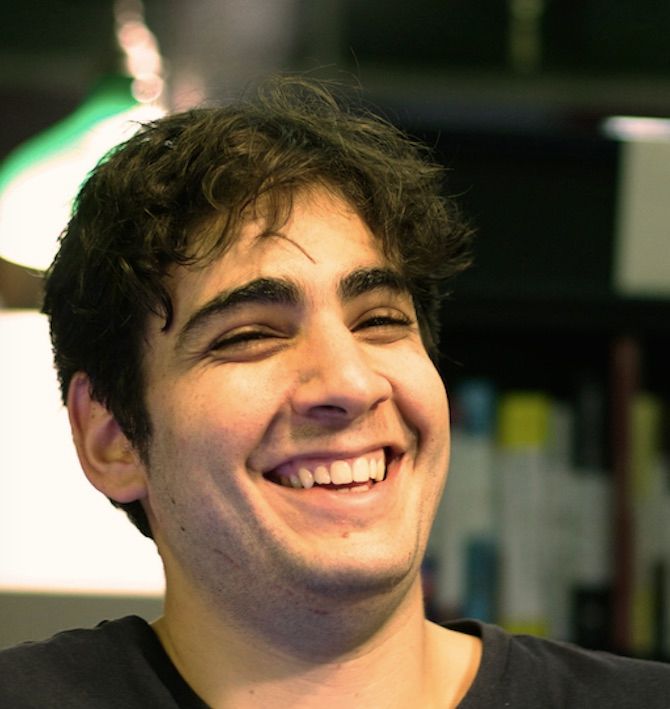 How have e-readers been affecting business?
We're protected from that a little bit, not only because we're in literary Brooklyn, but also because the community doesn't want e-readers in the same way. The people who shop with us, they have iPads, they have things they can e-read on, but that's not their desire.
They want to come in, browse, come into a place where the selection has been thought about. There's a difference between having everything at your fingertips, and the things you want at your fingertips.
What books do you sell that somebody wouldn't find at Barnes and Noble?
I think a lot of in translation, small press stuff. Shout out to the homies at New Directions, New York Review of Books, Coffee House Press, Graywolf. We're doing an event with And Other Stories, an event with Open Letter Press.
What are you reading right now? I see two books on the table.
Right now, I'm reading—oh Europa Editions, I forgot to shout out Europa Editions, of course. I'm reading a New York Review Classic called Memoir of the Warsaw Uprising and I'm reading a book from Europa called Animals, which was recommended to me as a good follow up the Ferrante series, which we love so much and have been selling constantly. It's about two female friends in the late 20's in London.
What are the things you wish customers would not do at Community?
You know I tell this to a lot of people, and I think this still stands: I'm a terrible customer. When I go into other places I'm that guy who asks a lot of questions, who might be considered annoying, who tries to strike up conversation or talk about how expensive things are in the store. So knowing that about myself, I really don't have an opinion.
I find that everyone's human. Given how bad I can be, how much a nuisance I am, to ask anything of anyone else in this world would be unfair.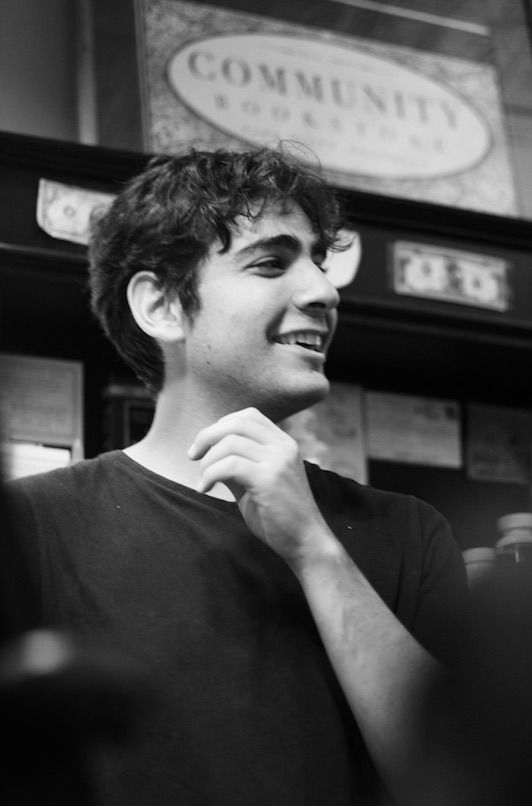 What's it like working for your dad?
It's great, I love it. The best part of it is that I can make jokes about nepotism. Or I can make jokes like: "Management screws up again." And Stephanie's part of management, but I'm always talking about my dad. But overall, it brings an informality to the bookstore. I'm really close with my parents; I live with them also.
What are your plans for the bookstore? Are you hoping to open up your own one day, or go into publishing?
I don't know. I have terrible grammar. I have the grammar skills of a smart seventh-grader, despite my education, so I'm never going to go into publishing. I never planned to stay so long at the bookstore, I just kind of fell in love with it.
I know that bookselling is something that I want to do in the future, not only next the few months, but the next few years. I thought I would be there for a summer and then apply to grad school.
So what do you think has kept you at Community?
I like the people, I like the books, I like the informal education. I've learned so much, not only in reading books (because I have to read current books to make sure I can recommend stuff). I would have never read Memoir of a Warsaw Uprising. That book would just never have gotten to me. I would be reading dense philosophy and maybe whatever was the best-seller if I were in grad school.
I started to read kids books, and I never would have done that in any other scheme of my life, until maybe I had children.
And people! I love our customers, I love the regulars. Just having a good relationship with them is really something special.