Heavy Rain Floods 4th Avenue Businesses Monday Night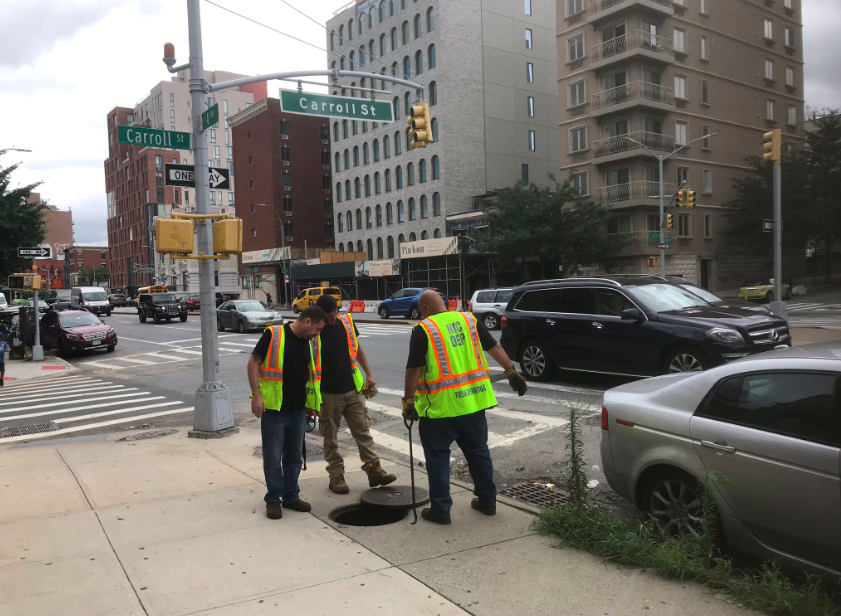 [UPDATED: Tuesday, July 23, 2019 at 4:15pm] "At the height of yesterday's storm the Park Slope neighborhood was receiving nearly three inches of rain an hour, which exceeds the capacity of the drainage system," said Ted Timbers, a spokesperson for DEP.
"In addition, the intersection of Carroll Street and Fourth Avenue sits at the lowest point in the area, so it was receiving stormwater from all four directions. DEP toured the area with Borough President Adams this afternoon and pointed out how a drainage upgrade slated to begin early next year will improve conditions along 4th Avenue during rain storms."
GOWANUS/PARK SLOPE – Downpours Monday evening flooded parts of 4th Avenue in Gowanus, forcing many business owners along the corridor to drain water out of their basements.
Water levels rose up to the hoods of cars, according to one local business owner. "Crazy thing is we are usually closed on Monday," Kitty Hernandez, owner of Colony at 274 4th Avenue (between Carroll and 1st Streets) told Bklyner on Tuesday. The venue hosted a private event yesterday evening, so she and staff happened to be on site "to do damage control."
The water reached midway up the basement stairs at Colony, draining to about calf-level by the end of the night, according to Hernandez. She could see the water rising from 1st Street down to Union, from 4th Avenue across to 3rd Avenue.
"It was a river. We stood in the front and kept sweeping the water out the door," she said. Hernandez, along with other business owners and local residents, went into the streets to clear debris out of curbside drains and catch basins.
Hernandez and her business partner, Donna Atkins, opened Colony on 4th Avenue in 2014. She says they've experienced flooding at the venue in the past, but have had no issues for approximately three years. "It used to happen often. The city has wasted tons of money and years trying to fix it. It is ineffective," she said.
Hernandez refers to the years-long project to install high-level storms sewers in the area. Designed by NYC Department of Environmental Protection (DEP) with the Department of Design and Construction (DDC) overseeing the construction, the project updates storm and waste lines in the area, separating the combined system into independent storm and sanitary lines to increase capacity and reduce flooding on area streets and decrease the amount of sewage going into the Gowanus Canal.
"It's clear from last night's flooding that our city isn't prepared for another Superstorm Sandy, and these types of storms will only be more common in the coming years as climate change intensifies," said Brooklyn Borough President Eric Adams, who toured impacted areas of Gowanus with DEP on Tuesday.
"We need to invest in infrastructure that absorbs and diverts storm water runoff such as bioswales and green roofs. I am also calling on the City to relaunch our "Adopt-a-Catch Basin program," Adams added. Much of the flooding on Monday was caused by "litter clogging our catch basins," the borough president noted in a tweet.
He added on Twitter: "rainfall rates nearby exceeded 3″ per hour at peak intensity. That's the main reason for flooding. Rain was coming downhill from the east into the lowest part of the neighborhood. Flooding was all storm water. There were no tidal issues or breach of the canal."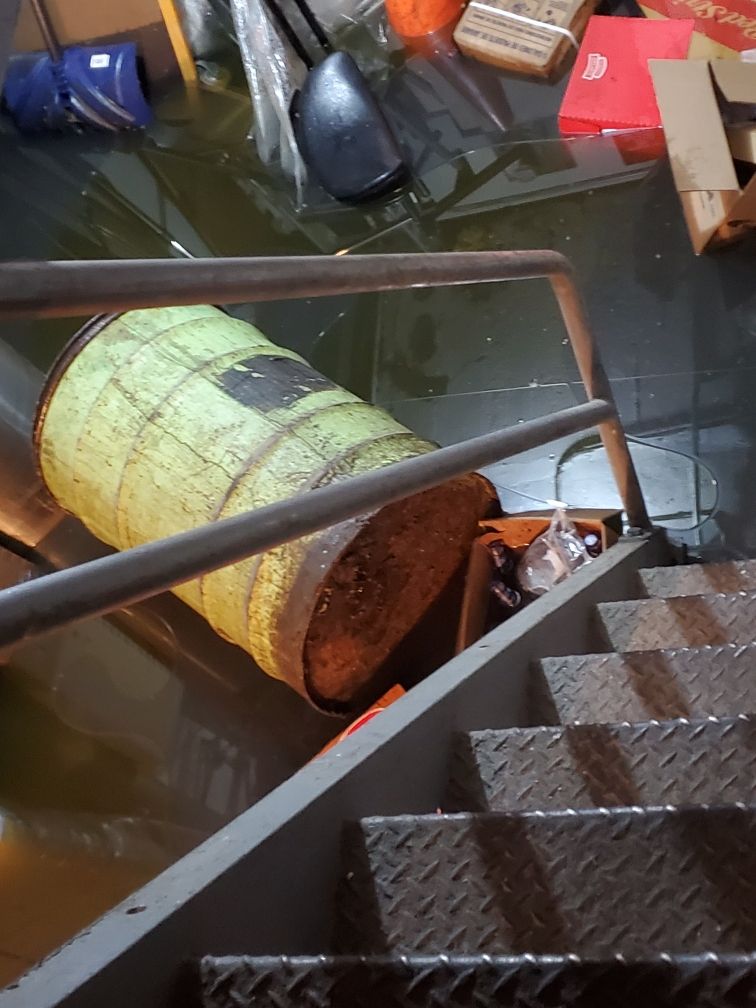 A few blocks north, the water rose to about ankle height in the basement of Taheni Mediterranean Grill at 224 4th Avenue (at Union). Once the rain stopped, a pump in the basement was able to clear the water out, according to Anas Deib.
Deib's family opened the eatery on 4th Avenue in early 2017. Like Colony, they've experienced flooding in the past, but he told Bklyner that after installing a second pump in the basement a year and a half ago, the flooding stopped—until last night's torrential rain.
Fortunately, aside from some damage to a few containers in the basement, they did not lose much merchandise, he said. The streets were clear when Deib arrived to work Tuesday morning and his business was not affected.
Hernandez hopes to be back to business Tuesday evening as well. "Colony will open today doing the best we can with what we have. We cannot afford to close," she said. "The kitchen is fine and we have bottled beer," she added.