A Hearty Family Meal at Europa Pizzeria and Restaurant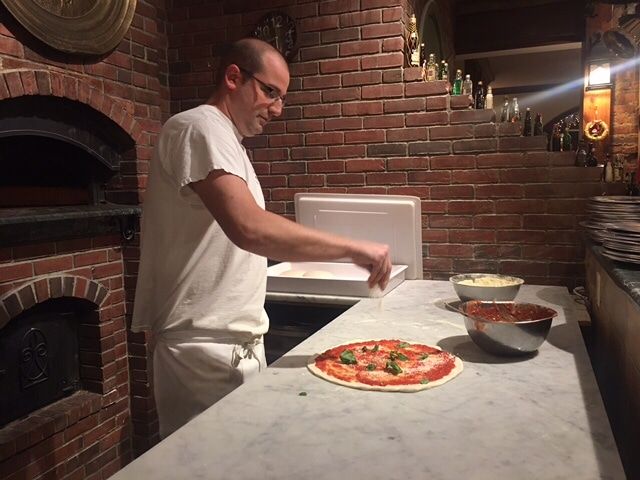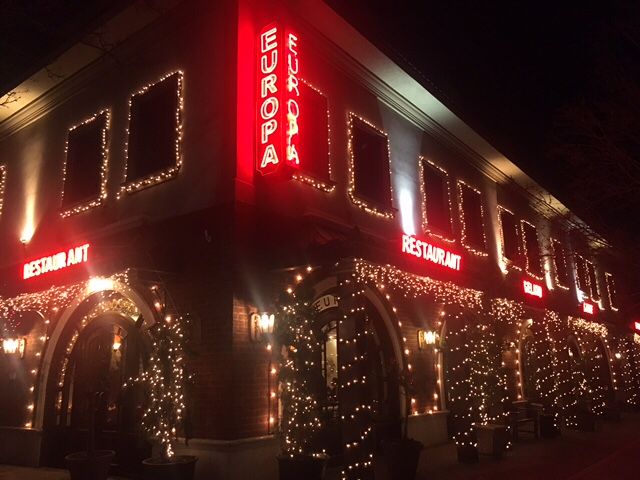 You can tell Europa Pizzeria and Restaurant, on the corner of 20th Avenue and 65th Street bordering Mapleton and Bensonhurst, is a family-friendly restaurant. This is apparent even from a passing car. The architecture has an old-world, European charm. At night, light streams warmly through the windows of the large, wooden, arched doorways onto the darkened sidewalk. "One day," I pronounced to my family from the driver's seat, "we will eat there." In early January, on my daughter Ana's 11th birthday, we finally did.
Though unfamiliar to some passersby in automobiles, Europa is well known to those who live in the neighborhood. A fixture on the corner for over 30 years, a generation of kids has grown up and introduced the establishment to their own children, but for the first 15 years of its life, there was no pizzeria or restaurant.
Europa started as an Italian pastry shop, owned by Antonino Alaimo, whose family has been creating fine Sicilian pastries, cookies, and breads for generations. Antonino's brother Emanuele is the proprietor of the nearby famous bakery, Villabate Alba.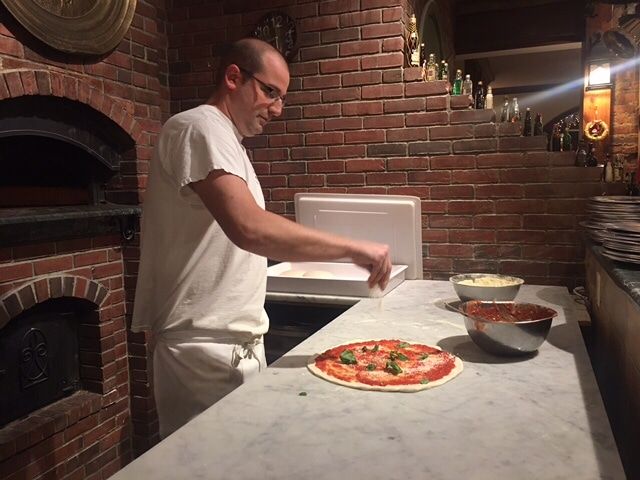 When Antonino decided to branch out, about 15 years ago, he expanded not just the menu but also the premises. Europa has two spacious rooms, each of which can accommodate small and large groups—great for family get-togethers. The formal room contains a large renaissance painting in a gilded frame and holiday decorations like colorful strings of lights and poinsettias wrapped in golden ribbons.
Porcelain dishes and framed photos of Italian villages decorate the walls of the casual dining room, which was the original bakery/kitchen. It contains booths and tables, a couple of TV sets, a cash register to the side, and a wood-fired brick oven in the back. (Pizza ovens in New York may also be fueled by gas and coal – presumably clean – but only at older, grandfathered in establishments).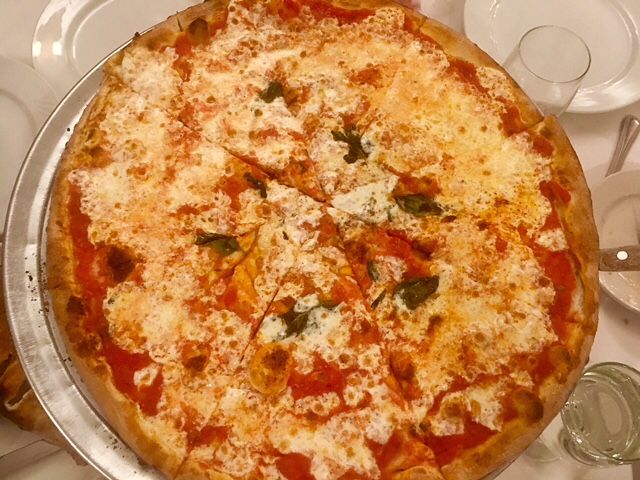 Décor plays a part in making a restaurant "family friendly" but mostly it's about the food. There's no children's menu at Europa (typically appreciated by money-conscious parents but disliked by older kids whose limitations they find annoying and condescending), but name me a child who does not like pizza! Europa's pizza list starts with 01 (Margherita) and goes up to 34 (Focaccia). There's also an array of Antipasto, Soups & Salads, Contorni (Italian for a side dish), Calzoni, Pasta, or entrees with no need to translate: Pesce, Pollo, or Carne.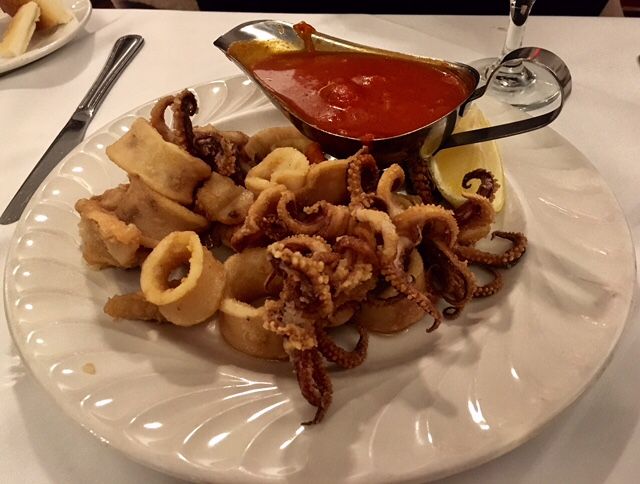 We selected an appetizer, Calamari Fritti, from the Antipasto, which arrived lightly battered, in an acceptable ratio of rings to leggy tentacles. Yummy as they were, two lemon wedges and hot, chunky, tomato sauce, offered additional flavors.
My kids selected the Margherita. There was a time they picked strands of basil off in disgust. Now, showing signs of maturing taste buds, they savored the leaves. To my delight, my son and daughter also scattered hot pepper flakes over the sizzling cheesiness lying atop the thin, crispy crust (something my wife will never do—a source of everlasting chagrin to this hot pepper sauce lover).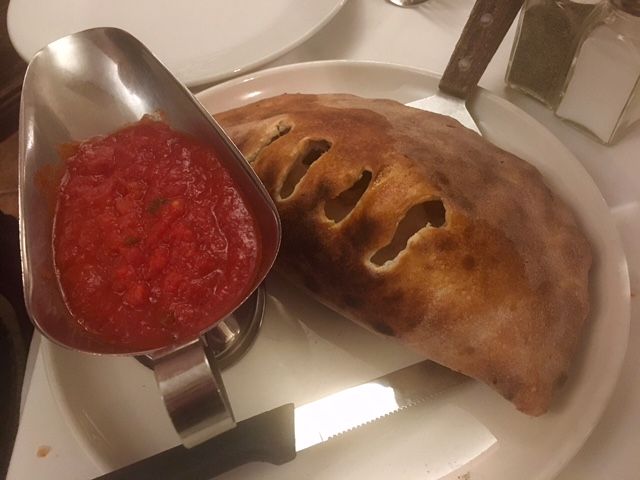 I ordered a small (actually it was huge, taking up half the plate, some of which I took home) Farcito Calzone, one of three Calzoni. My wife complains that I have a "Fear of Missing Out" (FOMO) which compels me to always order the most expensive option on a menu. While I deny this, the Italian ham, artichokes, and mushroom called out to me. In the end, it may not have been much different from the simpler Tradizionale or Formaggi Calzoni, since the dominant ingredients, which none lacked, were the Parmigiano and fresh mozzarella cheeses which oozed out in abundance.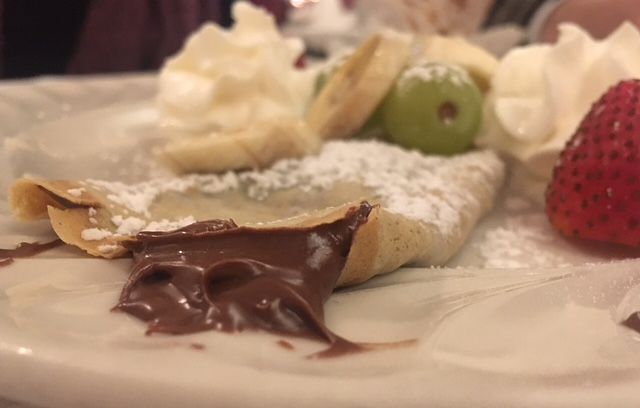 For dessert we ordered a Nutella filled crepe and profiteroles—a brave choice since we've discovered the world's best profiteroles at The Old Mill in South Egremont, Massachusetts, against which all others pale. Europa's version, served in a cup, the pastries submerged in chocolate mousse and whipped cream, looked like pudding, but nonetheless was eaten with gusto by the children.
The crepe passed muster too. When my son, Elan, claimed one too many forkfuls, Ana broke into tears at the unfairness of it all.
Truly, a family meal in a family restaurant.
Europa Pizzeria and Restaurant
6421 20th Avenue, Bensonhurst