A Date Went Terribly Wrong. Was it Murder—Or Self-Defense?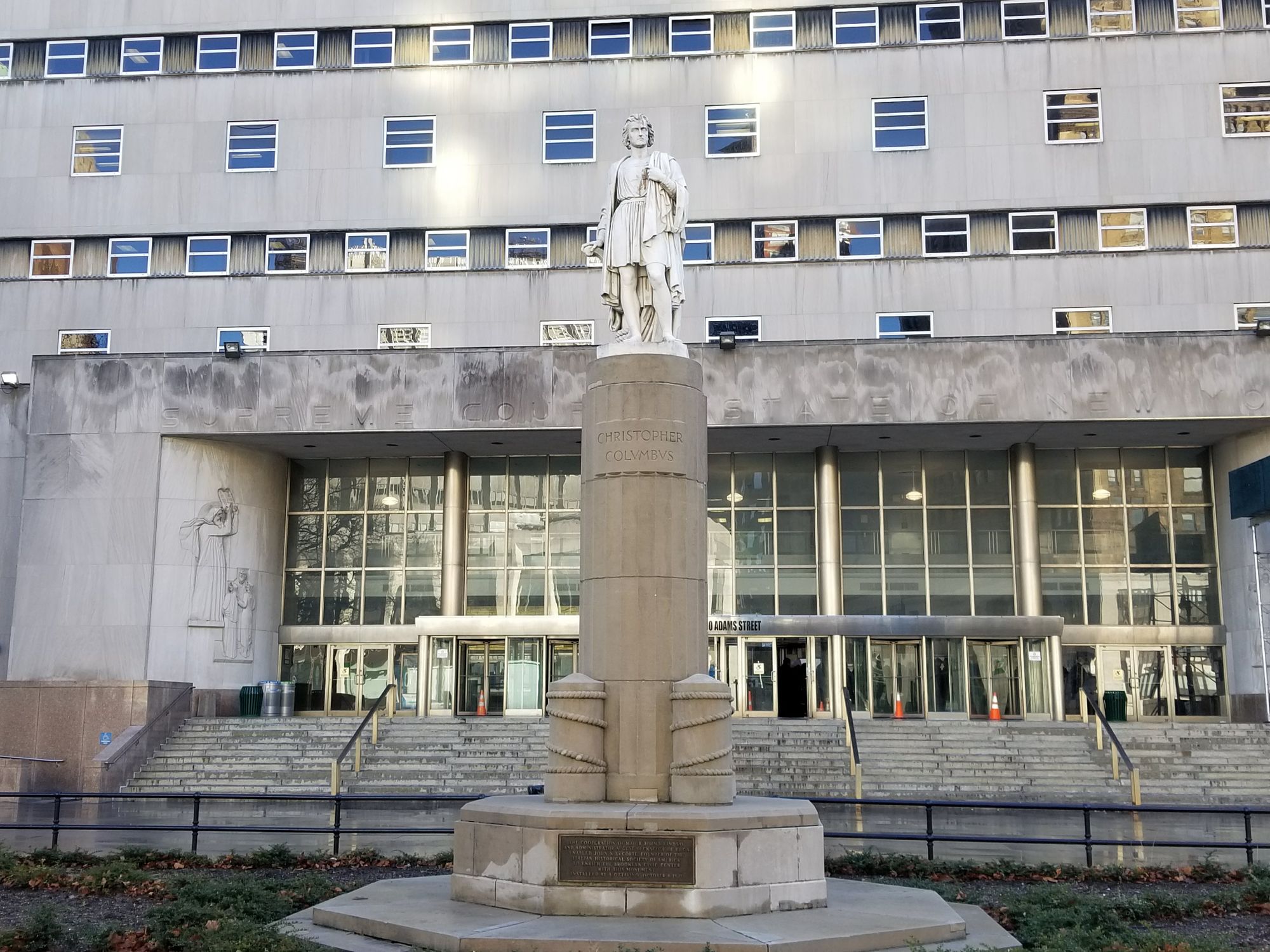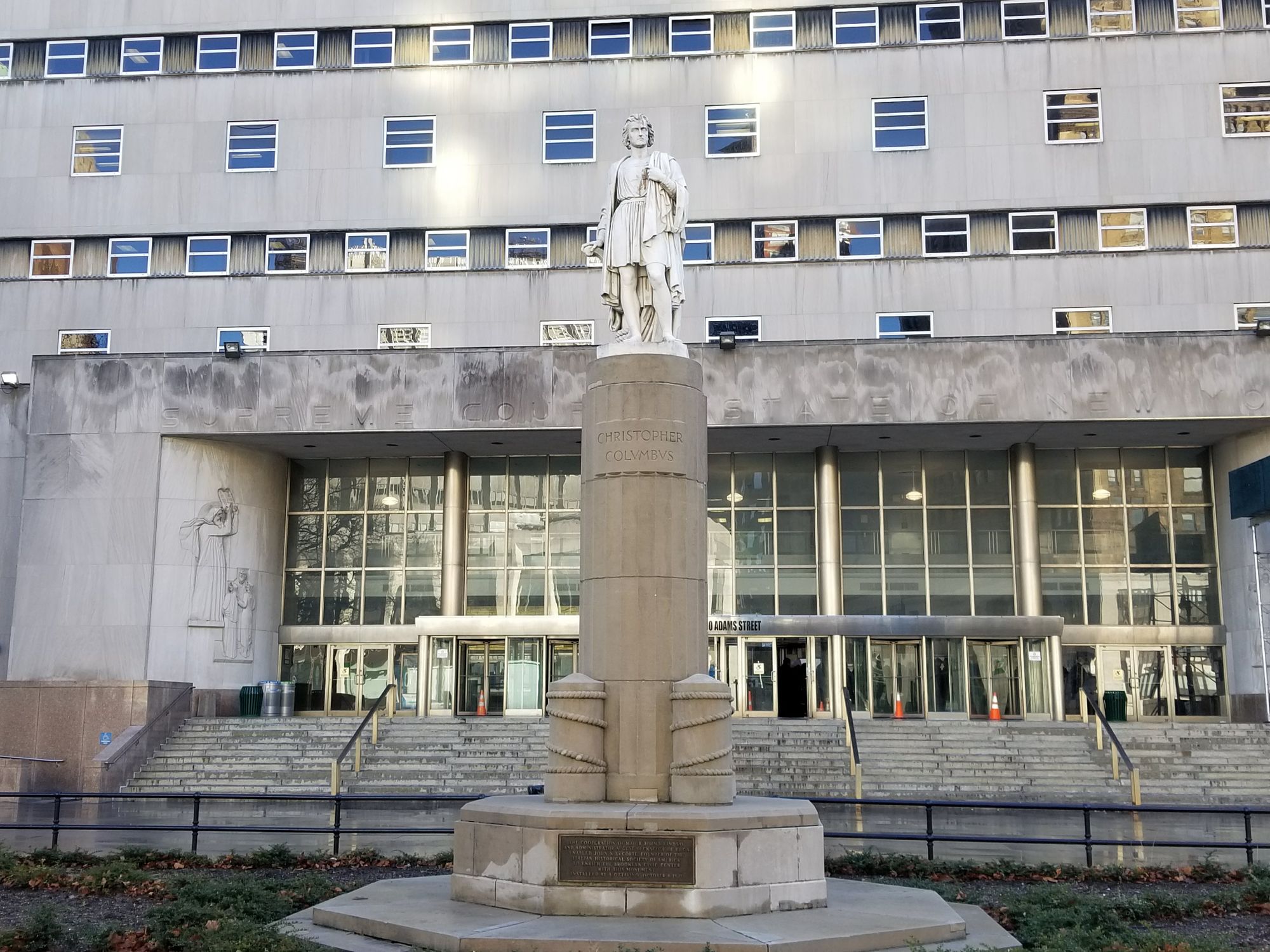 FORT GREENE – Last April, David Keegan Riotto Haigh drove from his sister's house outside Reading, Pennsylvania, to visit a friend in New York City. There he would connect with James Koron Johnson, who went by his middle name, on a gay hookup app on April 7.
Sometime in the early morning of April 9, Johnson, 41, was stabbed to death in his kitchen. Haigh was charged with his murder the next day.
More than a year later, Haigh's trial is set to begin in the Kings County Supreme Court next week. Haigh, who contacted Bklyner directly via a handwritten letter sent from the Brooklyn Detention Center, says that he was attacked and acted in self-defense. His future now depends on whether a jury believes him.
When Haigh and Johnson matched on the app, both men were looking for fresh starts. Koron had returned to his native Brooklyn after breaking up with a long-term partner in Georgia. He moved into the Ingersoll Houses in Fort Greene along with his two dogs: Paco, a miniature Doberman pinscher, and Pixie, a Chinese crested.
Haigh had been living with his sister Tricia Nierle outside of Reading, Pennsylvania. An interior decorator, he was saving money on rent to start buying, fixing and flipping houses.
Nierle, who works nights as a correctional officer, noticed Haigh's car was gone after coming back from her shift. She began to worry when she didn't hear from him for over 24 hours. She received no response from texts she sent to David's phone. On April 9, at 4:11 a.m., her phone received a message from Haigh's number while she slept. It just said "Hey." Though she found the message strange, there was also no indication of any reason to worry.
A short while later, a thirty-second call was made from Haigh's phone to 911 at 4:42 a.m. The call was received, but no one responded to the dispatcher and no units were dispatched to the scene. Phone records show that someone had used Haigh's phone to search for and viewed a webpage on 911 that claimed dispatchers might call back if a call went dead.
At 5:58 a.m. the same number called 911 again. Johnson lay dying on the kitchen floor of his one-bedroom apartment in Fort Greene's Ingersoll Houses. Haigh's voice is so high-pitched and shaky that the dispatcher refers to Haigh as "ma'am" throughout the call. Nierle didn't recognize his voice when she heard the recording months later.
When police arrived, Haigh let them in. A small flat screen TV had been knocked to the floor, along with a broken mirror, an overturned silverware drawer and a glass table lying alongside its metal legs. Johnson was on his back in a pool of blood, a knife sticking out of the left side of his chest. He'd been stabbed multiple times. Haigh had bruises on his face, and his finger had been badly injured by a bite. The autopsy found body hair in Johnson's teeth, and bite marks on Johnson's chest.
Haigh was arrested and taken to the nearby Brooklyn Hospital Center, where he was given a sedative. The next day, Haigh told homicide detectives in the hospital that Johnson attacked him when he tried to leave the apartment and Haigh stabbed Johnson to protect himself. Haigh was charged with murder in the second degree.
For second-degree murder, the New York State penal code considers "an affirmative defense" if "the defendant acted under the influence of extreme emotional disturbance for which there was a reasonable explanation or excuse."
Accordingly, Haigh's defense is likely to emphasize something that happened more than a week before the two men ever met: Johnson was wanted by the NYPD for an alleged sexual assault. A pretrial motion filed last week by Haigh's attorney, Thomas Andrykovitz, indicates that the defense will likely try to introduce the earlier alleged assault as evidence for Haigh's claims of self-defense.
In that complaint, another man alleged that he went to Johnson's apartment after smoking crystal methamphetamine. The man told police that after performing consensual oral sex on Johnson that Johnson began talking about inviting other men over and videotaping the ensuing "gang bang."
The man objected and attempted to leave. He alleged that Johnson then threatened him with violence before forcing him to have anal sex. When they finished, the man showered and went directly from Johnson's apartment to the hospital, where he reported the incident. That case was referred to the NYPD's Special Victims Division, and Johnson was listed as wanted in connection with the incident.
Police records do not show that NYPD detectives ever found or questioned Johnson before his death and the case against him was closed after his death.
Haigh and his family believe Haigh was a victim—first of Johnson and then of circumstance. They believe that the NYPD missed multiple chances to prevent the incident, either through investigating the earlier complaint against Johnson or dispatching a unit to Johnson's apartment after the first 911 call.
Both Haigh and Johnson grew up in large families, the darlings of the older sisters who looked after them. Haigh is 43 now but looks younger, thanks to a serious gym habit, his tousle of boyish brown curls and the practiced smile of a former actor.
"I still call him a kid," said his sister, Tricia Nierle, in a recent telephone interview. "I still call him my baby brother. He can be a little opinionated, about politics and that kind of thing."
Johnson had a similarly youthful look: handsome, tall, well-built and well-dressed. "My brother was a fashionista," said his older sister, Loretta Monroe, from her home in North Carolina. "It was just how he carried himself."
The Johnsons grew up in Brownsville and Bedford-Stuyvesant, where Monroe, the eldest sister, took on the responsibility of raising her younger siblings.
"Koron was my annoying baby brother," she said. "I brought him up, taught him how to read and write. All the basic things that a mother would do."
For days, neither man's family knew what had happened. Haigh wasn't allowed a phone call from the hospital. He was able to call his sister only after convincing a police officer guarding him to let him use their cell phone.
"The call wasn't that long. He was worked up and emotional," said Nierle. "I was in shock after I heard it, I never would have imagined something like that happening. You see it on the news but you never expect it to happen to your family."
Monroe, Johnson's eldest sister, had no idea that anything had happened to her brother until she received a voicemail from a friend of Johnson's who lived downstairs from him in the building. She called back. The woman told her that brother was dead. She collapsed, screaming.
"I heard her but it kept echoing in my ears… dead… dead," Monroe recalled. "Dead, meaning not coming back no more. Done."
Monroe called the NYPD herself to find out more details. The next week, she and her husband, Xavier, went to New York to take care of Johnson's affairs and arrange for the funeral. They saw Johnson's apartment, which still had bloodstains on the floor, and talked to his next-door neighbors, who told them they had heard the fight but had been too scared to open their door. They brought Paco and Pixie back to North Carolina, where the dogs now live with the Monroes' daughter.
Almost a year later, both families were still shocked.
"I know their story was that he attacked him, but I don't believe that," said Loretta's husband, Xavier Monroe. "It doesn't sound like him, it just doesn't. If something like that happened, it would be so strange because he's just not that type of person."
"This has basically just been an ongoing nightmare," said Nierle. "Every day you wake up and you think to yourself: this can't be happening to me and my family."
Both sisters were tense as the trial approached, with pre-trial hearings scheduled on May 4th and jury selection likely the following week.
"I've been over this for a whole year now and I can't keep holding on to being angry with what's going on," said Nierle, who's been present for many of Haigh's court appearances. "It's wearing me down."
Monroe will be attending the trial as well.
"It probably won't be pretty," she said.