Hateful, Pro-Trump Graffiti In Adam Yauch Park Replaced With Neighborhood Love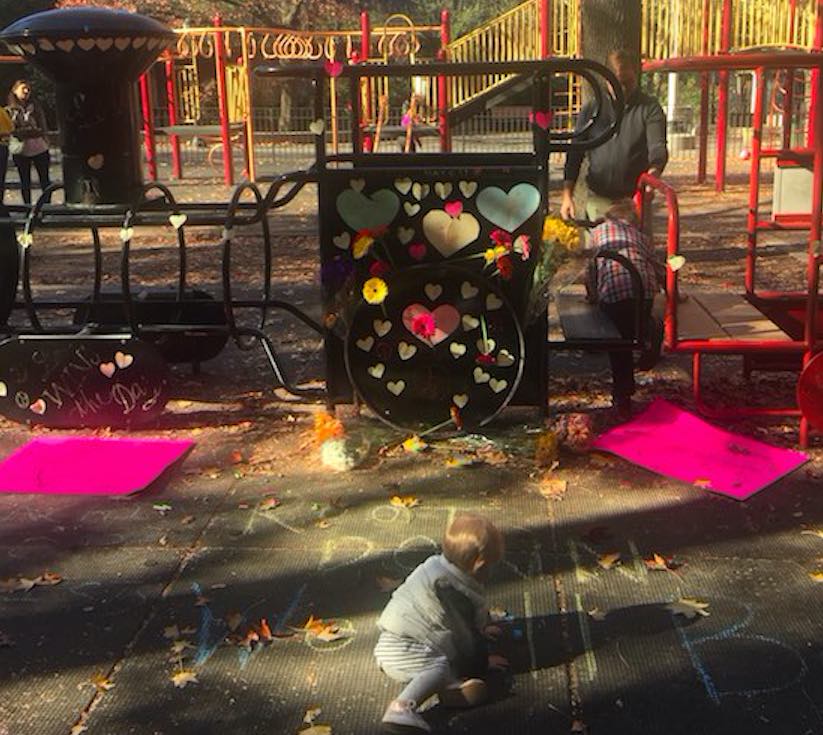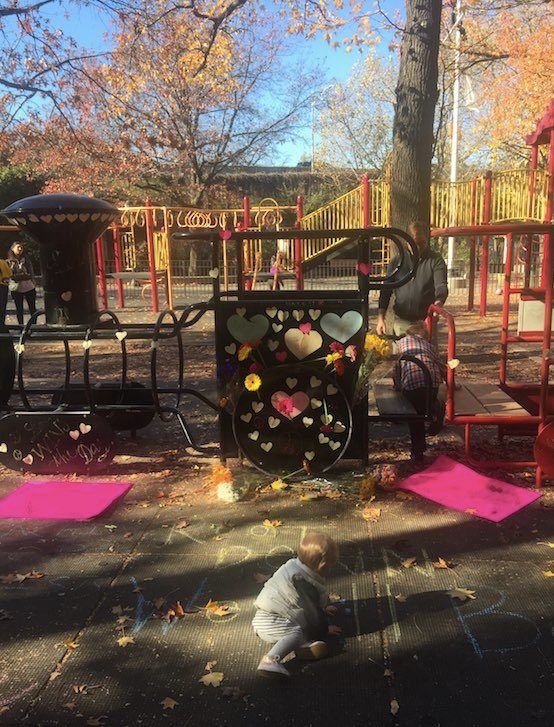 On Friday, November 18, abhorrent graffiti was painted on playground equipment at Adam Yauch Park in Brooklyn Heights.
The response was swift. The graffiti was removed overnight. Community members redecorated with beautiful hearts. Children chalked messages on the pavement.
The park was renamed for Beastie Boys member Adam "MCA" Yauch who died of cancer in 2012. According to NYC Parks, "Yauch grew up playing in this playground, then named State Street Park and later Palmetto Playground, as a child." In 2013, it was renamed in his honor.
On Sunday, November 20 at 11:30am, politicians and activists will gather at the park to "Stand Up Against Hate." According to a tweet by NY State Senator Daniel Squadron, Beastie Boys' Adam "Ad-Rock" Horovitz will also be in attendance.
Rather than condemning the incident, President-elect Donald Trump spent his time defending Vice President-elect Mike Pence, who attended the Broadway hit Hamilton: An American Musical on Friday night.
Actor Brandon Victor Dixon, who plays former Vice President Aaron Burr in the production, read a statement during the show's curtain call.
"We, sir, we are the diverse America who are alarmed and anxious that your new administration will not protect us, our planet, our children, our parents, or defend us and uphold our inalienable rights, sir," Dixon said. "But we truly hope that this show has inspired you to uphold our American values and to work on behalf all of us."
Here was Trump's response:
Dixon's response to Trump's tweet was as follows:
Earlier this week, President-elect Donald Trump selected Steve Bannon as chief strategist in the White House. Bannon, a KKK sympathizer, anti-Semite, and homo/transphobe is also the executive chairman of the conservative Breitbart News, an agency linked to the alt-right movement.
In a meeting at Congregation Beth Elohim last Tuesday, Council Member Brad Lander said, "We will not sit comfortably with a white supremacist in the White House," Lander said.