Jewish Neighbors Protest EMJC Rabbi's Installation Over Charter School Controversy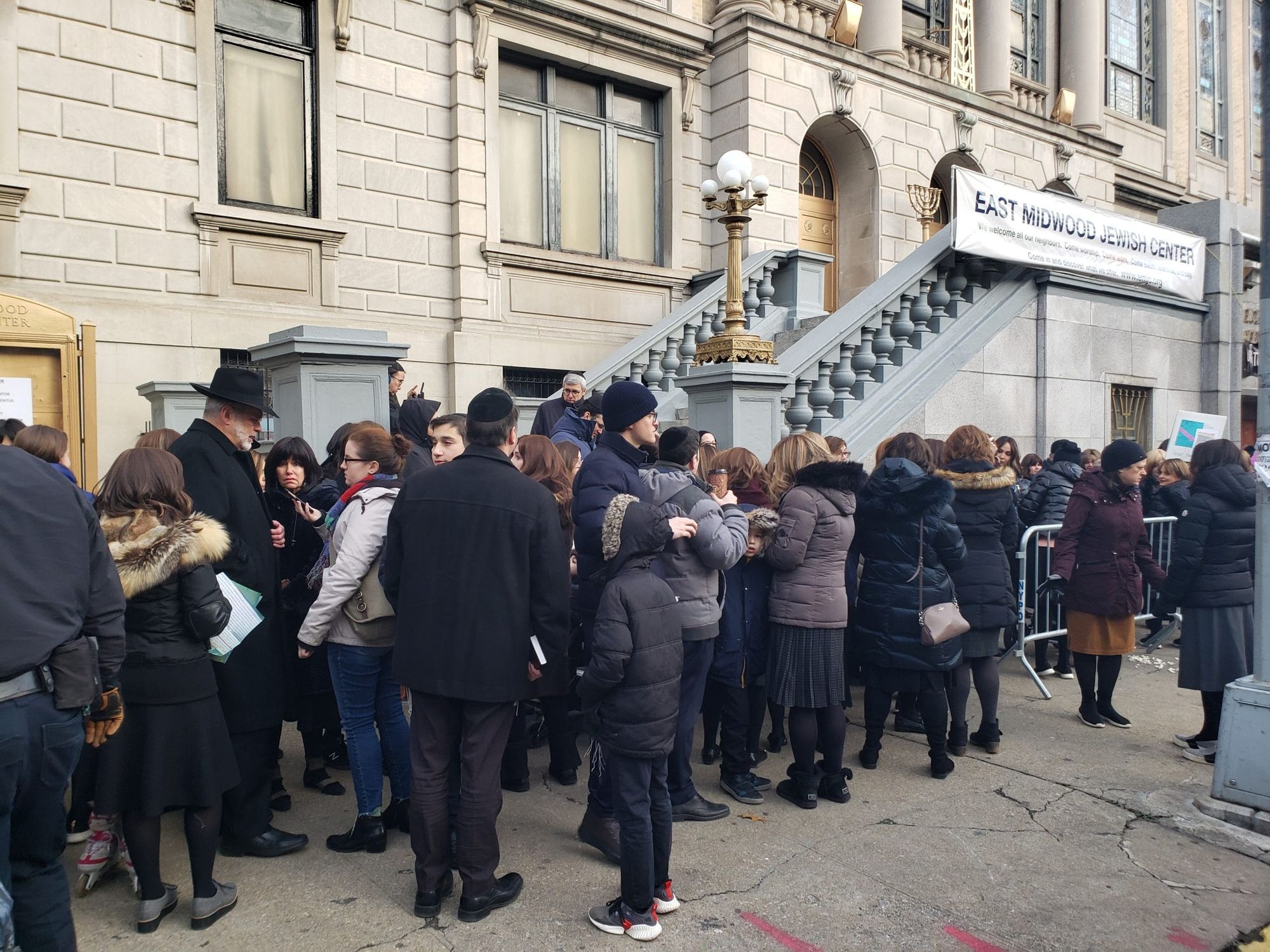 MIDWOOD — The installation of Rabbi Sam Levine at the East Midwood Jewish Center (EMJC) was protested by over 100 opponents of the Urban Dove School's move to one of EMJC's properties.
Urban Dove is a charter school that serves students who failed the 9th grade. The past two tenants of the building have been Jewish schools, one Conservative and one Orthodox, that each ran into financial problems and stopped paying rent.
Two weeks ago, EMJC hosted an informational meeting about Urban Dove that devolved into a shouting match between the Conservative Jewish leadership of EMJC and local Orthodox Jews who want a Jewish school to rent the property and have concerns about their changing neighborhood.
Last night's protest was a continuation of this disagreement. Protesters held signs that read "Continue Jewish education," and "We need room for local schools."
James Meyer, a teacher at a Jewish day school and one of the protesters at the installation, sees Urban Dove as an unwelcome intrusion by outsiders at the expense of local Jews.
"The kids in the school don't live here. The congregants [of EMJC] don't live here. They're interlopers. They're coming into a neighborhood, and they're not taking the safety of that neighborhood into account," said Meyer. "The Rabbi is starting his tenure tonight, and he's starting it with a stain on his reputation of good neighborliness."
Meyer also accused EMJC of acting against their own congregants' ideals in order to make a profit.
"Most of their membership is against charter schools," said Meyer. "Many of them are United Federation of Teachers members — retired public school teachers and the like — and they are dead set against charter schools… So it's kind of hypocritical."
Rabbi Levine said that as Conservative Jews left the neighborhood and Orthodox Jews moved in, membership dropped drastically — from 1,400 members at the synagogue's peak to 250 members (usually families, so the number of individual congregants is higher) today. The drop in membership put a strain on EMJC's finances and made rent an important part of the synagogue's budget.
Still, Rabbi Levine feels that renting to Urban Dove is consistent with EMJC's values.
"We were happy that an organization came that could both pay the bills and is absolutely in keeping with our mission," said Rabbi Levine. "And it's not just our mission, by the way, it's a Jewish mission."
A 6th grader name Aaron attended the protest with his father. Aaron says his Jewish school is overcrowded and could have used the extra space. "They're forced to squish 35 people into a classroom that can only fit 15," he said.
Rabbi Sam Levine said that EMJC spoke to eight Yeshivas and two other non-Orthodox Jewish schools. "We tried to get a Jewish school in here," said Rabbi Levine. "I mean we tried, and we tried, and we tried, but nothing came."
Martin Samoylov was the lone counter-protester at the event. He stood at the entrance to EMJC handing out pamphlets titled "The REAL, non-racist fact sheet."
"The same thing happened in 1973 when they tried to stop Edward R. Murrow [High School]," said Samoylov, pointing to a 1973 New York Times article he cites in his pamphlet. "The reason was, they were afraid that Murrow was going to change the neighborhood demographics."
Samoylov is skeptical of the intentions of the protesters.
"Here's the sad part. There are some Jewish schools that wanted in, but they didn't have the same amount of money," said Samoylov. "So [the Orthodox community] is trying to get together money just to prevent Urban Dove and give a similar bid. Think about this. They are willing to raise money just so they wouldn't have 300 Black and Hispanic kids in their neighborhood."
James Meyer says his issues have nothing to do with race.
"We would like them to bring every nationality under the sun into our community, but this is a school for problematic kids, said Meyer. "It's coming from the toughest neighborhood in NYC to a tree-lined street with many kids on it."
Goldie Arrow, a congregant at EMJC and attendee of Rabbi Levine's installation praised the new Rabbi's handling of the situation.
"He's trying to make us stronger so that we can resist the forces of discrimination and racism and hate and fear and xenophobia," said Arrow.
Dori Levine, Rabbi Levine's mother who is visiting from Canada to celebrate her son's installation, said she isn't upset about the controversy surrounding the event. "We're here with the community. We're here as a whole," she said. "I say to you, this is a beautiful, wonderful congregation of people whose values are in the right place."