Harris Campaign Pushes Back Against Allegations Of Inappropriate Ties To Nonprofit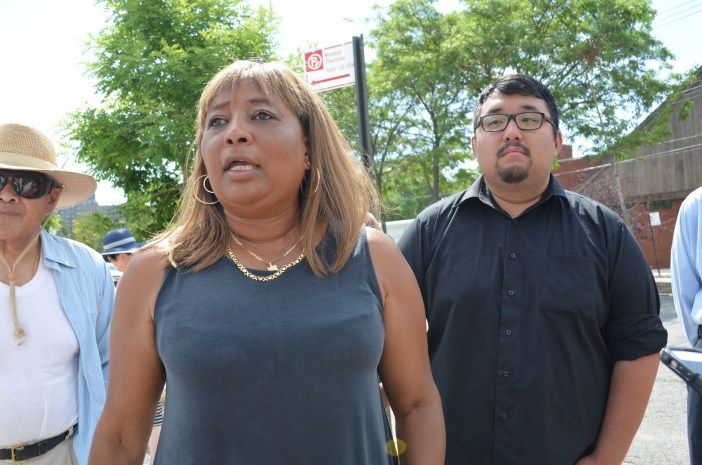 Assemblywoman Pamela Harris — who is in the middle of a bruising primary battle to hold onto her seat — pushed back Friday against allegations in the New York Post that her campaign inappropriately coordinated with the nonprofit she founded to help Coney Island youth.
The Post pointed out that Coney Island Generation Gap, a nonprofit Harris founded in 2003, still operates out of Assemblywoman's home, even though she left the organization last year after winning her seat in a special election. Nonprofits are prohibited from participating in a political campaign and a representative from a government watchdog group told the Post the Assemblywoman's seemingly cozy relationship with the organization raises red flags.
Harris said said the nonprofit continues to operate from her Coney Island home out of necessity — affordable spaces in the area are hard to come by — but the organization is working to find a new location in a nearby public school.
"I wish I didn't have to tell a group of teenagers to go when there is no place to go," Harris said.
Harris also said the $26,000 spent by Coney Island Generation Gap for "occupancy, rent, utilities and maintenance" was used to rent a room in her neighbor's property for a video production studio and to pay for one-time events at other locations in the area. None of that money was spent to use the first floor of her home.
The Post also reports members of Coney Island Generation Gap have been reimbursed for working for Harris' campaign and pictures on social media show Harris campaign posters at a summer block party with the nonprofit.
Rocco Brescia, who replaced Harris as executive director, said the posters at the block party were on a neighbor's property. No one from Coney Island Generation Gap engaged in any campaign activity during the event.
"We were not campaigning," he said. "That sign was on her neighbor's property and has been there for the longest time."
Harris and her supporters met reporters at Kaiser Park and later invited the media to tour the video-production studio and the meeting area in the Assemblywoman's home.
Some of her supporters said the allegations in the Post were part of a longtime effort by Harris' political opponents to attack her work for the nonprofit.
Her opponent in last year's election, GOP candidate Lucretia Regina-Potter, alleged Harris profited from public funds allocated to the organization.
"I don't have to hide behind a not-for-profit that perhaps charges rent and pays a salary to myself — like some people," Regina-Potter said during a debate. (Harris said she never collected a salary.)
Chris Chalfont, a Bay Ridge resident who voted for Harris, said similar attacks against the nonprofit appeared in an anonymous mailing sent to her and her neighbors a week before election day. Chalfont said the attack has resurfaced for the Democratic primary.
"This smear campaign is trying to put [Coney Island Generation Gap] under the ground," she said. "There are kids who are hurt from seeing this stuff in the media. This is someone they have looked up to and this organization has built them up."
Harris' primary challenger is Bay Ridge community activist Kate Cucco, a Bay Ridge activist and chief of staff for former Assemblyman Alec Brook-Krasny. Cucco is running on a slate that includes Chris McCreight and Brigitte Purvis, who are challenging Harris' allies Dilia Schack and Councilman Mark Treyger, who are running for District Leader positions.
City Councilman Mark Treyger, who has long drawn attention to the lack of community centers in Coney Island's west end, said the attacks on Harris' nonprofit work drag down one of the neighborhood's few effective youth programs.
"We are in need of affordable spaces here for meaningful programs for our youth and seniors. And quite frankly, rather than smearing each other, rather than trying to politicize a glaring need in this neighborhood, let's work together to find solutions to these very pressing challenges," he said.