Harbor Ring Advocates Continue Push For Verrazano Bridge Bike Lane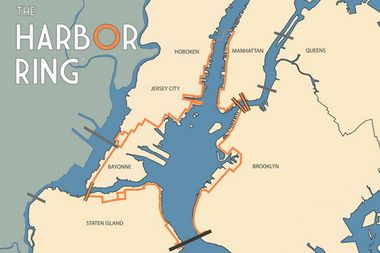 Have you ever rode your bicycle around the neighborhood and wished that someone had designed a route that would let you ride around the city, the boroughs and parts of New Jersey in a single, all-encompassing loop? Well, crazy exercise person, your dreams are one step closer to reality as the Harbor Ring Committee has published the Harbor Ring map, and the only piece of the puzzle still missing in a bike lane connecting Brooklyn and Staten Island.
The map, which you can view and download by clicking here, presents a 50-mile bicycle and pedestrian path that circles around Manhattan, Brooklyn, Staten Island, Bayonne, Jersey City, and Hoboken.
As we previously reported in April, the only missing piece of the map is a path on the Verrazano-Narrows Bridge, which would close the loop and provide a direct connection from Staten Island to Brooklyn. With the publication of the map, the Harbor Ring Committee has renewed their effort to get the MTA and other public officials to allow for a bike path on the Verrazano.
Herald Online noted that an additional bike path on the Verrazano has many supporters, including State Senator Diane Savino:
New York State Senator Diane Savino, whose district covers Brooklyn and Staten Island neighborhoods on both sides of the Verrazano Bridge, is a supporter of the Harbor Ring project, specifically the Verrazano pathway. Senator Savino has joined the Committee in asking the MTA to begin the planning for the pathway soon. According to Senator Savino: "Now is the time to incorporate a multi-use path on the Verrazano, so that construction can begin along with planned roadway improvements. Staten Islanders and Brooklynites deserve a toll-free option over the Verrazano Bridge for the good of the local economy, emergency access, and public health."
Along with Senator Savino, many organizations and public figures have endorsed the Verrazano Bridge pathway, including the Tri-State Transportation Campaign, the East Coast Greenway Alliance, the Metropolitan Waterfront Alliance, Brooklyn Borough President Marty Markowitz, Senator Marty Golden, and Councilmembers Deborah Rose and Vincent Gentile.
While the MTA previously noted that extensive studies monitoring cost, neighborhood impact and overall feasibility need to be conducted before a Verrazano bike path is approved, the push from local politicians and other groups might be enough for bicycle lovers to start getting their hopes high for a fully-connected ring.