Happiness Is A Pastrami On Rye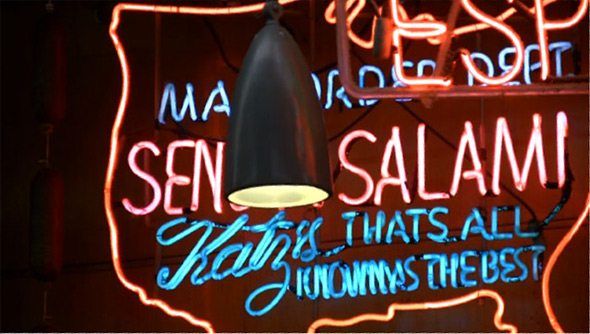 by Ethan Dante Bello
Local filmmaker Yura Dashevsky is in the process of putting together a documentary on one of the city's landmark shrines to Jewish cuisine, and he's looking for your help.
After building a website for Katz's Delicatessen in Manhattan's Lower East Side, Dashevsky got swept up in its unbelievable history, and was astonished to discover that a movie had never been made exploring its cultural importance. Now, in it's 123rd year, the seeds have been sown for a film centered around the place that New Yorkers have known and loved since its opening day.
Enter Katz's: That's All. With three years of filming already accomplished, Dashevsky has about 40 hours on tape, interviewing employees, patrons and a slew of star pastrami-eaters. With four U.S. presidents, a plethora of celebrities who have taken a bite out of the unmatched pastrami on rye, and a slew of references in movies and pop culture, there's no shortage of material for Dashevsky to set his lens on.
But, like most projects, these things can be quite a damper on the wallet. Dashevsky is reaching out to the public with one request: if you have eaten at Katz's and feel that a documentary should be made, please donate to the cause. Funds will go to some additional filming, post-production and licensing fees.
"At this stage I need one or two people who feel like a shot at the Academy Awards for $100,000 is a good deal," he told Sheepshead Bites. "From that point, I'd say, six months to the premiere night."
Of course, he'll take smaller donations, too. For those looking to support a local filmmaker, go to Katz's: That's All's website and look for the little yellow icon at both the top and bottom of the screen. Every donor will receive a free downloadable copy of the DVD once it has been completed.
Along with the donation is a downloadable copy of the documentary plan, so the public can be a part of this project.