Halikarnas Reopens, Breaks Law, Recloses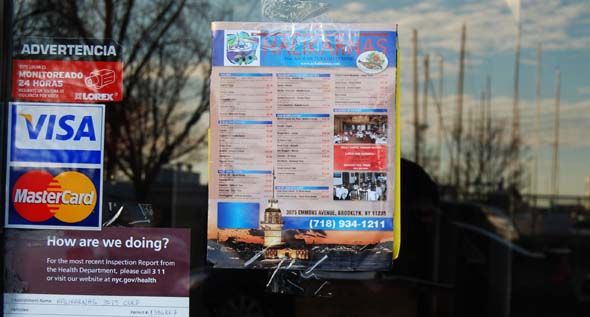 THIS STORY HAS BEEN UPDATED: "Halikarnas Reopen and Clean, Lost Big To DOH Mess"
We told you Wednesday that Halikarnas, a Turkish restaurant on Emmons Avenue, closed down by order of the Health Department. But we stopped by in the afternoon and – guess what – staff was there and they invited us in for a meal. Something about mouse droppings, cockroaches, and a lack of running water didn't really turn us on, though, and we went on our way.
As it turned out, Halikarnas reopened illegally. The DOH sign on the door explaining its closure and saying that it is a violation of law to damage or obstruct it was, well, damaged and obstructed. After attempting to tear it down, Halikarnas employees covered it with the menu, as you can see in the photo above.
Well, justice has been served. DOH inspectors returned last night. It was found operating and serving food to patrons. The Health Department re-closed the restaurant and cited it for operating against the agency's order to close.
Are instructions that difficult to follow?