Guns Take Center Stage In Golden V. Gounardes Campaign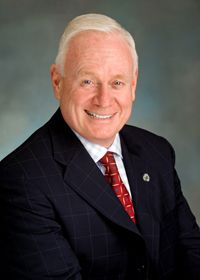 State Senator Marty Golden's most recent gun bill has received early support from Mayor Bloomberg, as the issue takes center stage in the campaign to keep his seat.
Golden plans to stiffen penalties against people who plant "community guns" – weapons hidden in locations for use by gang members and other criminals.
"Today you have a person or a gang that will have one gun that all its members use and know where it is," said Golden. "Gun sharing is the latest tactic used to get illegal firearms in the hands of criminals and this necessary legislation will hold accountable not just those people who commit the crimes, but those make the illegal guns available."
The bill would bring felony charges against anyone who shares a gun that is later used in a violent crime. Prosecutors have difficulty bringing charges in such cases because they must prove the person knew the shared gun was going to be used for a crime.
Senate Republicans plan to support the bill when the Legislature begins session in January.
Democrats have been pushing their own gun-control bills, while State Senate Candidate Andrew Gounardes recently issued a press release criticizing Golden's "complete failure to pass common sense gun laws."
Gounardes points out that a 2010 bill on microstamping failed to come to a vote after Golden left the Senate room to take a phone call. Microstamping is a process which imprints bullet casings with the make, model, and serial number of the gun from which they were fired.
Andrew Cuomo and Mayor Bloomberg have been pushing politicians, including both presidential campaigns, to address the issue of gun violence.
In March, Senator Golden sponsored two bills that were passed by the Senate. One bill increased the penalties for criminals who display a gun during a crime and the other bill lengthened the jail sentence for criminal sale or possession of a weapon at a residence of a child or in the presence of a child.