A Guide To Brooklyn's Public Outdoor Swimming Pools
As our steamy New York City summer gets started, plan your heat relief at one of Brooklyn's 15 free outdoor public pools. Pools open tomorrow, June 29 and stay open until September 10 this year, so you don't need to go too far to jump in.
NYC Parks hosts free programming like adaptive swim, senior swim, and Learn to Swim classes for kids and adults. And new this year, all NYC Parks outdoor pools will feature free sunscreen dispensers.
Pool hours are 11am to 7pm, seven days a week (Note: pools close for one hour between 3pm and 4pm for cleaning).
First, check out some pool rules. We've slimmed them down a bit, but you can see the complete list of rules here, and be sure to stick to them because most pools check before you go in: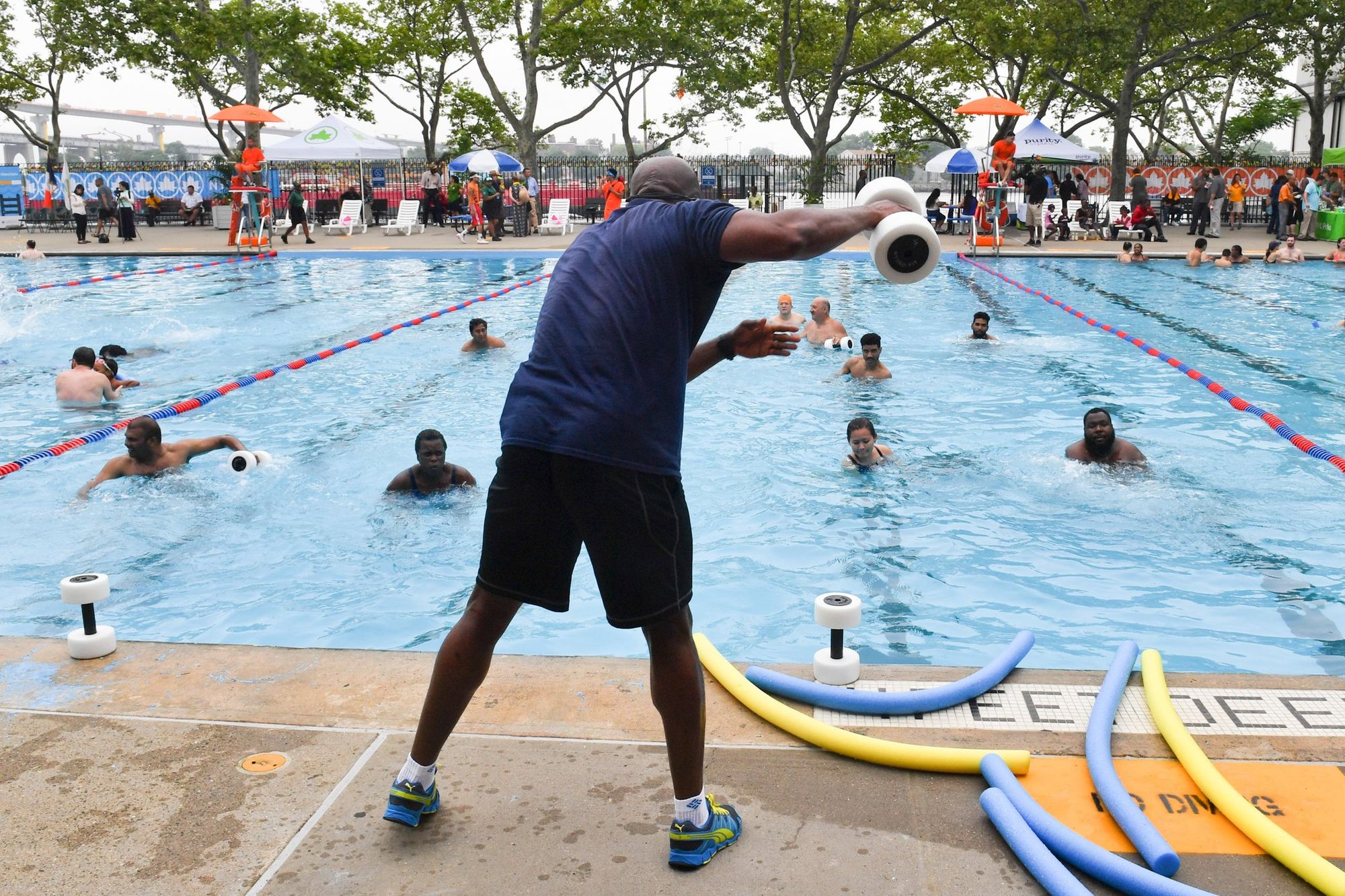 Clothing: You have to wear a bathing suit! Men's suits must have mesh linings. Hats may be worn on the deck for sun protection but are not allowed in the water. Plain white T-shirts may be worn over bathing suits if desired. Sneakers are not permitted, but rubber flip flops or water shoes are.
Children under 16 must be at least eight inches taller than the maximum water depth to enter the pool without adult supervision.
Bring your own padlock! The city takes no responsibility for lost items.
These are not allowed in the pool or on the deck: radios, cameras, cell phones, or other electronics; swimming aids, water toys, or flotation devices; beach chairs, baby strollers, bags, blankets, or beach balls; smoking, pets, glass bottles.
You can't get in a pool if you have: skin lesions, sores, or inflamed eyes, mouth, nose, or ear discharge, a communicable disease, or any type of bandage on your body.
You gotta take a shower in the locker room before entering the pool.
No booze allowed! Eating or drinking is permitted only in designated areas.
Reading materials: Books and bound periodicals are permitted on the pool deck. Newspapers are not.
And now for the pools! Hours at all are daily from 11am to 7pm (with a one hour break between 3pm and 4pm), except for the Brooklyn Bridge Park pop-up pool, which is open 10am to 6pm. Sometimes when it's super hot out, some pool hours are extended to 8pm — check the NYC Parks Twitter account for updates.
Betsy Head Park Pool
694 Thomas S Boyland St, Brownsville 718-257-1635
This Olympic-sized pool has learn-to-swim programs, a swim team, and exercise programs for seniors. One of two pools in Brownsville, this one was built as a WPA project.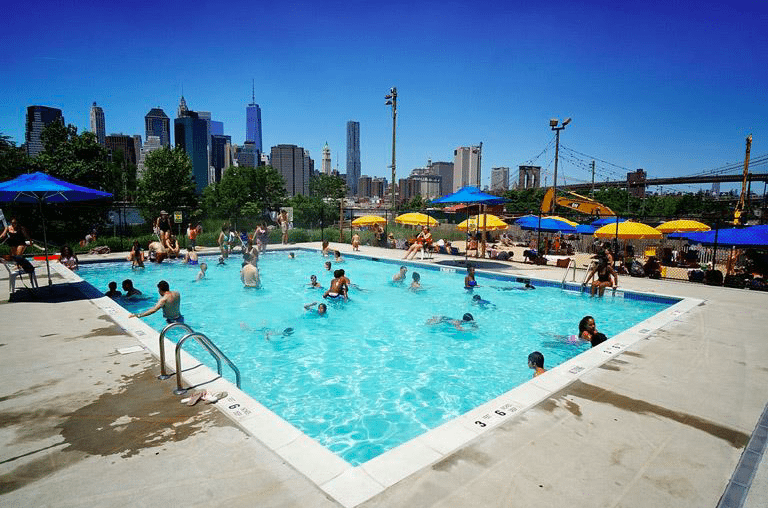 Brooklyn Bridge Park Pop-Up Pool
Pier 2 in Brooklyn Bridge Park, 718-802-0603
This mini-sized pool (30″ by 50″ and max three feet deep) allows swimmers in 45-minute sessions from 10am-6pm, with wristbands available 15 minutes before each session. They've got different rules from the other city pools, so check those out here.
Bushwick Playground Pool
817 Flushing Ave, Bushwick, 718-452-2116
An intermediate-sized pool and a wading pool. They've got learn-to-swim programs and a swim team. Feels a little small, and because of that, can feel crowded.
Commodore Barry Park Pool
Flushing Ave at N Elliott Pl, Fort Greene, 718-243-2593
They've got an intermediate-sized pool and a wading pool, plus learn-to-swim programs and a swim team. Reviews say it's not too crowded because of its out-of-the-way location.
David Fox/PS 251 Pool
E 54th Street and Avenue H, Flatlands, 718-531-2437
A mini-sized pool without a lot of info about it anywhere. Anyone been who can share what it's like?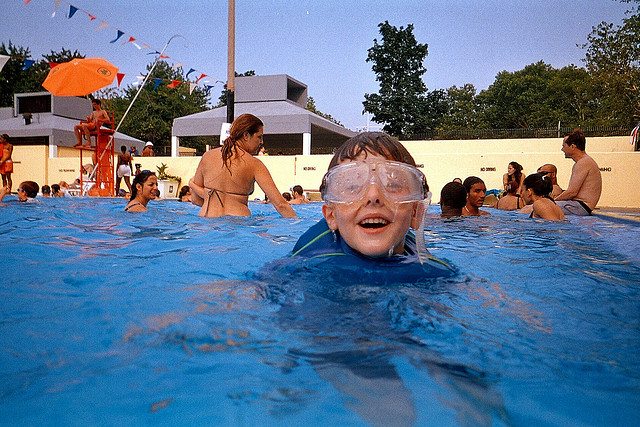 Douglas & Degraw Pool
230 Douglass St, Gowanus, 718-625-3268
AKA Double D, there's an intermediate-sized pool and a wading pool, plus learn-to-swim programs and a swim team. Over the years reviews have both complained that it was gnarly and praised it for being clean and well maintained — so how's it looking this year?
Glenwood Houses Pool
Ralph Ave at Farragut Rd, Flatlands, 718-531–2480
Pretty much the same deal as David Fox, so if you've been, let us know in the comments how it is.
Howard Pool
E New York Ave near Mother Gaston Boulevard, Brownsville, 718-385–1023
The Brownsville pool that has seen talk of closing, it's got an intermediate-sized pool and a wading pool, and it's got learn-to-swim programs and exercise programs for seniors.
JHS 57/HS 26 Pool
117 Stuyvesant Ave, Bed-Stuy, 718-760-6969
With the large Kosciuszko pool just about a mile away, this mini-sized pool might be a good option if you're looking for a smaller environment for yourself or the kids.
Kosciuszko Pool
670 Marcy Ave, Bed-Stuy, 718-622-5271
A popular destination on hot days, there can be a line to get into this spot with an Olympic-sized pool and a wading pool. It's got learn-to-swim programs, a swim team, and exercise programs for seniors.
Lindower Park Pool
E 60th Street and Mill Ave, Mill Basin, 718-531-4852
It's a mini-sized pool, and much like the other small fries in Brooklyn, there's not too much going on, though if you get rained out, there is a bowling alley nearby.
McCarren Park Pool
776 Lorimer St, Greenpoint, 718-218-2380
After some 2012 drama during the beginning of its first season since 1984, things seemed to settle down, though tales of crazy long lines persist. The rehabilitated Olympic-size pool offers the adult lap swim program, learn-to-swim classes for kids and adults, water aerobics for adults, a swim team, and exercise programs for seniors. Additionally, it's one of only two Brooklyn pools with an Adapted Aquatics program for people suffering from physical ailments resulting from injury, disease, or aging.
PS 20 Playground Pool
Claremont Ave between Willoughby and Dekalb, Fort Greene, 718-760-6969
The last of the mini-sized pools in the list, this one has some reviews online, though none too recent.
Red Hook Pool
155 Bay St, Red Hook, 718-722-3211
It's maybe the least crowded of the Olympic-sized pools in Brooklyn but can still attract a lot of kids on a hot day. Hard to beat cooling off with a swim, then grabbing some tacos afterward.
Sunset Park Pool
44th St at 7th Ave, Sunset Park, 718-972-2180
The park with the best view in the city also has an Olympic-sized pool, all the swim programs, plus it's the other Brooklyn pool with an Adapted Aquatics program.