How Gross Is Your Subway Station? New Map Shows Bacteria Linked To Urinary Tract Infections, Toxic Cleanup, Food Poisoning & More In Our Area
Now you don't have to wonder what exactly you're touching — or avoiding — on the subway because there's a comprehensive map of almost every type of species (of bacteria, food remnants and other organic material) there, and it's conveniently organized by train station.
Researchers from Weill Cornell Medical College spent 18 months collecting, documenting and testing DNA samples from across New York City's 466 open subway stations. The results are startling: as reported in the Wall Street Journal, scientists discovered 15,152 different species, "most of them harmless or unidentified," nearly half of them bacteria, and 67 of those bacteria species linked to disease and infections such as staph and food poisoning.
The Wall Street Journal reports:
In 18 months of scouring the entire system, [Dr. Christopher Mason] has found germs that can cause bubonic plague uptown, meningitis in midtown, stomach trouble in the financial district and antibiotic-resistant infections throughout the boroughs.
Frequently, he and his team also found bacteria that keep the city livable, by sopping up hazardous chemicals or digesting toxic waste. They could even track the trail of bacteria created by the city's taste for pizza—identifying microbes associated with cheese and sausage at scores of subway stops.
The big-data project, the first genetic profile of a metropolitan transit system, is in many ways "a mirror of the people themselves who ride the subway," said Dr. Mason, a geneticist at the Weill Cornell Medical College.
It is also a revealing glimpse into the future of public health.
Harmless or not, the long lists are enough to make you queasy and Brooklyn stations didn't get off with shorter lists compared to their Manhattan subway counterparts.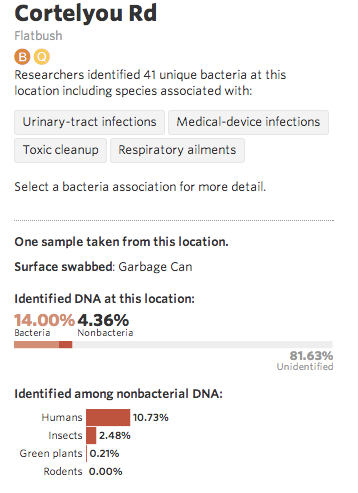 In our neck of the woods, we had quite a range of bacteria, from bacterial species associated with toxic cleanup, food poisoning, urinary tract infections and more found along the B and Q lines.
According to the research:
To find out how gross your subway station is, check out the Wall Street Journal's bacteria map.