Grimm's Campaign Fundraising Is Tanking, But Now He Has Permission To Fundraise For Legal Defense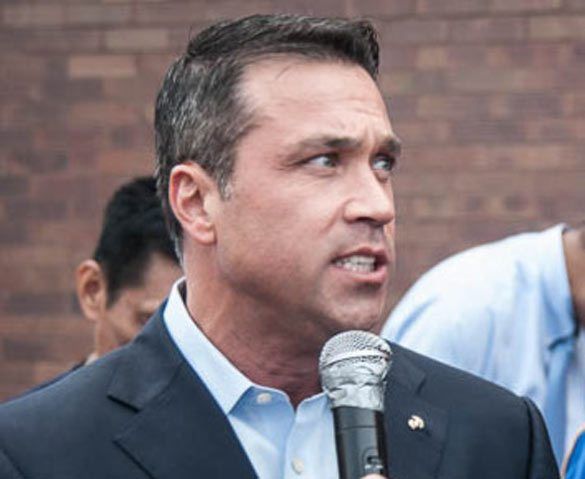 Amid legal troubles connected to a 20-count indictment for mail fraud, tax evasion and perjury, Congressman Michael Grimm's campaign cash is drying up – and donors are turning their backs. On the bright side for the lawmaker, he received permission last week to raise money specifically to cover the costs of his legal bills.
The Hill reports:
[Grimm] raised just $47,000 from April 1 through June 4, according to his preprimary filings with the Federal Election Commission. Some of that he had to refund, meaning he brought in just over $44,000. The filings reveal that most of that money was raised prior to his indictment, and his fundraising slowed significantly afterwards.
He spent more than $214,000 during that time, including a $40,000 payment to his attorneys at Patton Boggs.
The article goes on to note that the campaign is $420,000 in debt, largely due to legal fees, and that his Democratic opponent, former City Councilmember Domenic Recchia, raised $144,000 during the same period, for a total of $1.07 million. Grimm has $1 million on hand.
Meanwhile, the House Ethics Committee has greenlighted Grimm's request to set up a legal defense fund, allowing him to turn to his remaining supporters to help raise cash to fight legal charges. According to paperwork, the money will be spent on "matters bearing on his reputation or fitness for office."
The new fund was necessary due to the nature of the charges. Although House representatives can use campaign funds to cover legal bills associated to the campaign – such as the ongoing federal probe into Grimm's 2010 campaign fundraising – they cannot be used for criminal or civil charges on matters connected to anything other than his activities seeking or staying in office. The current charges stem from alleged tax evasion and illegal employment practices while operating a restaurant he co-owned prior to seeking office.