Grimm Accused Of Betraying Gun Rights Activists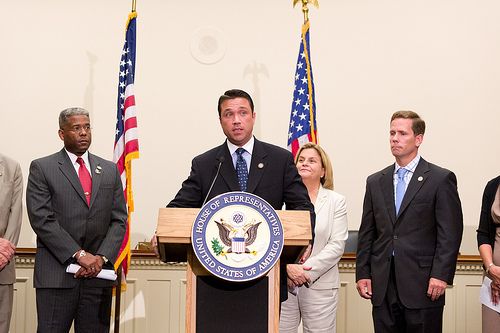 Gun rights activists who voted for Congressman Michael Grimm in high numbers are feeling betrayed by his recent support of measures that would ban assault weapons in light of the Newton tragedy, according to a report by the American Thinker.
Grimm, who promised conservative gun rights supporters that he wouldn't support any limiting of gun rights, changed his mind following the devastating tragedy this past December in Newtown, Connecticut. The American Thinker cited comments made in a report by SI Live this past January:
"I had been leaning toward it," said Grimm (R-Staten Island/Brooklyn). "This is a big move for me. I had not been there before. Truthfully, it was the devastation of the families. I think of mothers and fathers now sending their kids to school. If it gives them peace of mind, if it makes people feel better, as part of the healing process, I am comfortable with it. I really want to see a safer America."
Supporters of Grimm, who voted for him under the premise that he would protect their gun rights, were stunned by their sense of "betrayal" on this issue:
"Politicians make promises. You can't believe any of them. They make deals – packaged with amendments. The rest of the bill is what influenced him (Grimm), I assume," Mrs. [Karen] Awad said.
Adding to the anger conservative activists feel at Grimm's change of heart, the American Thinker cited that Grimm would have had no chance of winning his seat in his district without the vocal support of tea party voters:
Grimm won the 2010 general election for his district which covers both parts of New York City's Staten Island and Brooklyn with 51 percent of the vote.  Grimm won the 2012 general election for the post-Census New York 11th District with 52.8 percent of the vote.  One doubts Michael Grimm could have gotten into office in this "purple" District without Tea Party members and other conservatives voting for him in high numbers.