Grillin' On The Bay One Month Away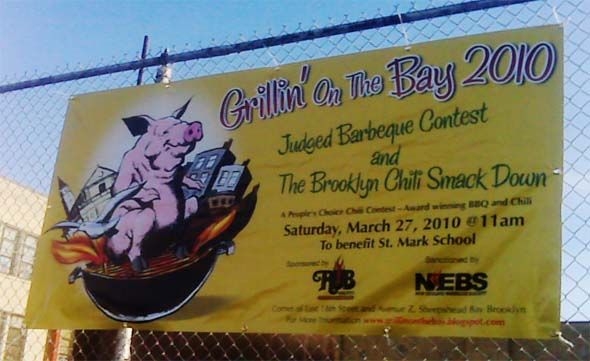 Mark your calendars, ladies and gentlemen, because it's finally official: Grillin' On The Bay, New York City's only sanctioned barbecue contest, is just one month off.
Of course, it's been "official" for a while. But in our world, things are only official when banners go public. The above banner just got strung up on the St. Mark's fence over the weekend, and our guts are a'grumblin.
To kick it up a notch, Sheepshead Bites is also making something official – I've been selected as a judge for the event.
Meat, meat, meat, meat, meat!
I'm already drooling, and can't wait to sink my teeth into selections from New York City's best grill-meisters.
For those not familiar with the annual event, Grillin' On The Bay is a barbecue competition sanctioned by the New England BBQ Society. The event draws some notable players from city restaurants, as well as barbecue enthusiasts from anywhere within driving distance. Food world celebs have been spotted, including Harold Dieterle, the first-season winner of Top Chef. And the best part is, the citywide fanfare goes to benefit a local school, St. Mark's, where it all takes place.
Now, that's not all. The competition is far from closed, and organizers are still accepting applications for teams in the BBQ contest, as well as competitors for the Brooklyn Chili Smack Down, a people's choice event. You can find out more information as well as get registration packets at Grillin' On The Bay's website.