Greenmarket Recipe – Spring Eggs With Spinach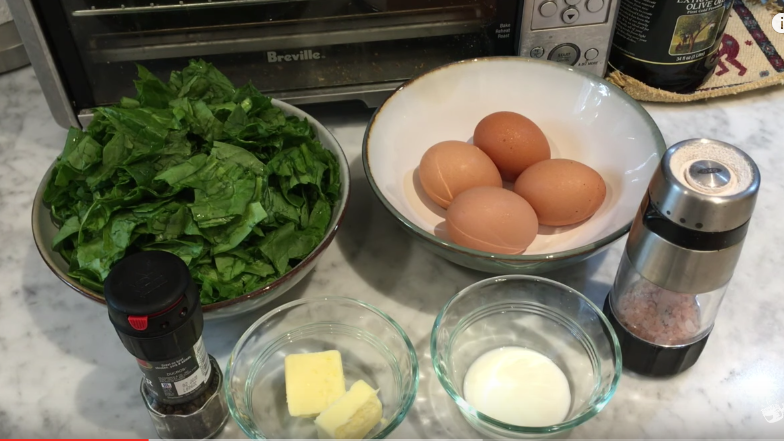 This week, in collaboration with Brooklyn Mama's Kitchen and your local Greenmarket, we bring you a lovely recipe that's perfect for weekend brunch with friends. The recipe below will feed 4-6, but in the video we adjusted it to make enough for two. So pick up some spinach and eggs at the market and enjoy!
SPRING EGGS WITH SPINACH
Recipe from the Old Farmer's Almanac, Serves: 4-6
Ingredients:
*8 tablespoons unsalted butter, divided
*1/4 pound fresh spinach, cleaned, stemmed, and shredded salt and freshly ground pepper, to taste
*1 tablespoon heavy cream
*12 eggs
* Ingredients available seasonally at your neighborhood Greenmarket
Instructions:
Melt a tablespoon of the butter in a large saucepan.
Add the spinach and a little salt. Cook over low heat until spinach is wilted and liquid evaporates, about 3 to 5 minutes.
Stir in the cream, and cook until it thickens slightly, about 1 to 2 minutes. Set aside, and cover to keep warm.
Blend the eggs in a bowl, making sure the whites and yolks are completely mixed together.
Add salt and pepper.
In a large, heavy saucepan, melt the rest of the butter.
Pour the eggs into the pan and cook gently over low heat, stirring constantly with a wooden spoon. As the eggs thicken on the bottom and sides, scrape them so they mix into the uncooked eggs.
Continue cooking until all the eggs have thickened but are still soft and moist, about 15 minutes. Add salt and pepper, if needed. Spoon the eggs onto warm plates and add a dollop of the creamy spinach to each.

Fort Greene Park on Saturdays
Grand Army Plaza on Saturdays
Bartell Pritchard Square on Wednesdays
PS 154 on Sundays
Parkside on Sundays
Cortelyou Road between Argyle & Rugby on Sundays – open year round.
Borough Park on Thursdays – 14th Avenue between 49th and 50th St.
Sunset Park on Sundays – 4th Ave btwn 59th & 60th St, Brooklyn. Open Saturdays, July 9 – November 19
Bensonhurst on Sundays – 18th Ave between 81st and 82nd St
Follow Brooklyn Mama's Kitchen on:
Twitter: https://twitter.com/bkmamaskitchen
Facebook: http://www.facebook.com/bkmamaskitchen
Instagram! http://instagram.com/bkmamaskitchen
Pinterest: http://www.pinterest.com/bkmamaskitchen