Graphic Video Shows 55-Year-Old Jewish Man Being Brutally Mugged In Midwood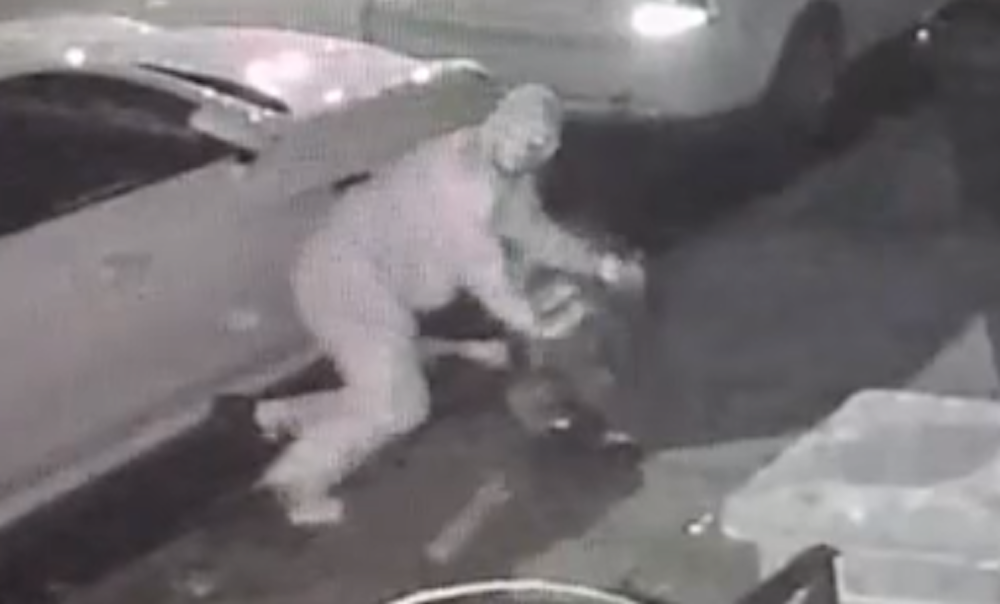 https://youtu.be/0nUQ_5tdOyg
Surveillance video shows a 55-year-old Jewish man being brutally mugged on a Midwood Sidewalk early Monday morning.
The Daily News identified the victim as Eli Weinstein. The newspaper reports he was attacked by two hoodie-wearing assailants just before 1am on Avenue M near East 8th Street.
The video, first published by JP Updates, shows the victim being shoved from behind by one of the attackers. He falls to the ground and then is punched repeatedly in the face. Another suspect runs in front of the camera and both men begin to search through the victim's pockets while he's sprawled motionless on the ground.
One of the muggers stole the man's wallet and iPhone, police told the Daily News.
Local politicians, outraged by the crime, have called for the public to help identify the two men in the video. They are offering cash rewards for information leading to an arrest.
"This is a shockingly brutal robbery in the heart of our Midwood community. It is heartbreaking that, especially during the holiday season, outrageous crimes like this are happening in our very own backyard," City Councilman David Greenfield said in a press release announcing a $1,000 reward.
Assemblyman Dov Hikind and State Senator Simcha Felder have also offered a $3,000 reward.
Hikind later held a press conference near the crime scene.
The Daily New reports Hikind said: "I'm shocked this could happen in our neighborhood, and in such a safe community."
Update [December 28, 9pm]: An earlier version of this article cited the Daily News' reporting that the victim is 60 years old. Police later said the victim is 55.
The NYPD has also released a description of the suspects: Light-complexioned men with thin builds and wearing hooded sweatshirts.