Gowanus Open Studios: 400+ Artists, Disco Balls, Giant Ants & More
GOWANUS – Thousands flocked to Gowanus over the weekend to check out the largest Gowanus Open Studios yet. Now in its 23rd year, the Arts Gowanus event presented work by more than 400 artists in and around the neighborhood.
"It's been great so far. Tomorrow it's supposed to rain, which I'm really nervous about…but so far, from what I'm hearing, people are jazzed," Johnny Thornton, Program Director of Arts Gowanus, told Bklyner from his President Street studio late Saturday. Thornton had been at his workspace until 4am that morning preparing for the weekend.
"I feel great now because there's no more organizing I can do. It's all done," he said of the event. Thornton received positive feedback from participating venues throughout the day. "I'm happy. When the artists are happy, I'm happy."
Danie Herard, 540 President Street
Down the hall from Thornton's Space Works studio, Danie Herard welcomed visitors to chat and check out her celestial art composed of layers of colored sand, molding paste, and paint. Her work addresses "meditation, working things out…creating healing, fun, and positivity. They're all very playful and whimsical," the sci-fi lover said of her paintings inspired by spirituality and the universe.
Originally from Flatbush, Herard currently lives in Crown Heights and has been working in Gowanus for two years, starting with a residency program at Space Works. "It has helped me develop more and have a space to be messy and work bigger," she said of having a studio outside of her home, "and being part of a larger art community, that's important."
"One of the best things about being at Space Works is the community, which you don't always have when you're working from home. You could be very isolated sometimes," she said. "I really have an admiration for everyone here because I see them [and] the late nights they put in, just having to manage their lives and still be present for their practice."
Herard studied lighting design at SUNY Purchase and worked on theater productions for years before moving into health insurance. After a day at the office she would go home "and just paint and draw and relax," she recalled. She transitioned into fine arts full time about four years ago, creating her own work and teaching art enrichment courses to middle schoolers.
For special occasions, Herard likes to apply a row of gold dots on her forehead down to her nose. Saturday was one of those occasions when she felt like she "needed to raise the vibration up a little" to match the positive vibes of the event. "People can wear lipstick, blush, eye shadow, so I can rock my gold. It's my own form of makeup, it's my lipstick," she said.
Demarcus McGaughey, 540 President Street
On the other side of 540 President, Demarcus McGaughey's studio was filled with friends and visitors. "It's very overwhelming. It's an amazing turnout of friends, people I haven't seen in a while," he said. McGaughey completed a residency in Barcelona in March of this year and moved into his Gowanus workspace in April.
Originally from Houston, Texas, McGaughey studied advertising art at Prairie View A&M University. He moved to NYC 15 years ago and made his living in graphic design until three years ago when a friend who owns an art gallery in Harlem challenged him to create a painting. He made two in two weeks and "the energy and the adrenaline just came," he recalled.
He calls his work "Handsome Art," which is how many of his friends describe his paintings that combine collage, photography, and graphic design. "Originally I would paint famous people, iconic people, and then I started moving more towards my friends, people that I encountered, people who inspired me, people I meet on the street or at a bar," he explained. Among the celebrities he's painted are Jay-Z, Muhammad Ali, and Naomi Campbell. Being an Andy Warhol fan, McGaughey inserted Naomi Campbell's visage onto a Campbell's Soup can.
After taking a transformational workshop, McGaughey created a series of portraits depicting members of his workshop group that was called The Pandas. The portraits feature Panda heads on human bodies. Queen Panda is an all-white portrait intended "for women to look at and feel powerful," the artist said. The smirking, well-dressed, bourbon-drinking Pink Panda represents McGaughey, "He's kind of aggressive…. He could be your best friend or he could be your worst enemy," the artist explained. "But the pink softens him and the gold halo lets you know he's royalty."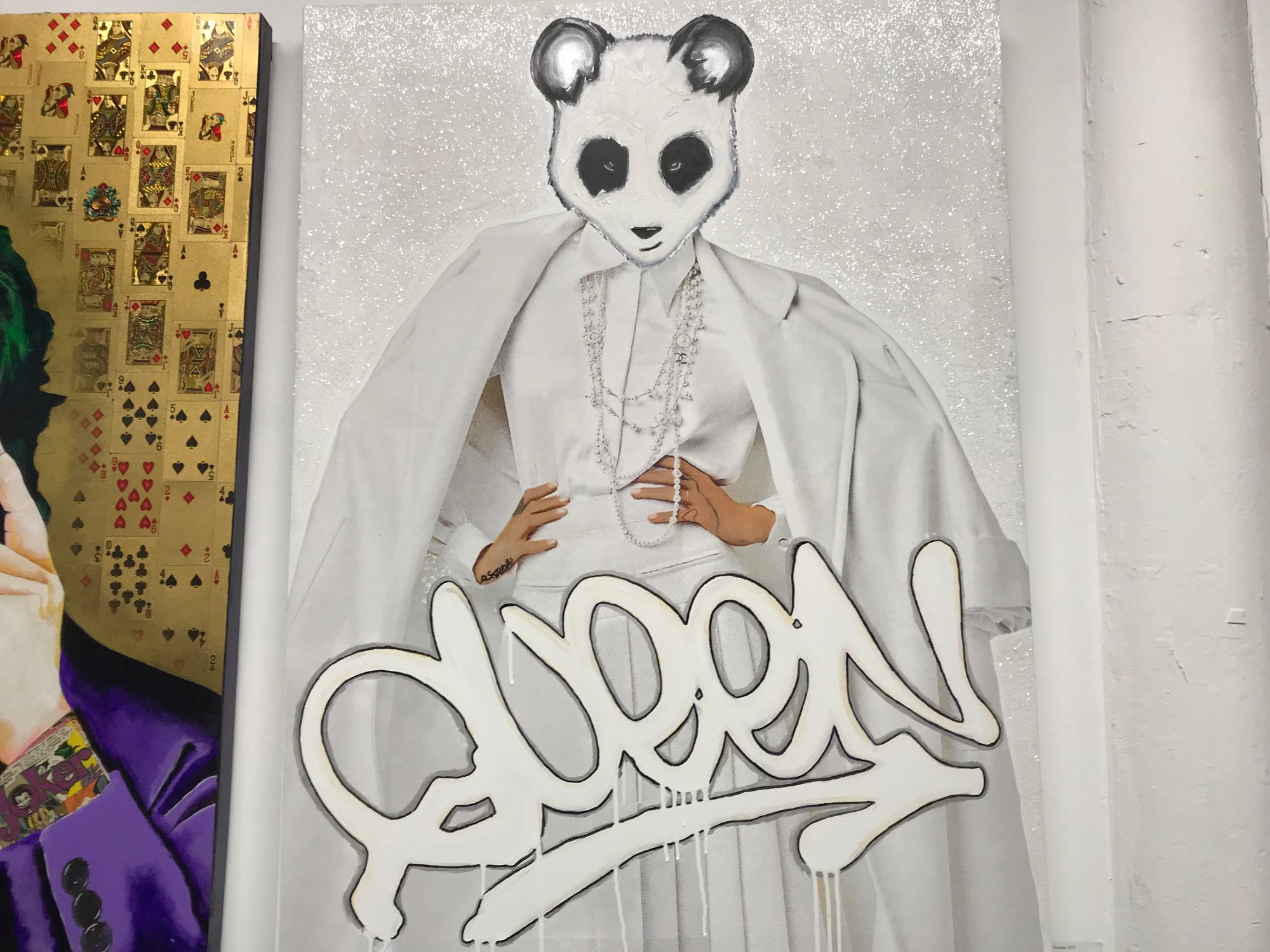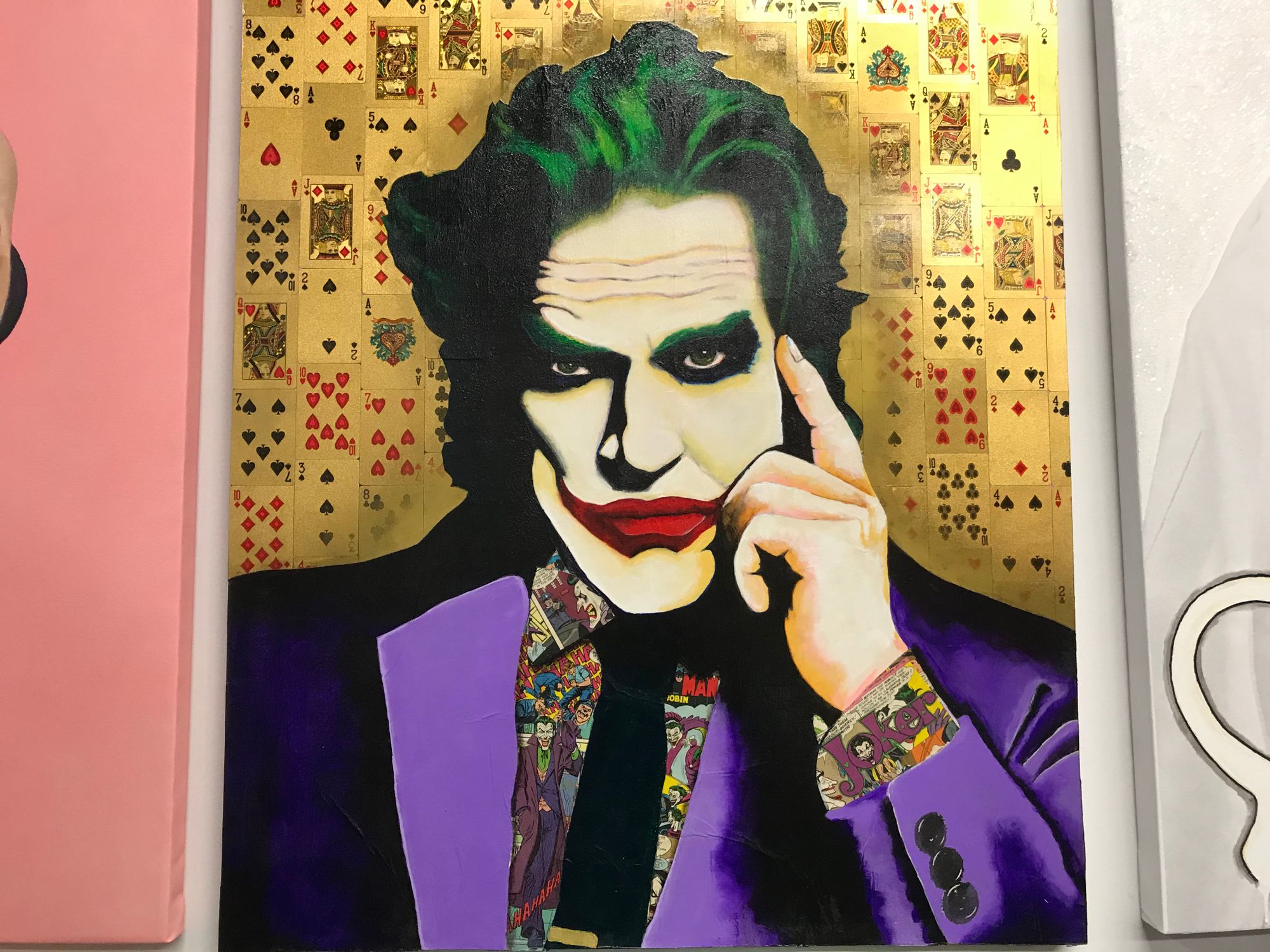 A recent painting, The Joker, incorporates metallic gold cards into the background and pieces cut from vintage comic books make up the subject's shirt. "The Joker is iconic right now because of the new movie…." McGaughey said. "I did it in a short period of time, but I put so much detail into it. Everyone is drawn to his eyes."
As McGaughey waits to hear whether he's been accepted for another artist residency and a major art fair, he's happy to be working in Gowanus. "It's been an amazing experience," he said. "I like the community. I like that it's accessible. And I like the quality of the artists that are here."
Kiichiro Adachi and Gil Kuno, 24 Garfield Place
Artists Kiichiro Adachi and Gil Kuno share a ground-floor studio situated at the edge of Park Slope and Gowanus. Adachi moved from Japan three years ago to Brooklyn where he creates works inspired by the solar system.
While still in Tokyo, Adachi lived for several years near a planetarium which he would visit frequently. The artist uses LED lights, disco balls, and a motor in his large-scale piece, Orrery, a moving replica of planets in orbit, spinning on their axes and casting star-like reflections across the studio ceiling and walls.
This was Adachi's second Gowanus Open Studios. "It's a very good experience," he said, adding that he likes to hear feedback from locals. "New York is very amazing," he said noting the many artists working in the city. "When I was in Tokyo it was hard to meet neighbor[ing] artists," he added, saying that open studio events there often did not attract many people. "This venue is a little far from the center," he said of his studio just east of 4th Avenue, and noted he was happy with the number of people who had made their way to visit.
Adachi shares the space with multi-disciplinary artist, Gil Kuno, who creates sculpture, video art, sound art, and more. The Antmaster is a video work showing ants in their colony. "The piece is about karma," Kuno explained. "Ants are thought of as really hard working, so I thought maybe ants have their own karmas and they're working really hard to clear them." Evolving for eight years, the work was initially exhibited in a storefront in Los Angeles, where the artist is originally from.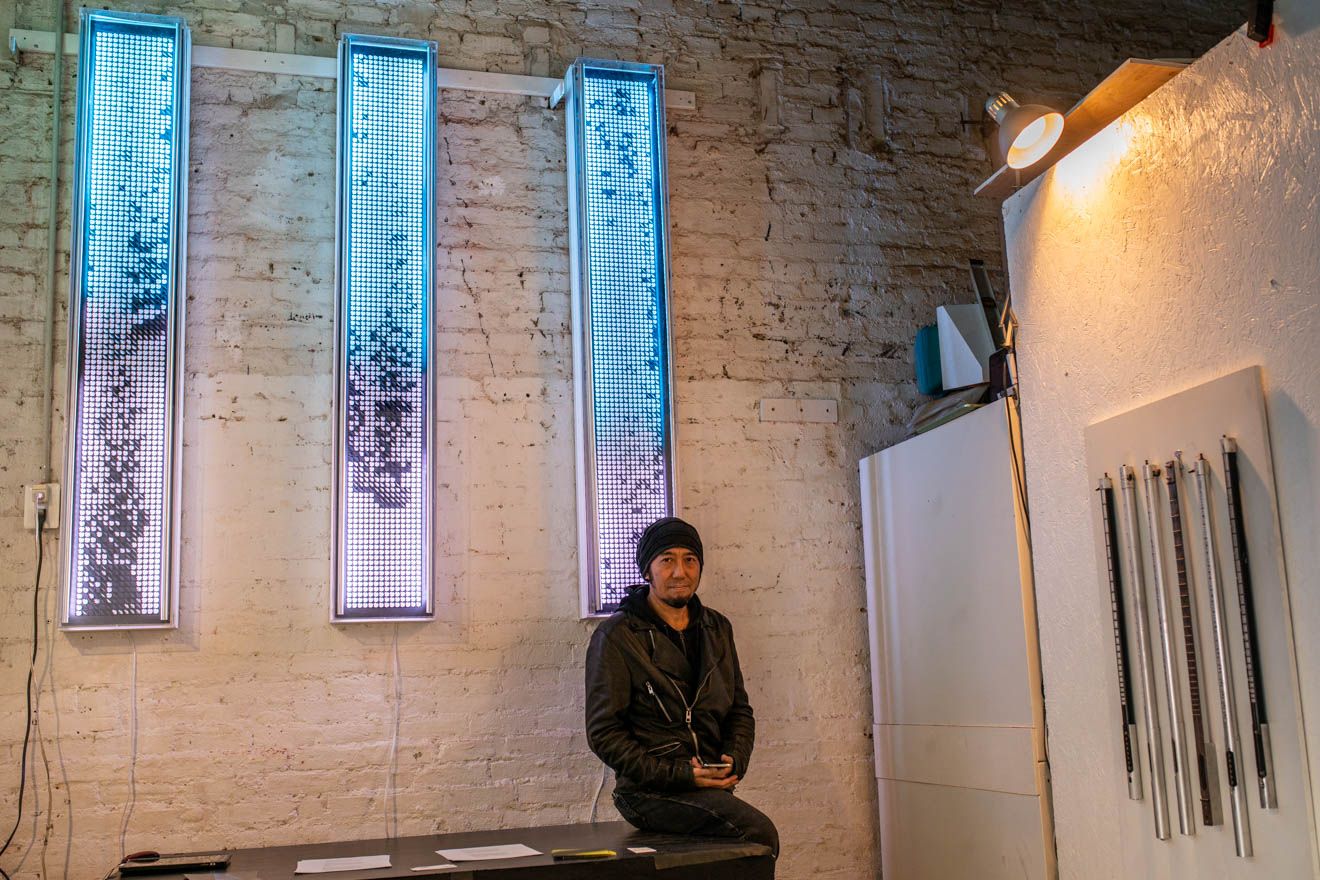 Three side-by-side vertical panels represent the Japanese character for the title of another work, Waterfall, a re-contextualization of an ancient Asian scroll, according to Kuno. "I created a minimalist version of a scroll." Kuno created a program that interprets video footage of a waterfall that he shot in Vienna, Austria. Using a flip dot display—similar to destination signs found on old buses—electromagnets flip a series of black and white disks to recreate the movement of the waterfall while another CPU controls the lighting of the panels, adding color.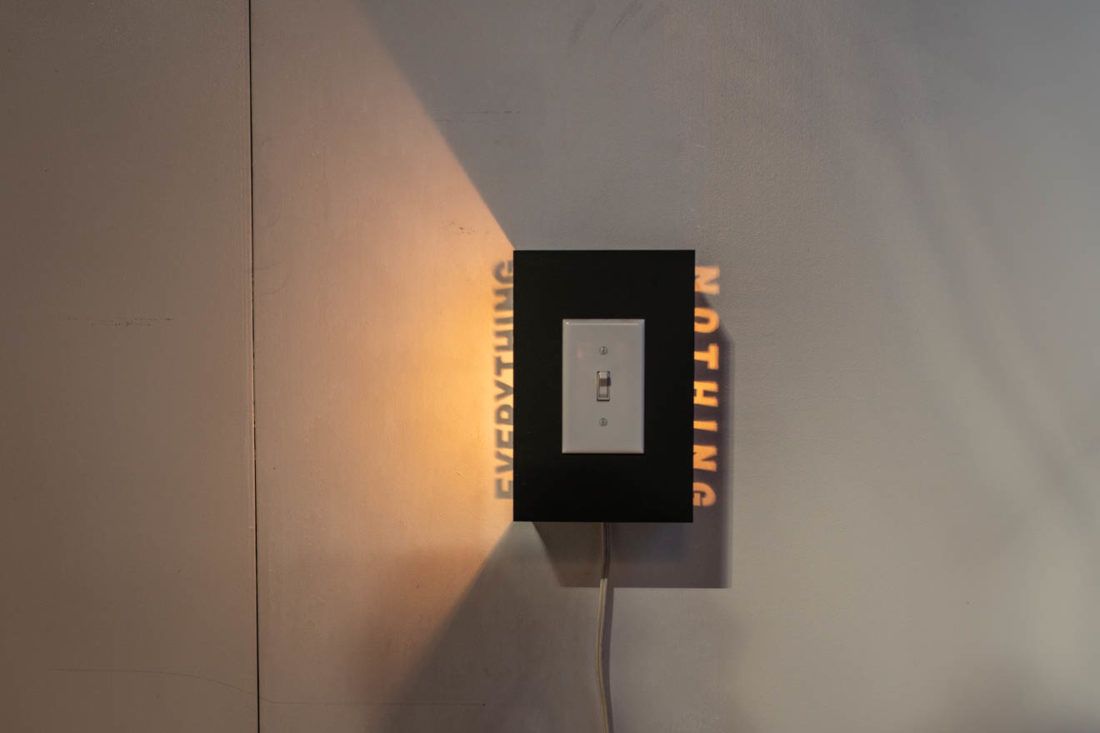 For his Six String Sonics project, Kuno created six one-string instruments from the strings of a six-string guitar. When learning how to play guitar, the artist says he found the instrument "was really badly designed, because the fret board is a lot bigger than your hand…. Basically I thought it was hindering our creativity because [for] the chords that you play and the melodies you play, the notes have to be close together for you to be able to reach. I thought maybe if you deconstruct the guitar into six one-string guitars and have six guitarists play it at the same time, then you might be able to play the whole palette."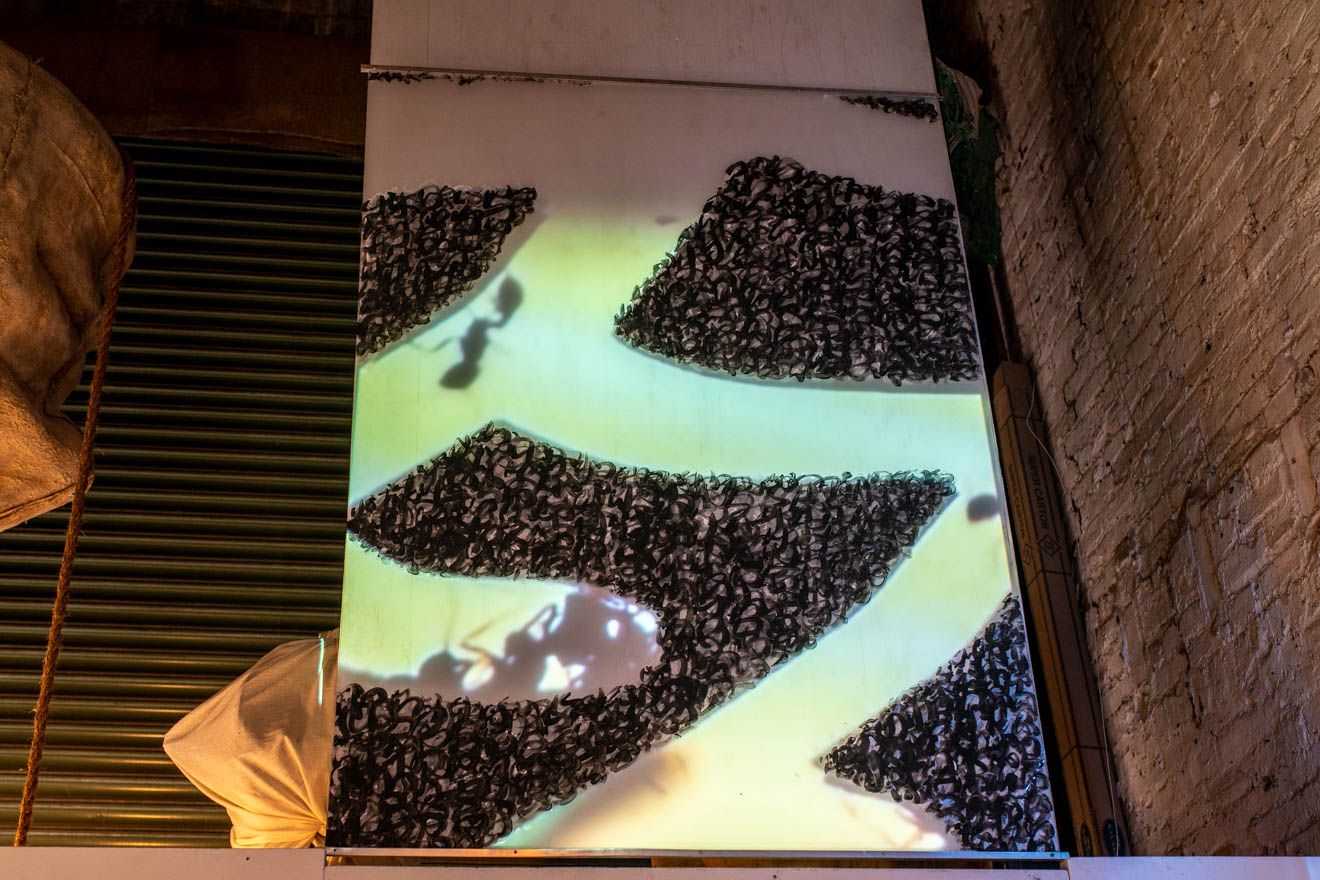 Kuno and a group of nine musicians—six playing his deconstructed guitars, two playing a ten-foot bass, and one on percussion—performed Six String Sonics in Tokyo as well as in New York during the Fringe Festival five years ago, playing "riffs and melodies that you can never play on a standard guitar," he said. It was during his trip to NYC for the Fringe Festival that he realized he wanted to move to the city. He relocated to Brooklyn about three years ago. "I love it. It's a very chill neighborhood," he said. "There's a lot of art stores, lumber yards, and a lot of materials you can buy here, so it's very convenient for an artist." This is his third year participating in Gowanus Open Studios, and like Adachi, he said he was happy with the amount of traffic to their studio.
Andrew Smenos, 126 13th Street
Originally from Chicago, Andrew Smenos studied in Florida before moving to New York to work as an illustrator, political cartoonist, and portraitist before focusing on his own paintings and sculpture that comment on society "with a sort of sardonic humor underlying all of it. It's meant to lure you in and disarm you and then maybe inform you after the fact," he said.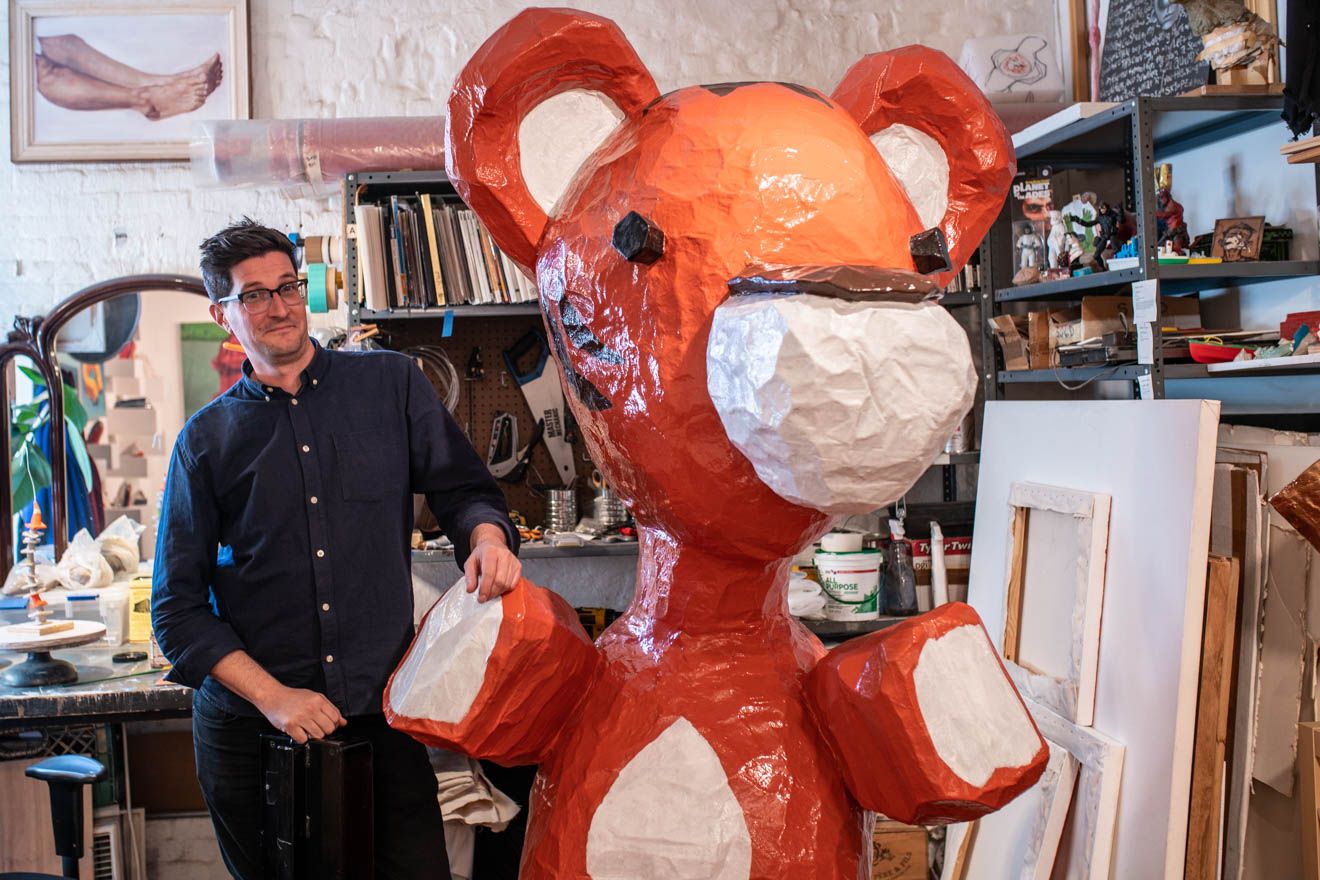 The artist gives his colorful works humorous titles infused with insights into city living. In his Apathy series, a painting of a melting fire extinguisher is titled This Won't Help, while another—a fire hydrant topped with an orange traffic cone—is called We've Addressed The Problem. The titles for a series of small sculptures of burning apartment buildings are rife with social commentary and sarcasm: I'm Not Leaving The House Until I Find My Phone; I Think The Neighbors Are Having a Barbecue; and These Walls Are Paper Thin, I Think I Can Hear the Neighbors Screaming. "They're the things we say a lot," Smenos explained, admitting while the humor can be "super dark," New Yorkers make these statements "all the time in those houses."
Pay to Play is an eight-foot-tall kinetic sculpture of a coin-operated orange toy tiger that Smenos created for the 2013 Miami Art Basel exhibition. The artist had quarters available for visitors at his studio to insert into the machine to make the giant tiger slowly sway for a minute and a half. He said the piece is a "thumb in the eye of art fairs," or "very descriptive of art fairs. I was sort of going for buyer's remorse…like I can't believe I put a quarter into that."
Smenos has been working from his Gowanus studio for 13 years and has participated in about eight Open Studios. He notes that the event has expanded over the years to accommodate the number of artists moving into the area. "It's a lot of fun," he said, "And more and more people are moving in. I'm on 13th Street, so when I first started, people were coming down from Union and I was always the last stop on the trip. Now, it's coming from both sides, so it's kind of amazing to just see the interesting weirdos that live here."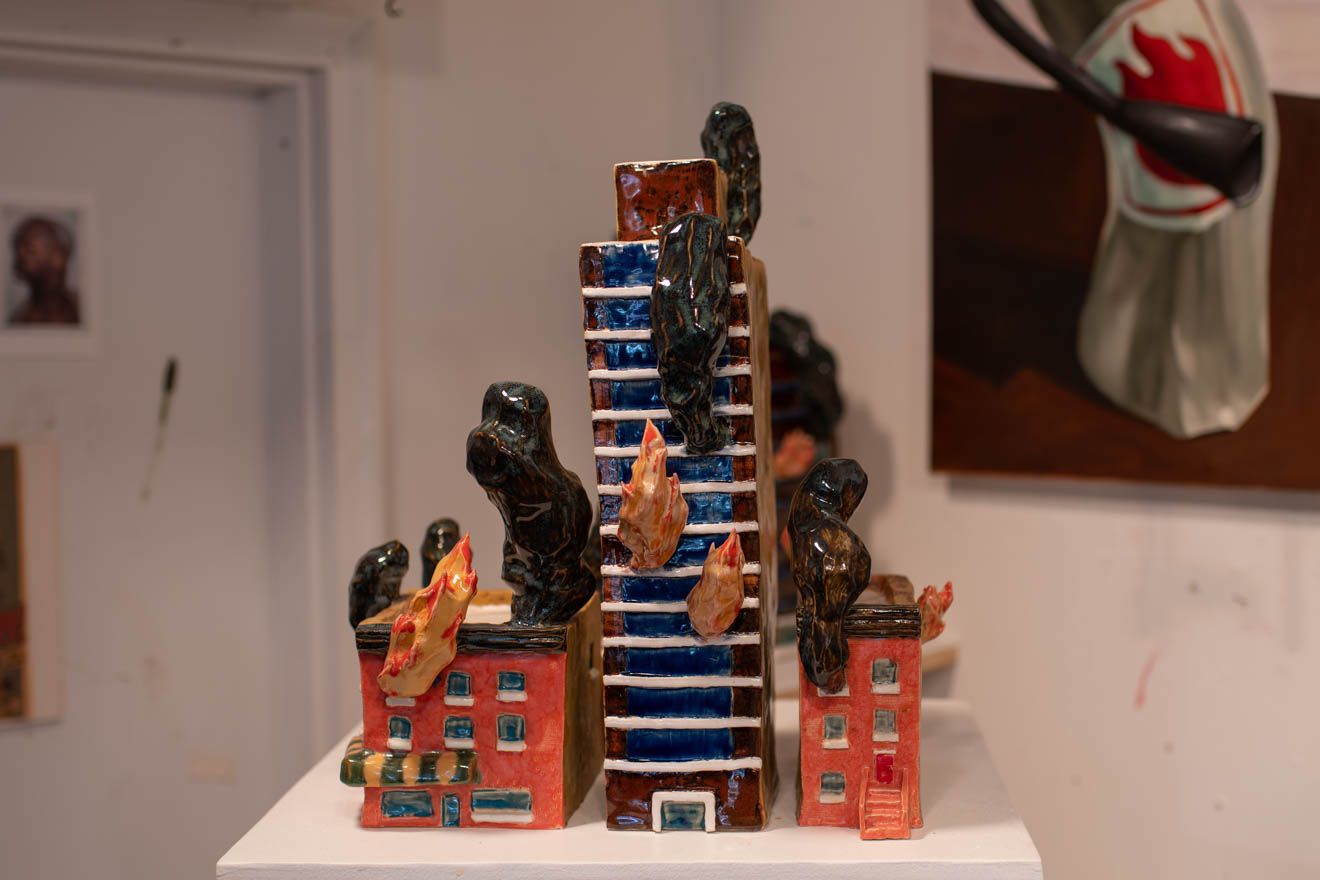 He says Gowanus feels like "a small town" and he appreciates that "everything is at your fingertips…. There's an art supply store, a few kiln spaces for clay…it's really amazing just to see how many resources are there for those who want to be industrious and make things and also just the amount of good people here that are on the same page. It's really strange and kind of wonderful and I couldn't have planned it better."