"We Are Not Pawns!"
BARCLAYS CENTER – "We want to get paid," Department of Justice worker Yolunda Silva said. "Stop holding our checks hostage."
Food and resources were provided to over 600 New Yorkers impacted by the shutdown at Barclays Center this afternoon. The pantry was put together by Food Bank for New York City who wanted to help those affected by the partial government shutdown that is about to hit day 32. This is not the only pantry set up for furloughed government workers (check out our list of specials and free stuff from local businesses).
"It's terrible. I'm about to miss my second paycheck. I didn't think it was going to last this long," Silva, a Bed-Stuy resident said. "It's awful."
Tyrell Bennett was at the pantry with his mother who works at the Department of Homeland Security. The shutdown was hitting them hard, he said.
"We need this," Bennett said referring to the pantry. "My dad and I have been paying for most of the stuff we need around the house. It's really tough."
Here's how the pantry was set up. Everyone entered Barclays Center through the main entrance, where several tables were set up in the atrium. First, people got signed in. Then, they moved on to the various sections which held protein, dried goods, fruits, milk, and personal hygiene and items like diapers and shampoo for kids.
Crates upon crates of vegetables, meat, and other items were brought in throughout the three hours of the pop-up pantry. Furloughed workers were also given vouchers for two tickets to a Brooklyn Nets game.
"I've been looking for ways to help furloughed workers. I flew out of the airport last week and had cash to give out to TSA workers as tips. I didn't know that was not allowed," Sara, a volunteer at the pantry said. "I think we're all affected. When any one of us is suffering, we are all suffering. We all have a responsibility to help each other."
One woman who's been working at the Department of Justice for ten years said both her and her husband were not getting paid. She said the shutdown was hitting her family really hard, especially since she has three children and lives in Brooklyn. When asked what she would say to the president about the shutdown, she laughed and said, "My language is not nice enough to express what I feel."
Another woman who's been working at the Department of Justice for 30 years said it was a "turmoil situation."
"I never expected it to last this long," she said. "We are not pawns! We are not pawns for you to get your point across. It's time for this to stop."
A woman who's been working for the Internal Revenue Service for 31 years said it was not her first shutdown. She said she's been furloughed before, but this one was harder.
"I'm going to survival mode. I'm not in any dire situation now, but I'm preparing myself because you don't know how long it's going to last," she said. "Please end this shutdown and stop holding federal employees hostage."
Elizabeth Ford has been working at Transportation Security Administration for two and a half years at John F. Kennedy Airport. She said her savings are starting to dwindle. She said she has to provide for her elderly father and her son, who will turn 15 next week.
"My son asks me, 'Mommy are you OK?' He tells me, 'You don't have to give me an allowance,'" she said. "I did nothing to prepare. Can y'all get together to figure out a solution? Something has to give."
Neighborhood Coordination Officer for the 78 Precinct, which covers Park Slope and Prospect Park, Kareem Abdelaziz, said the shutdown was terrible and unfair.
"The shutdown is unfortunate for everybody. It's affecting a lot of families and hopefully, it's resolved quickly," he said. "I'm here because it's my job and that is what the NYPD is about– helping people."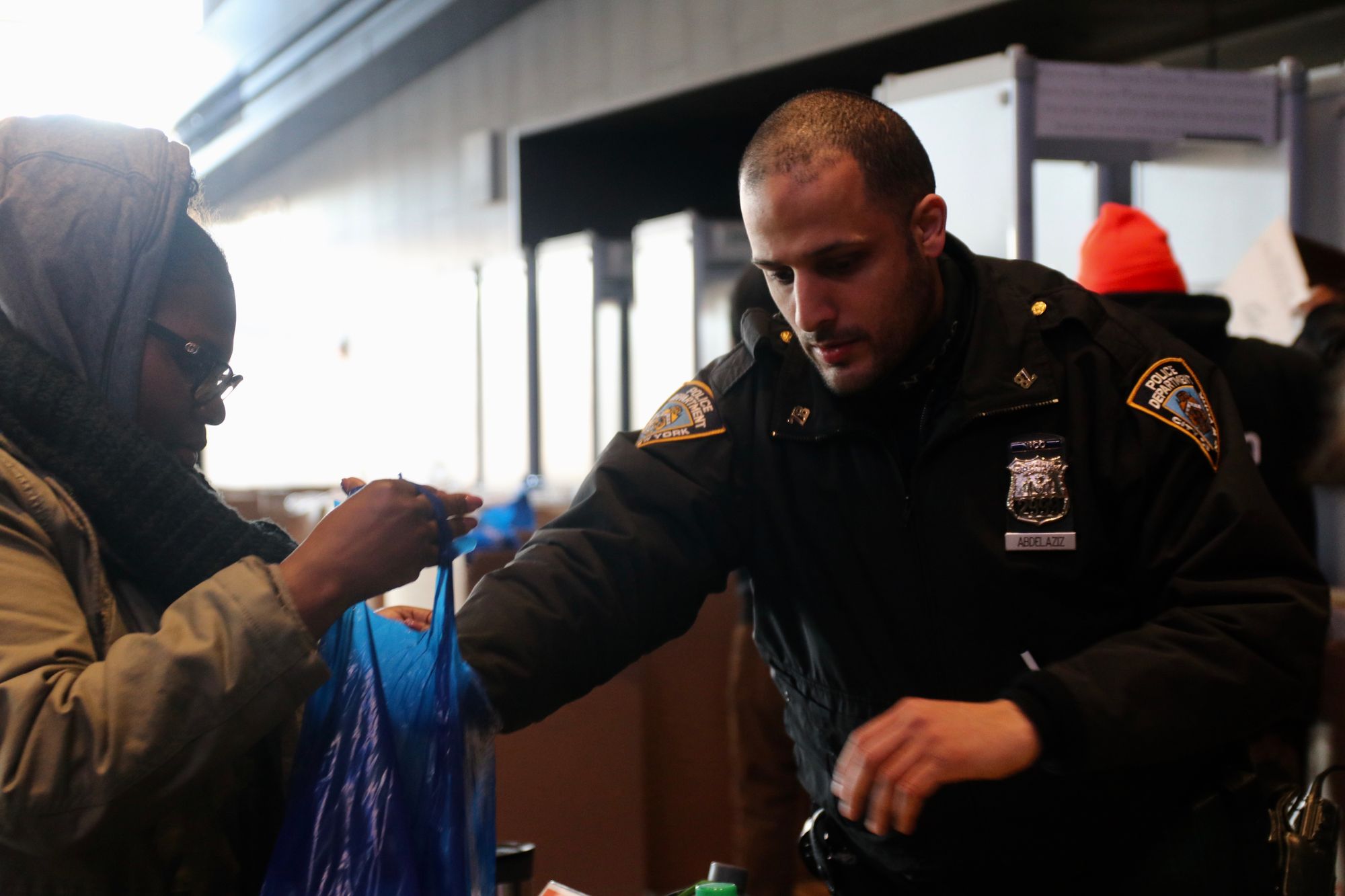 Francisco Tezen, the chief development officer for Food Bank for New York City said it was important to partner with an iconic location, such as Barclays Center, for the food pantry.
"The shutdown has affected a lot of people. It's good to have accessibility to public transportation. There's a certain stigma around food pantries and we wanted to help by holding it in a very iconic location," he said.
Tezen said the Food Bank for New York City is planning on doing more pop-up distributions soon at other locations across the city, though there are no dates as of yet.
"There needs to be a resolution to the shutdown as soon as possible," he said. "There was already a need for food before the shutdown. There's just a newly vulnerable population that needs to be helped."