Goodbye Cast-Iron Pipes: Water Main Replacement Tears Up Streets This Week
This week, two streets are facing water service interruption because the Department of Environmental Protection is replacing cast-iron water mains running underneath the sidewalk.
Water service will be interrupted on Cortelyou Road (between Coney Island Avenue and Argyle Road) and Westminster Road (between Cortelyou Road and Dorchester Road). The service interruption is from 8am to approximately 4pm, Tuesday, October 18 through Thursday, October 20, according to the Department of Design and Construction, which is managing the project. (Water service could also be interrupted on Friday, October 21. We will update once we receive confirmation.)
The project also includes water main and hydrant replacement on Westminster Road, between Church Avenue and Cortelyou Road. That work has been completed, according to the DDC.
While many readers may have seen the construction crew or new iron pipes parked along Westminster Road, we did some digging to see what's going on just under the surface.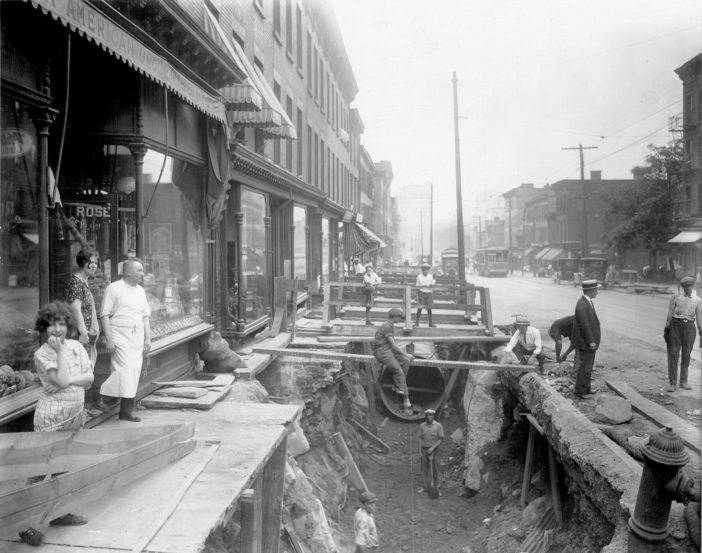 Water main upgrades in New York City
The Cortelyou and Westminster Roads water main replacement is funded by the Department of Environmental Protection, the largest, municipally owned water and wastewater utility in the country. The DEP oversees the delivery of more than one billion gallons of water per day — through 7,000 miles of water mains, tunnels, and aqueducts — from upstate watersheds. According to the agency, 7,500 miles of sewer lines and 96 pump stations then take our wastewater to 14 in-city treatment plants.
Over the last 10 years, the DEP says it has invested more than $1.5 billion to upgrade water mains citywide, and the agency maintains a similar budget for the next 10 years.
Upgrading crumbling infrastructure
The old, cast-iron water mains on Cortelyou Road date back to 1952, and the pipe on Westminster Road is from 1961, the Department of Design and Construction told us.
While many cast-iron pipes are built to last more than 100 years, the DEP is replacing miles of cast-iron pipes across the city due to corrosion from years of freezing winters and frozen soil, causing increased water main breaks that can damage property and disrupt train service. In 2014, New York City saw 513 water main breaks, reports NBC New York.
We reached out to the DEP to ask specifically why the 64-year-old cast iron mains are being replaced on Cortelyou Road and will update the story as soon as we hear back.
Similar water main replacement projects are happening throughout the City, such as a Queens project, completed in 2014, where the DEP replaced seven miles of unlined cast iron pipes. The pipes had been installed by the Jamaica Water Supply Company in the 1930s.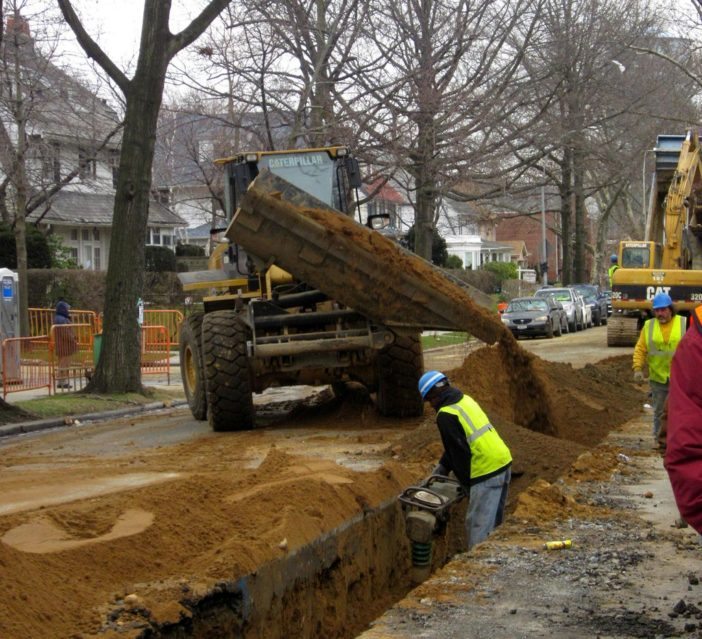 Flatbush (reluctantly) joins the NYC water system in 1947
Flatbush has a fascinating water infrastructure history. Before connecting to New York City's water supply system, Flatbush had it's own — not so palatable — drinking water source until 1947, delivered by the Flatbush Water Company.
Many Flatbush residents and city officials, including then-Mayor William O'Dwyer and Brooklyn Borough President John Cashmore, celebrated our connection with the city's main water system. "Flatbush Water is wonderful to drink but it's kind of hard on the pipes," an 'old time resident' told the New York Times in 1947.
But like many local issues, the lines were divided among 'newcomers' filling apartment buildings and 'old timers' from the farming community (surprised?).
Nicknamed the "ye old Flatbush Cocktail," Flatbush's water, described as "salty, hard, [and] corrosive" by reporter Sergey Kadinsky, represented something familiar to the people who grew up in Flatbush, who were wary of the "new-fangled H20".
New-fangled H20 pipes, 2016
The new pipes being installed on Westminster Road are made of ductile iron, the successor of the cast iron pipes which were previously used for water distribution, and have an estimated lifespan of one hundred years or more.
As we learn more about this infrastructure project, we'll keep you posted.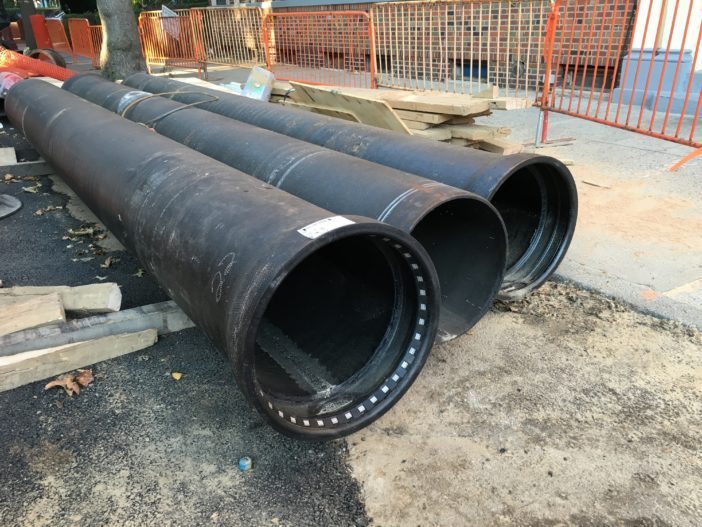 Is your house or business affected by the water service interruption this week?
A community advisory notice from the DDC cautions neighbors on the affected blocks to:
Shut off the water main valve in your house/building in order to avoid problems that may occur if/when sediment enters or is released from your plumbing.
Shut off all WATER cooled appliances, which may include air conditioners.
Once water service is returned, turn the main house valve back on and flush the system by running your faucets to sinks and tubs for 15 to 30 minutes.