Goldstein HS Students Stage Walkout To Fight Cuts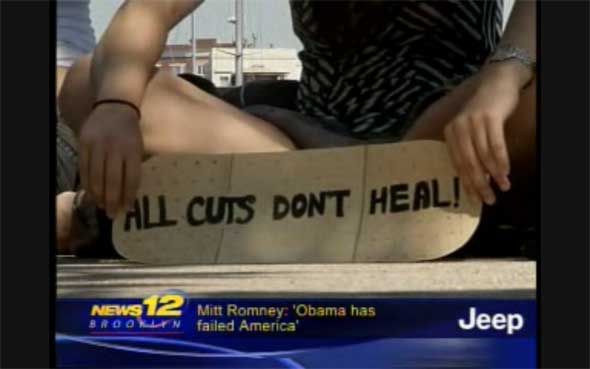 About 600 students from the Leon M. Goldstein High School, located at 1830 Shore Boulevard on the Kingsborough Community College campus, rallied against proposed budget cuts to education by walking out of their classes yesterday morning.
Foreign language, art and music programs are threatened to be sent to the fiscal slaughterhouse, and students — carrying signs and chanting slogans along Shore Boulevard — let their disapproval be known, accusing the city, amongst other things, of "diverting education funding to charter schools."
"We know it's a little ridiculous to expect budget cuts to stop right away, but we're trying to show that this many students care and that, as a group, the fact that we will do this and make a stand, we want the mayor to see that we are here, we do know what's going on, and we wont stand for it," Goldstein junior Miranda Young told News 12.
The walkout, which lasted an hour, took place after students' first two classes.
Sheepshead Bites has brought you extensive coverage on the proposed cuts at Goldstein over the past few months, which Goldstein's United Federation of Teachers Consultation Committee member and English and Drama teacher Victoria Sottile estimated to be approximately $500,000 as of November 2010, but as the mayor and the City Council have until June 30 to pass the budget, there is a greater sense of urgency for preventing further cuts to the school.